Why the market is completely wrong on Alibaba
Published 11 Oct 2022
It wasn't that long ago that Alibaba was a market darling. It was a pin up stock for China's "New Economy" and became the country's most valuable company.
But since late 2020, a cascade of political, economic, and regulatory events have slammed Alibaba's shares (Figure 1). Alibaba has sold off aggressively, falling from peak to trough by almost 60%.
Figure 1: Alibaba share price, 2018-2022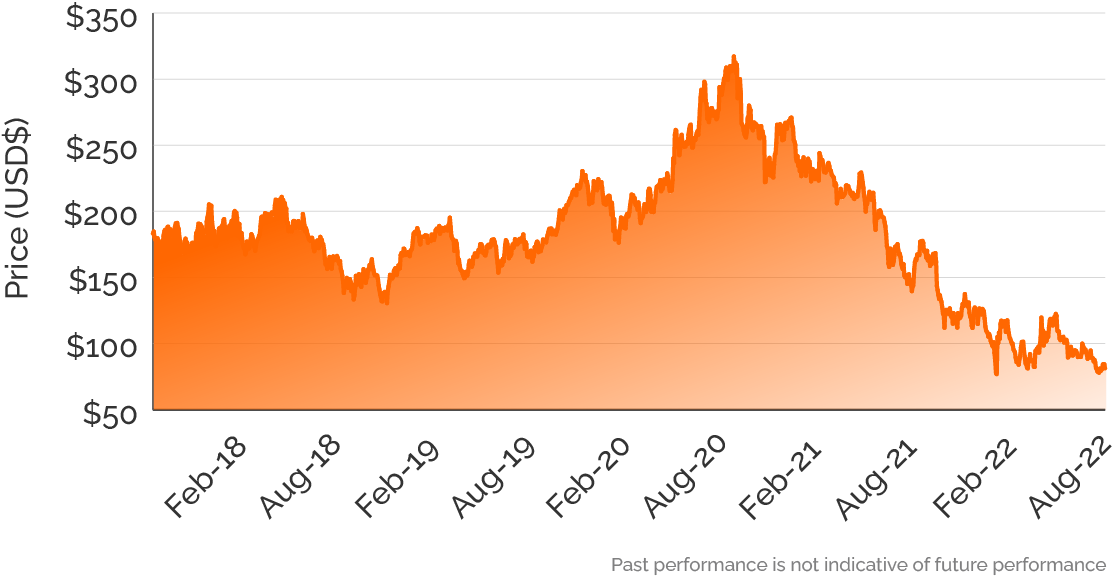 Source: Holon
But we remain optimistic. Why? For starters, as we outline in our just released Holon Alibaba Report, the market has severely overreacted.
While some issues have no doubt hurt the company's short-term profitability; the market, fueled by widespread fear and misinformation, has grossly overstated and misinterpreted what has transpired over the last two years. And investors are completely discounting the huge growth potential the company offers.
Investors have focused on three major events as reasons to dump Alibaba, but we believe these short-term headwinds have been overstated:
The Headwinds
1) The Ant IPO could be resurrected
Alibaba's fall began with Chinese regulators pulling the highly anticipated IPO of Ant Group, China's leading fintech and payments company, at the end of 2020. Alibaba had hoped to pick up 22% of the IPO shares, an additional 367 million on top of the company's existing 33% stake. Many international investors opted to buy stock in its parent company, Alibaba, to get exposure to the oversubscribed Ant Group shares. As a result, Alibaba's share price shot up in the months leading up to the IPO. Ultimately, these gains, and more, were lost in the days and weeks after Chinese regulators halted the public offering.
But while the failed Ant IPO no doubt impacted Alibaba financially, the event did not tarnish Alibaba's core e-commerce business, and the company still holds its 33% stake in the fintech giant.
Importantly, Ant Group is continuing to work with Chinese regulators to meet a new set of lending requirements, hopefully allowing for a revised IPO in the near future. While the new provisions will likely restrict the profitability of Ant Group, we believe the company still has huge growth potential in the years ahead, both in China and internationally.
2) Anti-trust fine's impact has been overstated
In April 2021, Alibaba received an 18.2 billion Yuan (US$2.8 billion) anti-trust penalty, equaling ~2.5% of the firm's 2021 revenue. China's State Administration for Market Regulation imposed the fine on the grounds that Alibaba had used its size and power to engage in anti-competitive practices that forced merchants to choose to sell products exclusively on one platform rather than being able to work on multiple platforms, which included the number two e-commerce marketplace JD.com.
But the financial impact of the US$2.8 billion anti-trust penalty imposed on Alibaba in 2021 has been overstated by investors and should not impact the company's long-term growth in the future.
After examining the ground for which regulators imposed the fine, we believe the penalty was reasonable, in line with the government's stated 'Equal Governance' framework.
Additionally, similar penalties in the future appear unlikely, given Alibaba's compliance and proactive response in the weeks and months after the infringement. Outside of China, large US technology firms such as Amazon and Microsoft have been issued similar fines on several occasions; however, they were met with far less scrutiny from investors and market commentators.
3) Delisting fears set to end
Thirdly, in 2021 the United States Securities Exchange Commission introduced new accounting standards for foreign companies with secondary US listings. Fears that Alibaba would fail to comply with these new accounting requirements put further pressure on the company's share price throughout the year, as investors sold the company's US listed American Depository Receipts (ADRs).
Yet, considerable steps have been taken by Chinese and US regulators, allowing US financial authorities to audit the financial statements of Chinese companies with US listings. This should relinquish most, if not all, of the current delisting risks.
Not only have the risks surrounding Alibaba been overstated, but as mentioned, investors are also ignoring its huge growth potential.
The Tailwinds
Alibaba is embarking on a multi-year business expansion strategy and investing in new ventures poised to benefit from structural consumer trends in China and globally. Alibaba's unmatched scale and logistics capabilities, brand awareness and financial strength will allow the company to benefit from two secular tailwinds:
1) Leveraging China's growing middle-income demographic
China's explosive growth over the last two decades has been primarily concentrated in what are referred to as the nation's tier 1 mega-cities, which include the likes of Beijing and Shanghai. Yet across China, roughly one billion lower-middle income consumers (70% of the total population) live in less-developed regional city centres.
Historically, this demographic has been excluded from much of China's e-commerce boom, with e-commerce penetration in these regions vastly lower than China's large metropolises. Alibaba's new direct-to-consumer and fresh food delivery segments aim to serve this burgeoning demographic, which is experiencing rapidly rising disposable incomes (Figure 2).
Figure 2: Annual Disposable Income Per Capita Distribution (% of Total Population)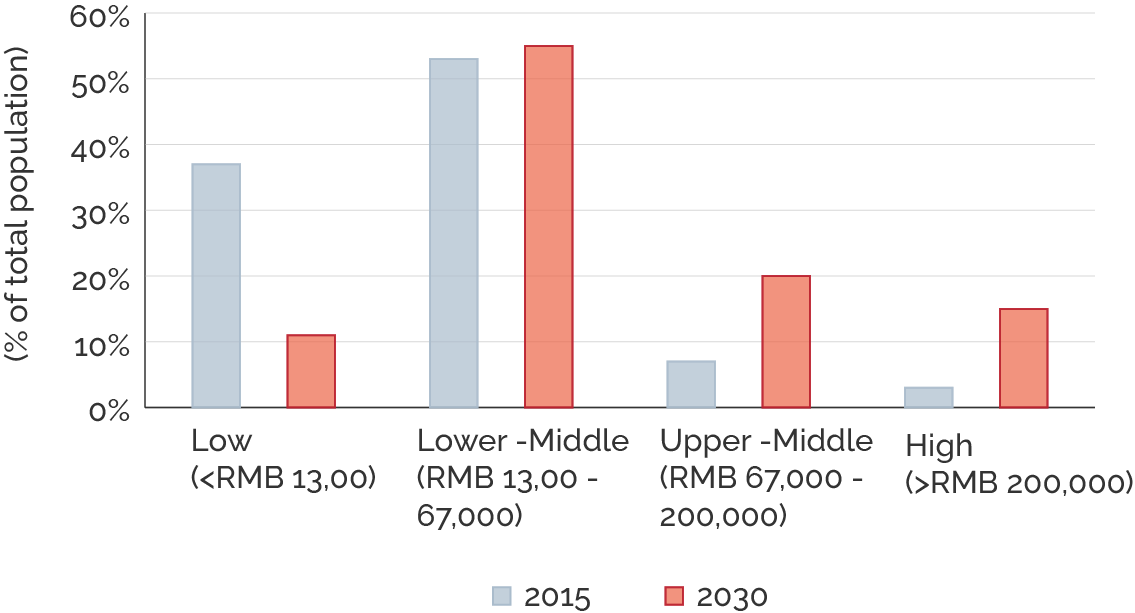 Source: The Chinese consumer in 2030 (eiu.com)
Already Alibaba's Taobao Deals platform, a value-for-money extension of the popular e-commerce marketplace Taobao, is gaining traction. Since launching in 2020, Taobao Deals has added over 100 million users, with order frequency 1.8x higher than Taobao and Tmall.
Coupled with this, Alibaba's omnichannel supermarkets are feeding a growing need in China for fast and convenient fresh food delivery. Recently, Alibaba has integrated nearly 500 of its Sun Art supermarkets (Figure 3) into its online app ecosystem, meaning 97% of fresh food orders are delivered to customers before noon the next day.
Figure 3: Alibaba in a Sun Art supermarket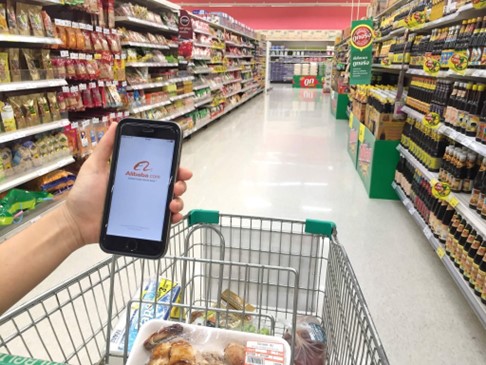 Source: born2invest.com
2) International e-commerce expansion
There is a tremendous opportunity for Alibaba's Southeast Asian (SEA) e-commerce subsidiary, Lazada, to exploit the region's rapidly growing wealth, digitisation and e-commerce adoption, which is still very much in its infancy. In a region with a population of over 650 million people, Lazada currently makes up approximately 40% of the total SEA e-commerce market, which accounts for only 8% of the total retail sales volume, far below China's 28% penetration.
By 2025, however, e-commerce is expected to account for 20% of retail sales (approximately $US260 billion in total sales volume). This reflects a 27% compound annual growth rate from 2020 levels. Lazada's dominant market position, favourable SEA demographics and strong regional e-commerce adoption will allow the company to potentially grow its revenue by 20-40% annually over the next decade.
Holon takeaway: Greatly undervalued
Based on the forward assumptions of our 10-year discounted cash flow model, the value of Alibaba is $US230 per share today. This valuation reflects an approximate 192% margin of safety based on the company's last closing price of $US84.54 as of October 5th, 2022.
That means the stock may be providing investors with a huge opportunity, with Alibaba poised to be a market darling once again.
If you would like to get more detailed information on the assumption and drivers used in our discounted cash flow model the full Alibaba report can be found here.
This article has been prepared by Holon Investments Australia Limited (ABN: 45 648 884 164, AFS Licence No: 532669) ("Holon"). The information provided in this article is general in nature and does not constitute investment advice or personal financial product advice. This article does not constitute an offer or invitation to purchase any securities. This information has not taken into account your investment objectives, particular needs or financial situation. Before acting on any information contained in this article, each person should obtain independent taxation, financial and legal advice relating to this information and consider it carefully before making any decision on recommendations. Except as otherwise required by law, Holon shall not be responsible for any trading decisions, damages or other losses resulting from, or related to, the information, data, analyses or opinions or their use. Those acting upon such information without advice do so entirely at their own risk. The information herein may not be reproduced, in any manner without the prior written consent of Holon. Holon Investments Australia Limited (ABN: 45 648 884 164, AFS Licence No: 532669) is the responsible entity and issuer for the Holon Photon Fund (ARSN 633 803 497) (the Fund). Holon is the investment manager of the Fund. The content of this article does not constitute an offer or solicitation to subscribe for units in the Fund or an offer to buy or sell any financial product. Accordingly, reliance should not be placed on this article as the basis for making an investment, financial or other decision. You should also consult a licensed financial adviser before making an investment decision in relation to the Fund. Any investment needs to be made in accordance with the relevant Product Disclosure Statement (PDS), Reference Guide and Target Market Determination (TMD), and investors should consider the PDS, Reference Guide and TMD before deciding whether to invest in the Fund or continue to hold units in the Fund. Applications for units in the Fund can only be made pursuant to the application form relevant to the Fund. Distributors of our products must consider our TMD. You can access the relevant PDS, Reference Guide and TMD at holon.investments. Valuation information is current as at the date of publication. Holon will not publish updates if opinions or estimates change. Due to changing market conditions, actual results may vary from forecast provided. Any opinion or estimate constitutes the Author's best judgement as of the date of preparation and is subject to change without notice. The valuation in this article should be read in conjunction with the disclosures and disclaimer in the Holon Alibaba Report. Any projections contained in this report are indicative estimates only. Such projections are contingent upon matters outside the control of Holon (including but not limited to economic conditions, market volatility and company-specific fundamentals) and therefore may not be realised in the future. Past performance is not an indication of future performance. Holon does not guarantee the completeness or accuracy of the assumptions or models used in determining the valuation. The valuation is not a statement of fact. In addition, there is the risk that the valuation will not be met due to such things as unforeseen changes in demand for the company's products, changes in management, technology, economic development, interest rate development, operating and/or material costs, competitive pressure, supervisory law, exchange rate, and tax rate. For investments in foreign markets there are further risks, generally based on exchange rate changes or changes in political and social conditions. A change in the fundamental factors can mean that the valuation is subsequently no longer accurate. Investing involves risk including the risk of loss of principal. Please note that investments in securities are subject to market and other risks and there is no assurance or guarantee that the intended investment objectives will be achieved. Past performance is not indicative of future performance. A security investment return and an investor's principal value will fluctuate so that, when redeemed, an investor's shares may be worth more or less than their original cost. A security's current investment performance may be lower or higher than the investment performance noted within the report. Investing involves risk including the risk of loss of principal. Past performance is not indicative of future performance. Holon, its officers, employees and agents believe that the information in this material and the sources on which the information is based (which may be sourced from third parties) are correct as at the date of article. While every care has been taken in the preparation of this material, no warranty of accuracy or reliability is given and no responsibility for this information is accepted by Holon, its officers, employees or agents. Except where contrary to law, Holon excludes all liability for this information.