The Holon Data Storage Dashboard – October 2023
Published 16 Nov 2023
Your one-stop-shop, monthly dashboard to stay up to date on the exact state of Holon's Filecoin business. Plus, some explainers to help clarify the tech. Please note all data is unaudited.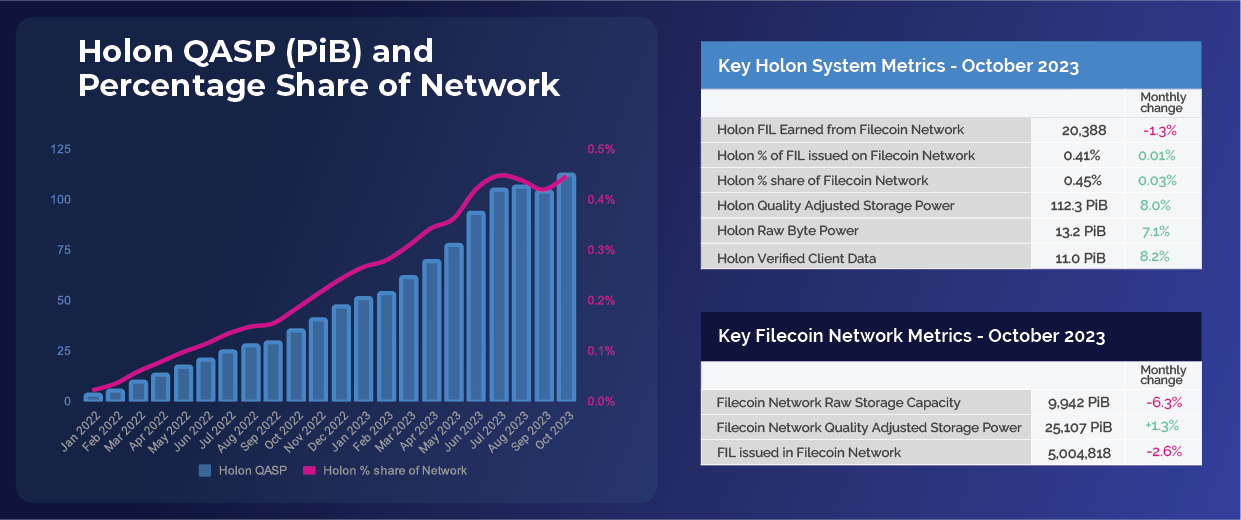 The Filecoin Network is an open-source, public cryptocurrency and digital payment system intended to be a blockchain-based cooperative digital storage and data retrieval method.
FIL Earned is Filecoin (FIL) won via FIL block rewards on the Filecoin Network.
% of FIL mined refers to the total amount of FIL issued to storage providers from the Filecoin Network.
% share of Filecoin network is the amount of QASP Holon provides in proportion to the entire Filecoin Network.
Quality Adjusted Storage Power (QASP) is the storage power earned from a combination of committed capacity, regular deals and verified client deals.  Verified client deals attract higher QASP, augmented by a multiplier from the Filecoin Network.
Raw Storage Capacity refers to the amount of storage capacity regardless of whether it is being utilised by clients or not.
Verified Client Data is client data that is approved for the multiplier in QASP from the Filecoin Network.
Raw Byte Power is  the size of raw bytes committed on the Network without any multipliers applied.

Disclaimer: This Article has been prepared by Holon Global Investments Limited ABN 60 129 237 592. Holon Global Innovations Pty Ltd ("HGI") is a wholly owned subsidiary of Holon Global Investments Limited (together "Holon"). HGI is a Filecoin (FIL) Storage Provider and is positioned as a major player in the FIL decentralised data storage arena for Asia Pacific. FIL Storage Providers are rewarded in FIL for the provision of data storage capacity. Holon, its officers, employees and agents believe that the information in this material and the sources on which the information is based (which may be sourced from third parties) are correct as at the date of publication. While every care has been taken in the preparation of this material, no warranty of accuracy or reliability is given and no responsibility for this information is accepted by Holon, its officers, employees or agents. Except where contrary to law, Holon excludes all liability for this information.