Why MicroStrategy has successfully become the best Bitcoin proxy around
Published 23 Feb 2021
With the soaring price of Bitcoin investors could be forgiven for being a little anxious about the best way to invest in Bitcoin. After all, private keys, blockchains and decentralisation can be intimidating concepts. 
This is particularly true at an institutional level, where losing an asset is not in the vocabulary. The regulatory environment in Australia is also hostile to Bitcoin, which isn't recognised as an investable asset.
A somewhat unknown company, listed on the NASDAQ stock exchange, MicroStrategy, has become an ideal solution for Australian investors to gain exposure to Bitcoin. Indeed, we recently announced that we had taken a 6% stake in MicroStrategy(see press release). 
Becoming the best Bitcoin proxy 
Last year, Microstrategy founder Michael Saylor made a controversial decision and allocated the large majority of its balance sheet into Bitcoin (then valued at US$1 billion). They have since raised an extra US$650 million via a convertible senior note to further invest in Bitcoin. 
With 70,470 Bitcoins, MicroStrategy is the first publicly listed company to form a strategic digital asset treasury investment thesis. As you can see in the chart below Microstrategy is now trading as a proxy to Bitcoin. 
MicroStrategy and Bitcoin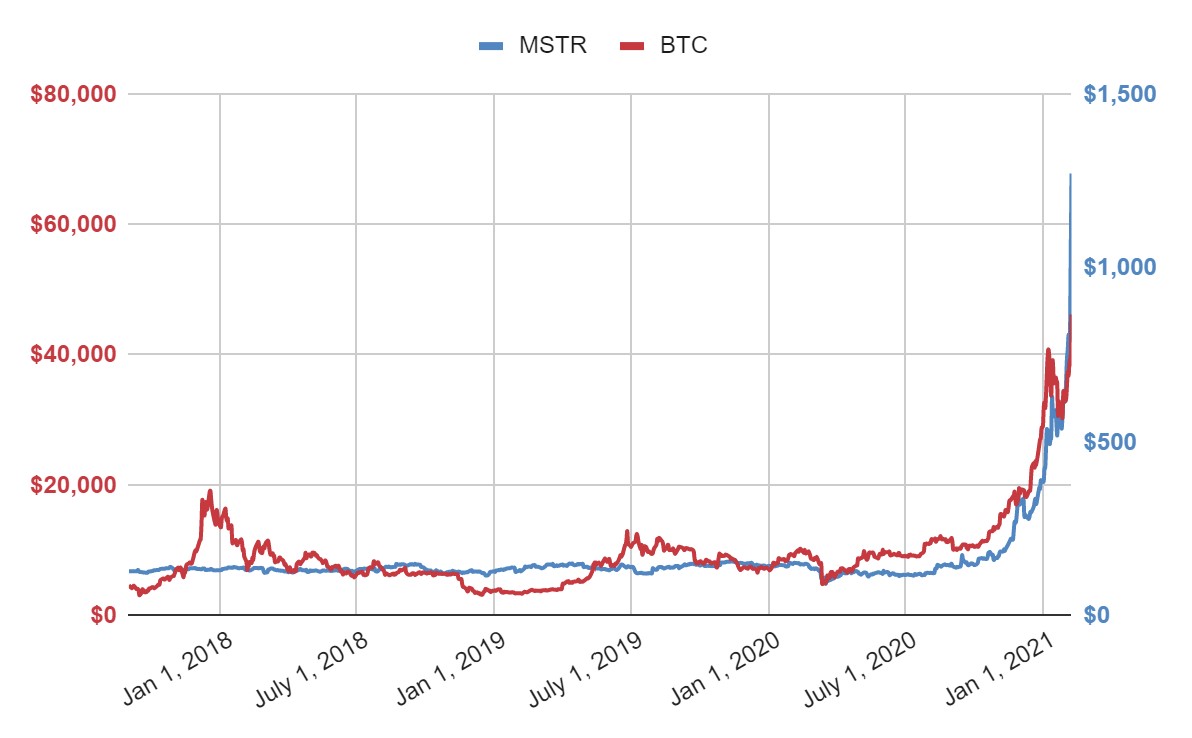 This might seem strange considering the company provides business intelligence, mobile software, and cloud-based services. Microstrategy is a relatively small company, and with the above strategy this makes them a convenient vehicle for investors to get exposure to Bitcoin via their balance sheet.
Microstrategy has even hinted at a move towards servicing the Bitcoin industry, which could provide new revenue streams and potential upside for investors. 
Morgan Stanley increases stake
The model was designed carefully and had not only the support of shareholders but their belief in the strategy with Renaissance Tech, Citron and Blackrock all publicly acknowledging Bitcoins' relevance and it's place on the MicroStrategy balance sheet.
The strategy certainly seems to be working for the company as demand is causing Microstrategy to  trade at a significant premium to where they were just months ago because of the Bitcoin exposure. It is clear to us that Michael Saylor is committed to the Bitcoin strategy, which gives us confidence in using Microstrategy as a somewhat proxy to the BTC price.
MicroStrategy's move into Bitcoin has been validated by the broader investment community. Morgan Stanley recently increased its stake in MicroStrategy to 10.9%, while institutions including Skybridge, One River Asset Management, and Massmutual have made major investments in the company. 
A strong store of value
At Holon, we have been following the Bitcoin story for some time and believe strongly in its value proposition as a store of wealth. This has become increasingly clear in the post pandemic world, where money printing is the go-to-strategy to avert an economic crisis, which ultimately devalues a nation's currency. 
That is the most important part in the MicroStrategy story: the core value proposition of Bitcoin is incredibly strong, particularly in the backdrop of an inflating currency. 
We believe the time is now for investors to get off zero and until appropriate investment vehicles present themselves (hint: we are looking to develop a Bitcoin Fund to solve this problem), it seems that MicroStrategy is the best bitcoin proxy as a way to invest in Bitcoin.