Why investors are undervaluing the huge upside of Meta Platforms Web 3.0 investments
Published 30 Nov 2021
'Meta' (formerly Facebook) was recently impacted by revelations from a former employee turned whistleblower, Frances Haugen, about serious concerns of the social media company's internal data privacy policies and use of targeted algorithms. Meta also reported lower-than-expected top-line revenue growth for the third quarter, largely due to Apple's new iOS 14 privacy update, which limits the effectiveness of Facebook and Instagram's targeted ads.
Investors are worried that the days of Meta's advertising business generating double-digit earnings growth are over. Following the impact of the issues outlined above, the stock fell by almost 20% in October (Figure 1).
Figure 1. Meta Platform (FB) Adjusted Close Price

But market participants are overlooking the fact that, as the recent name change to 'Meta' highlights, the company is pivoting away from its advertiser-based model that has been responsible for most of the company's revenue over the past decade.
Meta has been throwing a substantial amount of capital (both human and financial) at a range of Web 3.0 investments that aim to disrupt and revolutionize the way individuals' shop, communicate, work, and transact on the internet.
Broadly speaking, Web 3.0 refers to the next iteration of today's read and write internet, with the distinction that Web 3.0 will be largely decentralised as it will be built upon various open source blockchain protocols.
Digital Payments and cryptocurrencies
The first big area of Web 3.0 investment is in digital payments where there is immense potential for Meta to disrupt the market currently dominated by legacy players Visa and Mastercard. The USD$2 trillion plus global payments industry provides Meta with an enormous opportunity to leverage its existing network (3.58 billion users worldwide) and capture market share of the rapidly growing non-cash transactions sub-sector, which is forecasted to exceed 1.4 trillion transactions globally by 2023 (Figure 2).
Figure 2. Number of non-cash transactions worldwide 2013-2023 (billions)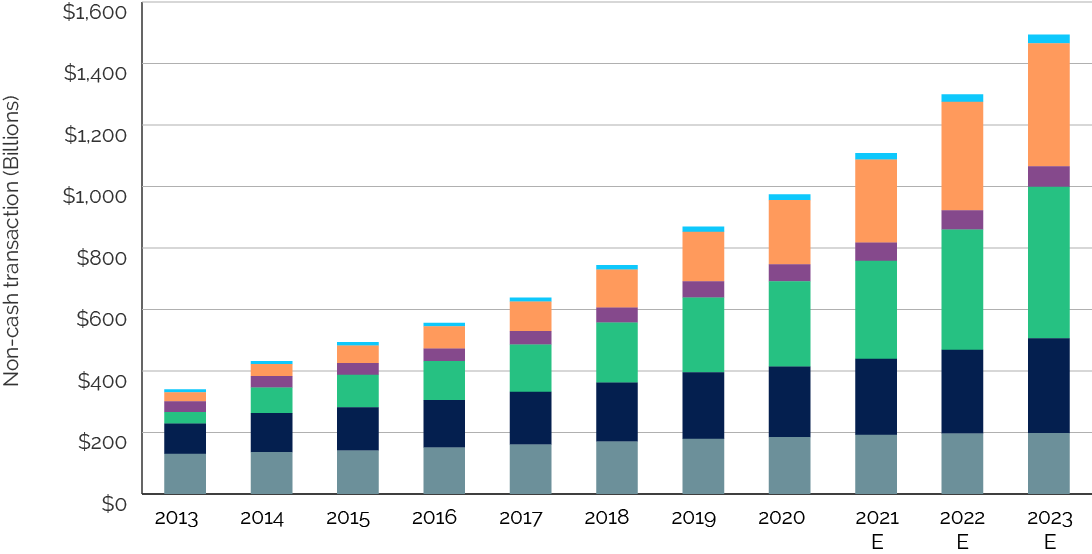 In a bid to seize a slice of this market, Meta is launching into digital payments. To tap into the explosion of cryptocurrencies and Web 3.0 in 2019, Meta created the Diem Association (formerly Libra), which has been developing a blockchain-based digital payments system. A launch is expected at the end of 2021.
Meta designed Diem to provide universal access (especially the 1.7 billion people currently underbanked globally) to a secure and affordable method of payment, without the need for financial intermediaries.
Meta's key point of difference is that Diem will be a developed as a stable coin – a digital token pegged 1:1 against the value of the US dollar. Diem users will be able to convert fiat currency into stable coins and transact in this blockchain-enabled digital token at a far lower cost than the traditional payment rails offered by the likes of Visa and Mastercard.
Users will also be able to transact with each other across all of Meta's social media channels in a similar fashion to Facebook Pay, which is currently only available on WhatsApp in the US. This interoperability between social media and payments is significant as it adds critical value to the end user in the form of greater convenience and simplicity.
At this stage it is unknown how large Diem will become. However, if 5% of Facebook users alone were to deposit USD$50 into Diem, the stable coins market capitalization would place it among the top five cryptocurrencies globally.
Meta has stated that Diem transactions will remain free until at least 2023, allowing time for network adoption to grow. Eventually Meta intends to charge a small transaction fee that could provide a massive new revenue source.
E-Commerce 
The second component of Meta's Web 3.0 investments involves the company's entrance into the e-commerce industry, with the recent addition in mid-2020 of the 'Shops' feature on Facebook and Instagram. Essentially, Shops is an online store feature that allows e-commerce businesses to sell their products across the suite of Meta's social media applications.
Shops is already proving to be extremely popular with 300 million active monthly customers transacting with 1.2 million stores across its platforms already. Over time, as Meta scales this segment, its customers will be able to use Diem as their preferred payment method to shop, giving the company a distinct edge over other e-commerce players.
The value proposition of the Shops' feature is extremely compelling for merchants looking to achieve greater exposure as businesses can have their shop featured across the full Meta suite of apps.
To monetise this channel, Meta currently charges each seller a 5% fee per shipment or a flat rate fee of $0.40 for shipments under $8. Although it is hard to quantify given the segment is so early in its adoption and development, with scale the revenue generated from e-commerce sales has the potential to become a meaningful component of the company's free cash flow generation.
The Metaverse
The third and final Web 3.0 Investment bringing together Meta's e-commerce and payments initiatives is Zuckerberg's vision to become a 'Metaverse' company, which is the inspiration for the company's recent name change to Meta. At a high level the metaverse refers to a virtual-reality space in which users can interact, work and play in a computer-generated environment through digital avatars.
To drive the metaverse vision, in 2014 Meta acquired Oculus, a maker of the popular VR "Quest" headsets, which allow users to experience a virtual 3D world with people all over the globe, remotely.
Meta's goal is to become a digital ecosystem of commerce and social interaction, where merchants can digitally sell and interact with customers in digital shop fronts and where individuals socially engage with one another face-to-face in a 3D environment whilst physically separated. This revolutionary offering, in combination with seamless (free) transactions, enables a frictionless commerce experience for both merchants and customers, amplifying sales and creating a whole new world of opportunities.
Meta is leading the charge in the Metaverse arena and appears to have at least a two-year head start on a pack of other hardware developers, which include the likes of Apple, Microsoft, Unity and Epic Games.
Potential to scale rapidly
It is hard for investors to predict the growth trajectory and earnings of these Web 3.0 and VR investments. But, given the company's enormous existing user base, Holon believes Meta has the potential to scale rapidly and become a dominant global e-commerce and metaverse platform. This should provide a significant source of revenue to complement a steady stream of advertising earnings growth.
Subsequently, Meta's recent sell-off gives investors the opportunity to gain exposure to a company leading the way in the new and exciting realm of Web 3.0.