Why global disruptors are less risky than ASX 'blue chips'
Published 30 Sep 2021
All investors are prone to bias. Many investors particularly like to generalise to mask a lack of understanding. A common generalisation we see is when clients and potential clients assume that innovative and disruptive companies in our portfolio do not make money.
But many would be surprised at just how profitable some of these companies are. And if the company isn't profitable, they are laying the foundations for massive future profits using all available funding to address their enormous market opportunities .
When investors grasp the strong financial position of the majority of our portfolio, they understand that, far from being risky investments, they are actually some of the most secure and defensive investments available today. Indeed, they are much less risky than many of the so-called 'blue chip' stocks on the ASX today.
The three buckets
We have structured the Holon Photon Fund around the concept that innovation is accelerating and therefore disrupting global markets.
We construct the portfolio with the idea that investors need to be investing globally across innovation of 'Today', 'Tomorrow' and the 'Future'.
That is, it is necessary for investors to have exposure to the Mega Cap companies of today as their dominance and defensibility is hard to ignore.
Further, investors should also have exposure to the global and exponential opportunities that the companies of the 'tomorrow' bucket represent. These companies are likely to be the Mega Caps of tomorrow.
And Finally, Investors should hedge against disruption by investing in the companies that are leveraging new technology to fundamentally change the economics of Today's Mega caps. We believe Digital assets represent a large proportion of the Future disruption bucket.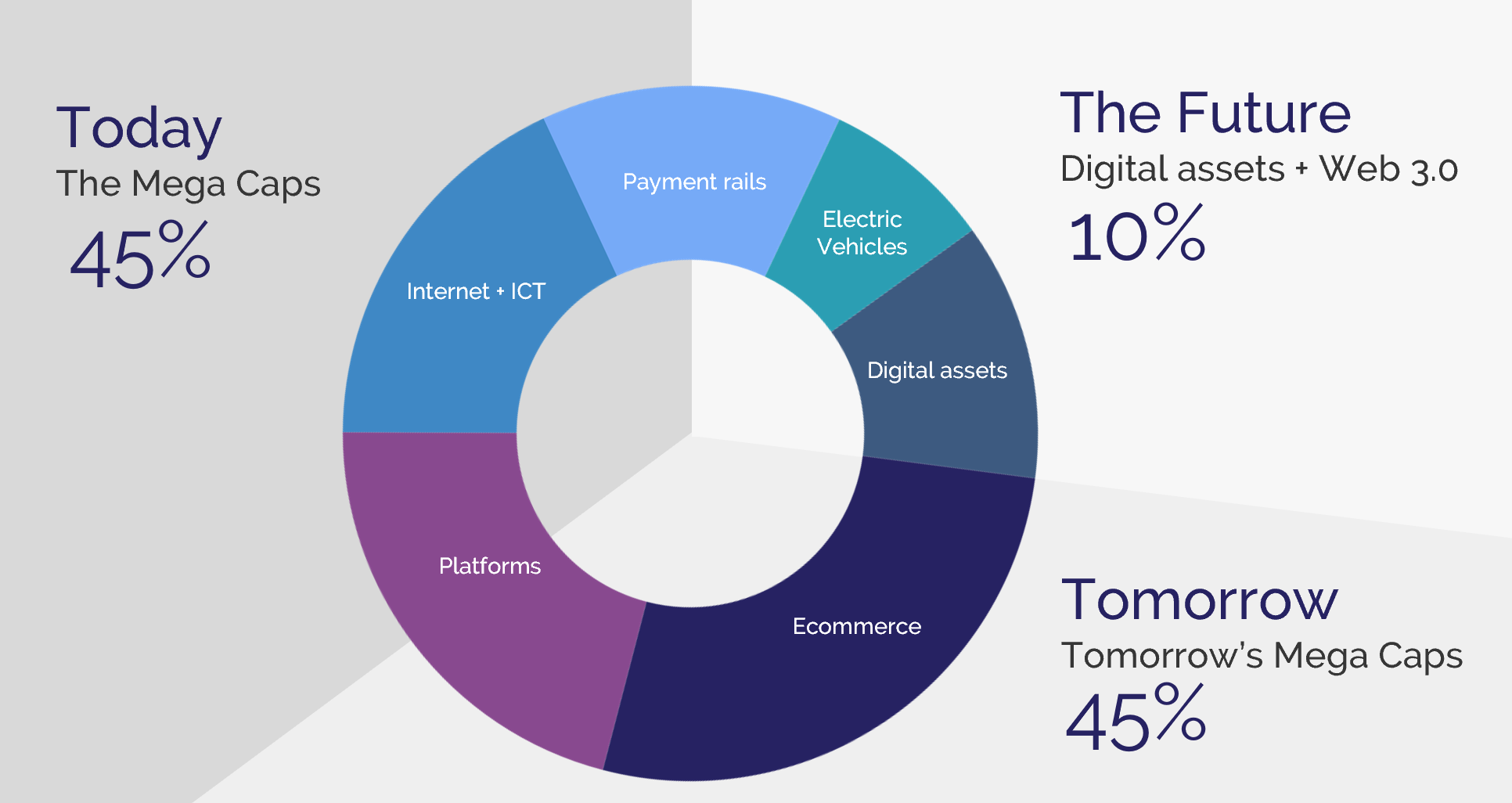 Cashflow kings
When it comes to our core 'Today' holdings, investors may have a sense that global Mega Caps are profitable. But they are likely missing just how cash generative the Mega Caps actually are. This is particularly true for Australian investors who use the tech platforms, but do not participate in the economic benefits of investing in them.
As you can see in the chart below, the core of the Holon portfolio is made of incredibly resilient businesses with exceptionally strong cashflows.
Holon Photon Companies Operating Cashflow (AUD millions)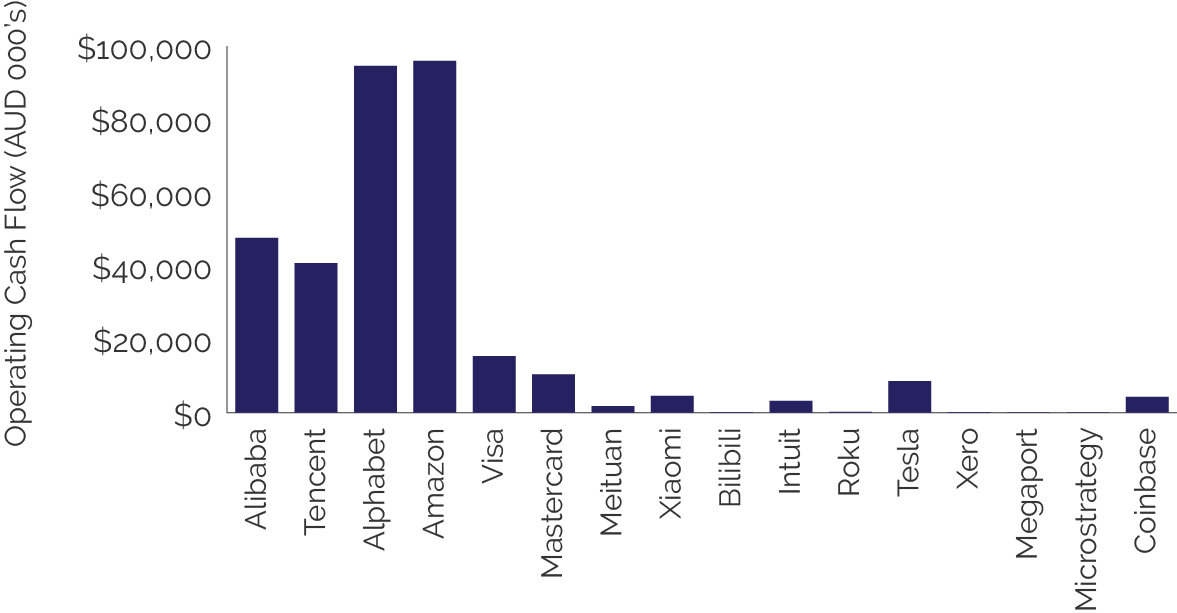 Beyond strong cash generation, these companies have built enormous balance sheets as they have scaled. We saw the ability to leverage their strong balance sheet early in the Covid-19 pandemic when all these businesses invested heavily to capture opportunities in accelerated digitisation of the economy. Amazon, for example, hired an additional 175,000 people to keep up with "unprecedented demand".
Holon Photon Companies Cash Balance (AUD millions)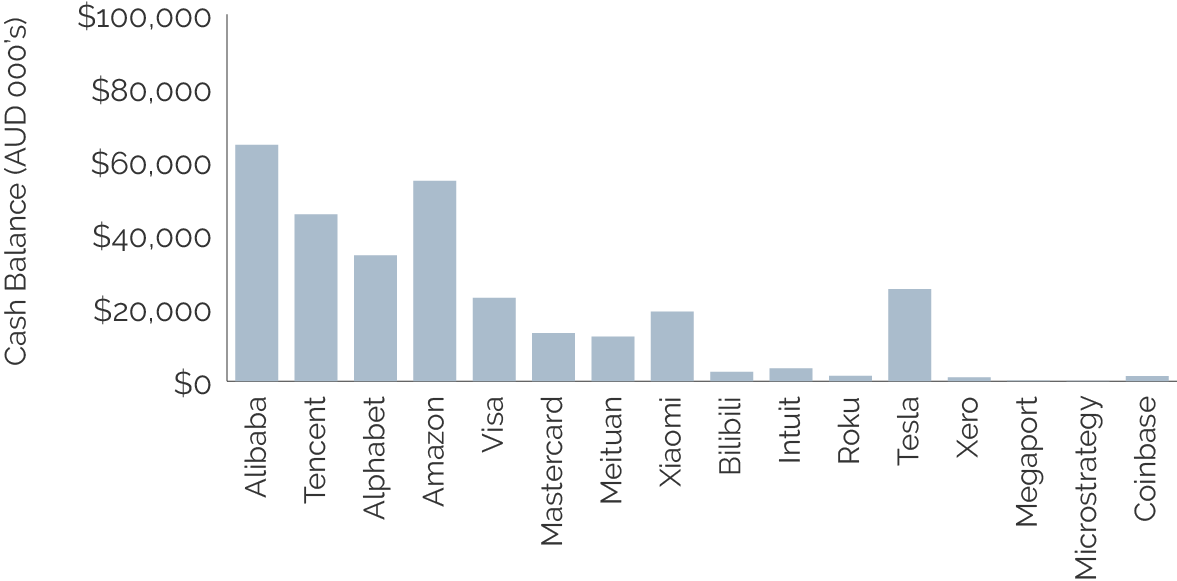 When faced with events like a global pandemic, or whatever the future may throw at us, it is these Mega Caps that will be incredibly well positioned to take advantage and thrive in those environments because of the flexibility their enormous balance sheets provide.
Global and Exponential
For businesses in the 'Tomorrow' bucket, there is no doubt that there is a trend that these types of businesses are remaining unprofitable for longer periods of times.
However, if you look beyond the bottom line, it becomes clear why. The world is shifting from local and linear to global and exponential and the businesses in ' tomorrow' are all global in nature, and their addressable markets are enormous.
We agree that the right strategy for them is to invest all — sometimes more than all — of the cashflow back into growing the business. This isn't true for all businesses, but for the ones with incredible value propositions we believe this to be true.
A great example for Australian investors is Xero. Xero remained unprofitable for 12 years. Many investors questioned the strategy along the way. It is now profitable. Indeed, the question investors must ask themselves now is: 'What would it take to displace Xero as the accounting software for small and mid-size businesses (SMBs)?' Likely, that's hard to imagine….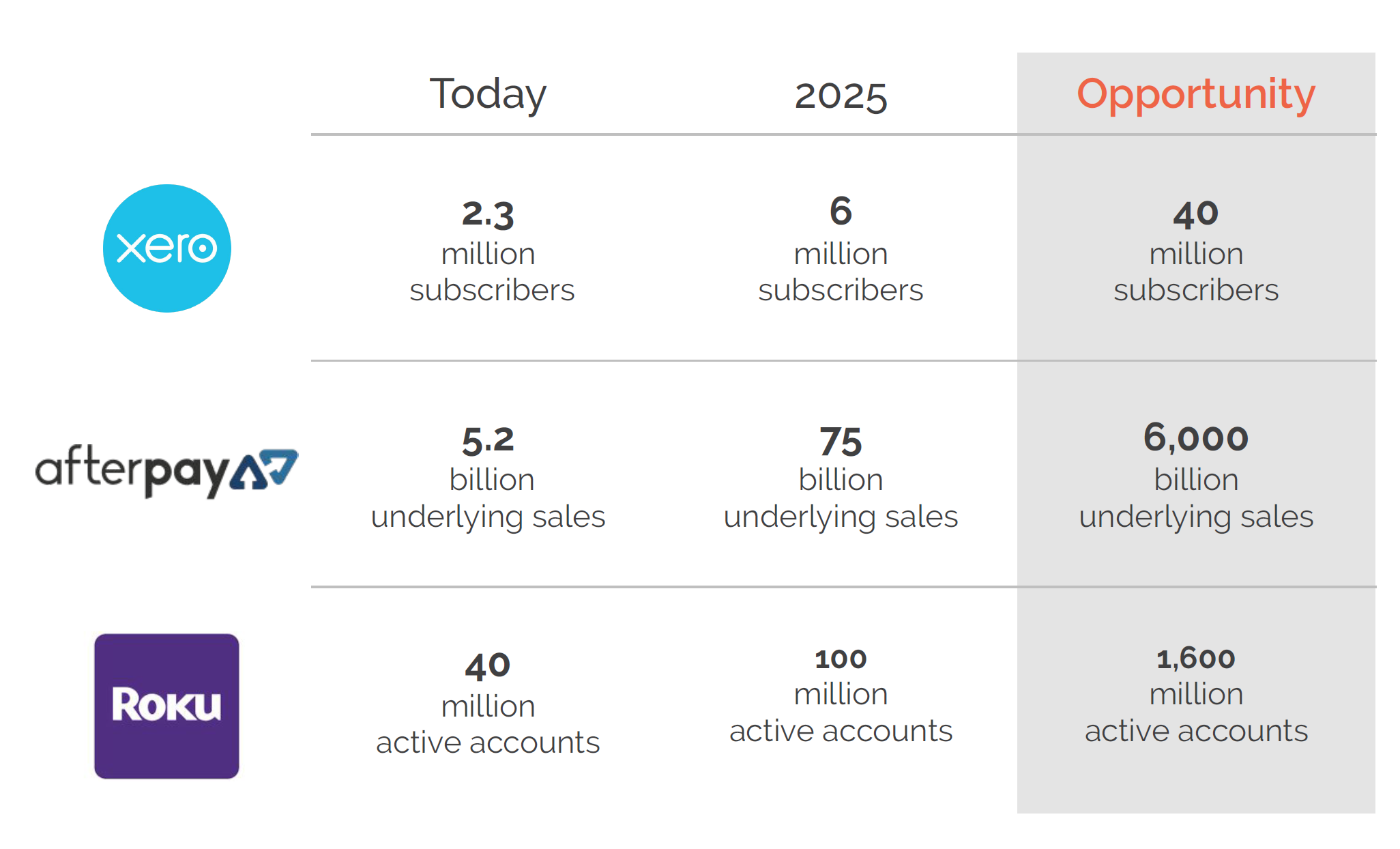 In our view, finding companies with incredible value propositions is the key to unlocking significant returns for investors. As these companies expand globally and leverage technology, they can scale exponentially, creating robust and large cashflows.
Real risks
While many of these rapidly growing companies may remain unprofitable as part of a deliberate strategy to scale quickly, it might  surprise many investors that only a handful of companies in our 'Tomorrow' and 'Future' buckets remain unprofitable. If we factor in the growth trajectories of the unprofitable companies, we can assume that  in just a few years' time they will be highly cash generative and profitable (and hopefully with the share price reflecting that).
Holon Photon Companies Net Income (AUD millions)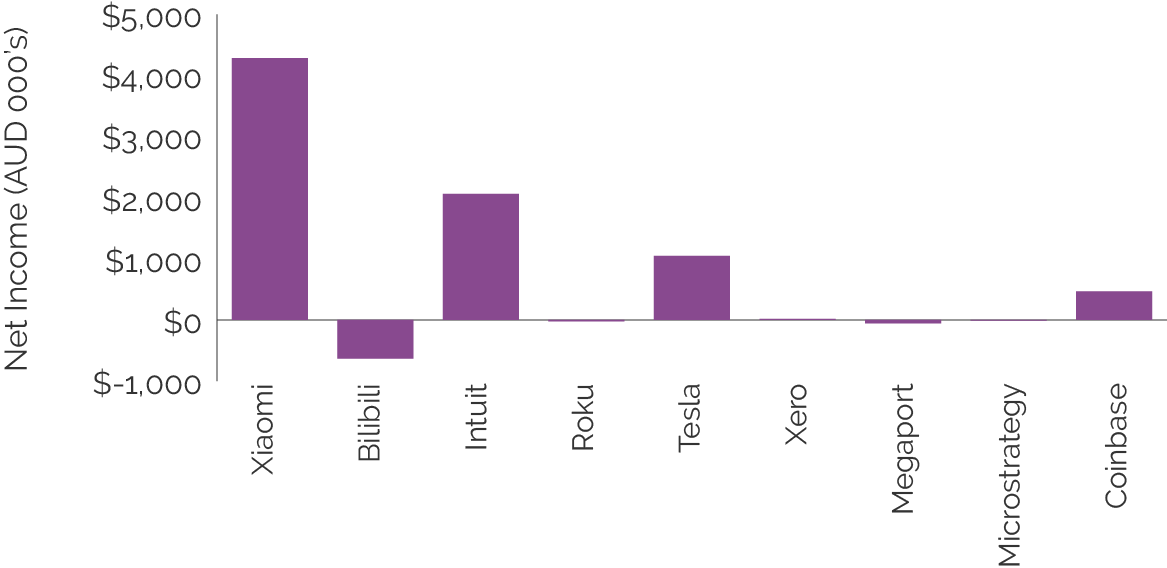 Many investors view innovation funds as risky. That view assumes that many of these companies are unprofitable. It also ignores the value propositions, the balance sheet and in the case of the mega caps, the billions of customers. It is only by examining things in more detail that we can become clearer about the real risks.
The truth is that most of the companies in our portfolio are highly profitable. And if they are not, they are deliberately so as they expand rapidly to exploit the opportunity to capture their huge global market.
Investing is identifying opportunities where the rewards outweigh the risk. In our view, the companies we invest in – the companies of 'Today' – represent some of the lowest risk opportunities in the world and are much more robust then the 'blue chips' on the ASX.
Layering the global and exponential opportunities in the other two buckets provides investors with a slightly 'riskier' portfolio as these companies are much earlier in their life cycle, but it does provide a greater upside and potential hedge against disruption.
The Holon Photon Fund, in many ways, is a much 'safer' portfolio than much of the 'blue chip' ASX companies. The businesses are global, have incredible value propositions, strong balance sheets, millions of customers, and can attract the smartest people in the world to drive their missions forward faster than a local counterpart chasing a local opportunity that is real risk in today's digitally enabled world.