Three tech innovations revolutionising E-commerce in a Web 3.0 world
Published 07 Apr 2022
Hang on to your CVV, as E-commerce is on the cusp of a rapid transformation.
By 2025 global E-commerce sales are expected to hit almost $US7.4 trillion, driven by a rising middle class and growing internet and smartphone penetration (Figure 1, below). That growth will take the proportion of sales online from 15% today to one-third of all retail sales globally.
Figure 1: Global E-commerce sales (2019 – 2025)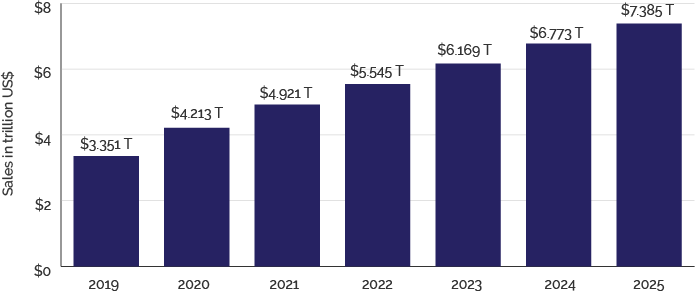 Source: eMarketer
Not surprisingly, Chinese consumers will be the most significant contributors to this shift, with US$3.2 billion in E-commerce sales expected by 2025 (40% of total), followed by the US with US$2 billion and EMEA (Europe, the Middle East and Africa) with US$1 billion.
Although social media, marketplaces and online communities will continue to play a central role in the growth of E-commerce in the coming decade (and beyond), it is the rapid shift in Web 3.0 innovation that's the biggest revolution in how we as consumers shop, and how merchants sell. Get ready for big changes.
From Web 2.0 to Web 3.0
In a Web 2.0 world, the world of online communities and marketplaces, a handful of global and regional leaders have dominated the E-commerce market.
Amazon and Alibaba, particularly, have leveraged a significant first-mover advantage, and built best-in-class physical infrastructure, payment and software systems, to build a proverbial E-moat around their marketplaces.
Social media platforms have also been a key driver and enabler of E-commerce, most notably in western markets with platforms like Instagram, TikTok, Pinterest and Snap; while in China E-commerce is amplified by WeChat (owned by Tencent) and Douyin (the localised TikTok).
But looking ahead, by contrast, in a Web 3.0 world, our experiences with brands and merchants will inform three innovations to revolutionise this space, as E-commerce becomes intelligent, ubiquitous and, in many cases, decentralised. What do we mean by this?
Intelligent: E-commerce experiences will be highly personalised, with advanced machine learning ensuring we see (and receive) the products and services that are relevant to us. Anyone who has every searched for a product only to see it on multiple online feeds will have a sense of this, but soon an AI will know our style preferences (patterns, colour, cut), budget, size, brands, origin, carbon footprint – you name it. Imagine walking through a shopping center and receiving notifications (likely within your smart glasses) of a new pair of Nikes on sale 10 meters away, which are exactly the pair you've been looking for (even if you weren't consciously aware of it).
Ubiquitous: Our shopping experiences will not just be limited to in-store and online but be present within all interactions we are making day-to-day. Smart fridges and bins, for example, will automatically re-order household staples, and washing machines will notify us of wear and tear. Imagine being able to shop within Amazon Prime Video, i.e. pressing the shop button during James Bond to buy the Tom Ford sunglasses or Omega watch. Wherever you are – at home, at the movies, in a game, or at a restaurant, E-commerce will be there, amplified by machine learning and big data.
Decentralised: In a decentralised environment, firstly, we will have more control over our data (size, preferences, age, expenditure) and be able to choose the experience we want. We will be able to walk through a completely personalised metaverse environment (perhaps a shopping space that only sells what's relevant to us) or walk into a metaverse mall much like the malls we have today. Secondly, decentralisation will mean instant payments using digital currency, resulting in lower working capital and credit risk for the merchant. Finally, we will see a shift towards a more decentralised E-commerce infrastructure and fewer touch points which, ultimately, will give greater power to those few who own large parts of that infrastructure, like Amazon, Alibaba, JD.com and Shopify.
The Innovators
Over the coming decade, some of the world's leading conglomerates will continue to make waves as they adapt and innovate their solutions around E-commerce. For example, Shopify and Amazon are investing heavily in their fulfilment network and aligned technologies like robotics. Meta is progressively building out their vision for a metaverse, whilst semiconductor leaders like Nvidia continue to develop leading edge technology to enable E-commerce across the entire value-chain.
But beyond the majors, we're keeping our eye on a cohort of highly sophisticated, emerging technology companies, many of which give us a glimpse at what to expect from E-commerce in a Web 3.0 world.
Innovator #1: Wiliot
Wiliot, which has attracted investment from AWS, Pepsi and Samsung, is developing semiconductor technology that can be embedded within a range of products such as medication, apparel, packages goods and groceries. These devices (hidden within product labels) will be able to automatically detect product expiry, usage and temperature, ensuring essential items like medication are automatically re-ordered. This is one of the best examples today of ubiquitous computing being embedded across the entire supply chain of E-commerce.
Innovator #2: Niantic
Niantic, the developers of the highly popular AR game Pokémon Go, have opened their AR platform to brands, to enable location-based AR experiences in the real world. By collaborating with hardware developers like Snap, who are rolling out 4th generation spectacles, it's easy to imagine an environment where a real-world shopping experience is enhanced to provide directions, product recommendations, sizing and special offers. We are also likely to see leaders like Meta, Microsoft and Apple amplify advertising revenue by offering unique, and targeted advertising opportunities. At present, Snap have developed (and continue to develop) opportunities for their customers (Gucci, for one) to sell directly through the app thanks to customised AR lenses, which allows customers to virtually 'try on' a pair of shoes before they buy. Similar tools already exist for sunglasses brands and will become the new normal for how many consumers engage with a brand in future.
Innovator #3: Lilium & Beta Technologies
Although not directly a Web 3.0 innovation, rapid advancements in transport technology will catalyse even greater efficiencies in delivery times (a big component of the ubiquitous and instantaneous environment within a Web 3.0 world). Advancements in electric Vertical Take Off and Landing (eVTOL) technology – which allows aircraft to hover, take-off and land vertically, such as that developed by Beta Technologies and Lilium, will allow organisations like UPS and FedEx (and likely Amazon and Shopify) to develop customised fulfilment solutions to ensure less than two day delivery regardless of location. In congested mega cities like Sao Paulo or Mexico City it is hard to make timely deliveries, and delivering to regional locations is also difficult. But just watch eVTOLs solve many of the fulfilment headaches in those places.
Now, although Wiliot and Niantic are private companies for the moment, there are still ways for investors to benefit from the great innovation in this space. Holon's Photon Fund has incredible exposure to this sector via holdings in Amazon, Shopify, Alibaba, Tencent, Alphabet and Block (to name a few). All these companies are highly innovative within E-commerce, both globally and regionally, and continue to expand into new product and service streams today (within Web 2.0) and into the future (Web 3.0).
There are many, of course, who say we can never completely lose brick and mortar retail locations, and nothing will completely replace the touch and feel of a product. Like with print and now remote working – how much change the buying public will adapt to – or put up with – will be fascinating to see play out. The innovators are certainly ready to continue driving E-commerce into a brand new era.