Roku vs Netflix: Why not both?
Published 03 Nov 2021
Investors no doubt have seen the massive shift to online digital streaming over the last five years with the likes of Netflix, Disney, Apple, and Amazon.
A less well-known company that fits this thematic is Roku, which is digitising streaming via its own custom built operating system giving users a single gateway to access a multitude of streaming channels whilst also enabling Advertisers to better reach their audiences.
We outlined the basics of the Roku business in this article: "ROKU: The streaming giant you've never heard of".
Some investors still ask us: Why should we hold Roku in our portfolio instead of Netflix? Netflix is much larger after all.
But the companies are not mutually exclusive. If you are looking to capitalise on the digitisation of TV, there are a number of reasons to hold both Roku and Netflix in your portfolio.
Roku vs Netflix: Roku is bigger than it looks.
The first reason to hold Roku is its growing penetration.
Roku and Netflix both benefit from extremely large and growing markets, and the size of these markets can often be perplexing. There are 1.6 billion households today, of which 1 billion have access to internet (Figure 1).
Figure 1: Total Addressable Market for Streaming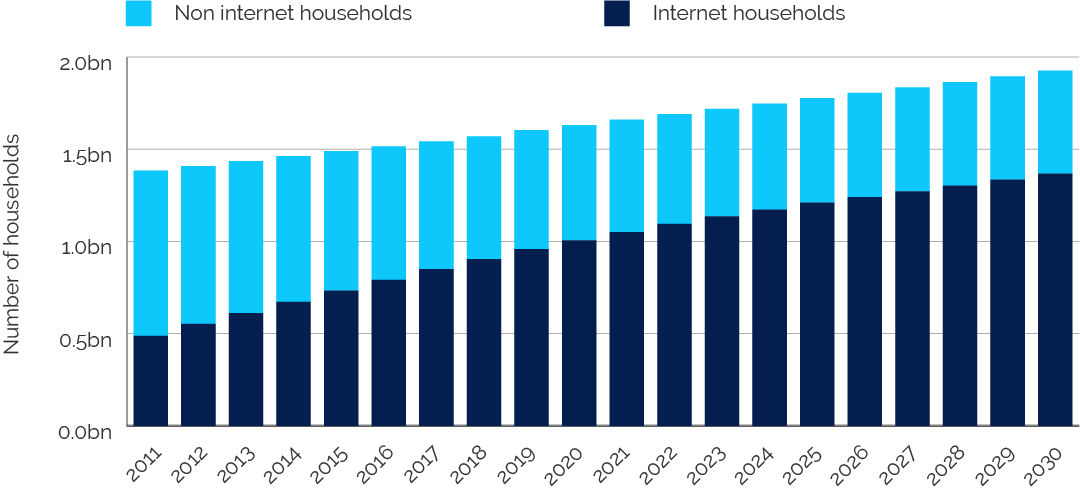 Netflix serves just over 20% of the addressable market currently, while Roku is at a mere 6% (assuming each subscriber represents a household) – Figure 2.
Figure 2: Subscriber Numbers (Current & Forecasted)

However, a study from Hub Entertainment Research, found that 40% of Households in the US had a Roku enabled operating system. Couple this with the fact that 38% of smart TVs sold in the US in 2020 were Roku enabled, the outlook for Roku looks positive as they expand globally (Also, Keep in mind that Netflix subscribers can stream Netflix within the Roku operating system).
Roku vs Netflix: Roku is the staple of streaming
On the surface, Netflix looks like they compete directly with Roku. To a certain extent they do, but they also service two different customers. Netflix generates revenue directly from consumers, whilst Roku generates revenue from advertisers, thus Roku can serve content to streamers for free. We like to think of Netflix as a 'premium' service whilst Roku is more of a 'staple'.
A study by YouGov showed that over 20% of consumers aren't willing to spend any money on streaming services at all (Figure 3). This leaves a large opportunity for 'ad-supported' streaming. Further, with another 37% only willing to spend up to $20 this means a large proportion of consumers who may not have enough 'premium' content, will need supplementary content to fill their streaming appetite.
Figure 3: What Americans Are Willing to Spend on Streaming Services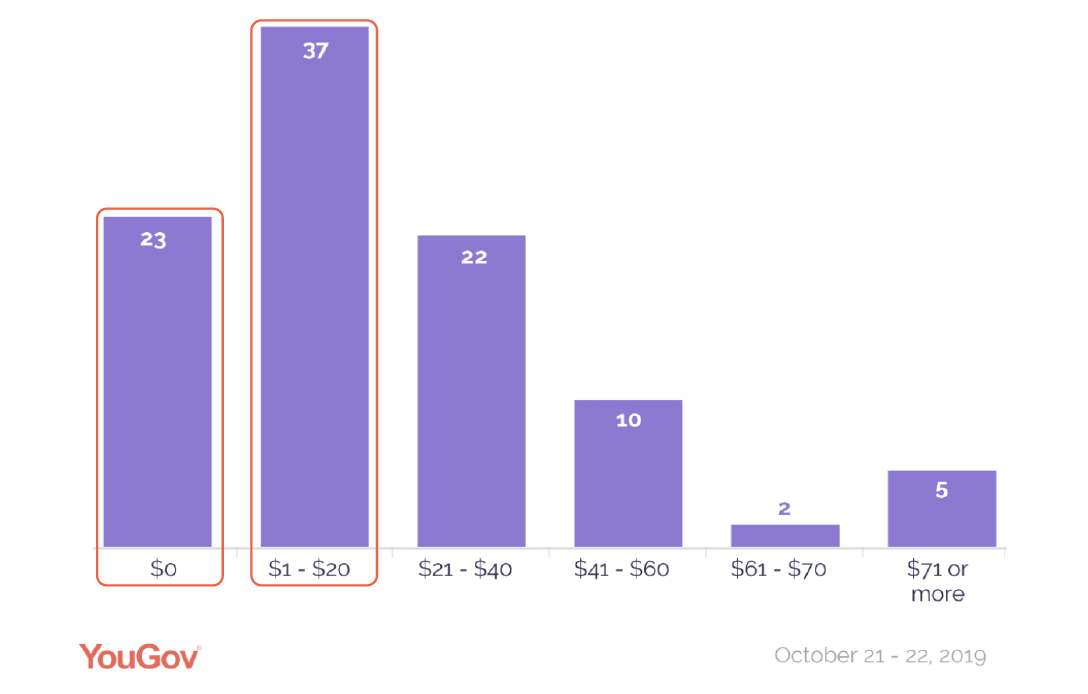 Roku vs Netflix: The Roku advertising flywheel
Ultimately, streaming is about the content. Netflix, with 220 million subscribers, has considerable budget to invest back into their content to retain and grow their subscriber numbers. With so many users they also have a data advantage on consumer interests, creating a strong competitive advantage.
But Roku similarly benefits from a flywheel effect by offering a compelling platform to advertisers. Increased advertising spend, in turn, allows Roku and content partners to invest into their own content to grow their audience. We've seen this with the release of 'Roku Originals' which has driven the Roku channel to double its streaming hours over the last 12 months.
The benefits of Both
Streaming services are likely to consolidate, but it is unlikely that a single winner-takes all- market.
Rather, streaming services will increasingly use advertising to better monetize their content. This is where Roku benefits either way. As the operating software is in-built in Smart TVs, there is no reason why most Netflix subscribers cannot stream via the Roku operating system.
Investors don't need to worry about whether Roku or Netflix win, the market is big enough that both can exist and be complementary to the shift to streaming. Instead of 'either or', investors should ask, why not both?