Revisiting Holon's Team A vs Team B thesis: Five crucial developments for your portfolio
Published 10 Aug 2022
In our May newsletter piece titled Three waves to keep inflation high over the next decade, we introduced the concept of Team A vs Team B, and concluded that we will shift from a US-centric unipolar world to a multipolar world over the 2020s. Much has happened in the three (long) months since, and an update seemed in order.
What were our key forecasts in May?
Three strong scenarios seemed to be playing out in May, which included:
The Russia/Ukraine war risked splintering the world into two distinct groups: the US/Europe block, or "Team A", which also includes Australia; and "Team B", the China/Russia/India block, which captures almost 80% over the world's population and 50—80% of commodities/resources.
Efforts to remove Russian gas and oil supplies would negatively impact the global economy because of higher energy costs and limited replacement supply. The prices of other commodities, such as food and fertilizer, where Russia had high global market share prior to the Ukraine war, would also be severely impacted.
China/Russia aligned countries would accelerate efforts to introduce a new reserve currency that would allow them to shift away from using the US dollar for trade, particularly commodity-linked transactions.
What's happened since May?
The rise of Team B has only accelerated. Below we look at five recent developments. It is vital for investors to understand this accelerating trend because it means they will need exposure to increasingly powerful emerging markets in their portfolios to generate strong returns.
1. Russia sanctions boomerang back onto Team A
The first major development is that sanctions put in place by the US, Europe and its Team A allies have not gone to plan, with 40-year high food and energy inflation being felt by citizens within their home countries. Manufactured goods as well as logistics are also suffering from high input (energy) costs.
That in turn has led to several deep economic impacts.
US inflation has hit 9.1% yoy,1 which has forced the US Federal Reserve to raise interest rates by an additional 0.75% at its 27 July board meeting(Figure 1). Rising consumer prices and recessionary fears have also slammed US economic growth over the past three months, with rising expectations of a deep recession beginning in 2022. While still remote, a large fall in US housing prices could see a return of 2008-style bank failures.
Figure 1: US Federal Funds Rate, August 2017 to August 2022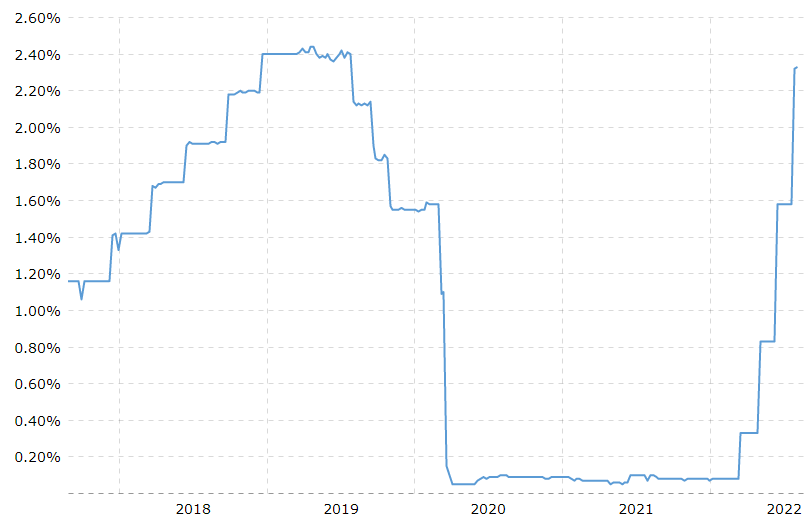 Source: macrotrends.net
Across the Atlantic, rising energy prices are having a devastating impact on Europe. While efforts are being made to lower energy usage during the current summer period to ensure adequate storage for winter, inadequate reserves could create a nightmare scenario in the event of a severe European winter in 2022/23, forcing countries to choose between shutting key industries or letting people die from a lack of home heating.
Inflation is beginning to impact politics across Europe as well. French President Emanuel Macron failed to gain a majority of votes during recent national elections in June2 while in Italy, a political crisis is brewing after Prime Minister Mario Draghi lost his largest coalition partner, the 5-star movement, in July due to Italy's anti-Russia stance and rising energy costs.
Domestically, a steep rise in interest rates to slow inflation could test the Australian banking system, which has extended ~80% of total bank loans to residential property. The Australian Bureau of Statistics (ABS) estimates that Sydney property prices are up 42% since March 2019. Loans remain well capitalised (LDR of XX%) if housing prices remain high – but a fall of 30% back to 2019 levels on the back of raising interest rates and a slowing global economy would place significant pressure on local banks.
2. Team B opens powerful new trading route
Meanwhile, one of the biggest developments since May is the increasingly close and powerful economic and trading ties between Team B countries.
Team B nations hosted a series of conferences over the past three months for various trading blocs including BRICS (Figure 2) (Brazil, Russia, India, China and South Africa), SCO (Shanghai Cooperative Organisation), and the EEAU (Eurasian Economic Union). Each emphasised opening up additional trading opportunities as well as a shift away from the US dollar towards a common currency basket.
Figure 2: BRICS member nations
Source: ceoworld.biz
Importantly, the International North-South Transportation Corridor (INSTC) officially opened in June, linking cargo flows between Russia and India via Iran. Plans to develop this trade route were first announced back in 2000, with 10 additional countries signing up as partners over its 22-year period of development. These include Turkey, Oman, Syria, Belarus, Ukraine, Tajikistan, Kyrgyzstan, Kazakhstan, Armenia, and Azerbaijan. Interest has also been shown from Pakistan, Turkmenistan, and Afghanistan.
Figure 3 below3 compares the new INSTC route (shown in red) to the standard route used today that travels through the Suez Canal (blue). The INSTC route is expected to take 40% less time and be 30% cheaper than the Suez route,4 seriously challenging the US$1 trillion or 12% of annual global trade that passed through it in 2020.5
Figure 3: INTC vs Suez Canal, with US Military base locations

Source: tehrantimes.com
The other key advantage for Team B nations is that INSTC removes the substantial blockage risk from more than 24 US military bases positioned in the Suez Canal region (Figure 3, right)6 that protect oil exports from traditional Middle Eastern partners like Oman, Iraq, and Saudi Arabia to the US.
Shifting trade towards the INSTC will be particularly critical for China to exert more influence in the Middle East and Europe over the next few decades. This could see the emergence of additional trading arrangements, like the US$400 billion strategic cooperation pact with Iran in 2021.7
In return for a guaranteed supply of oil over the next 25 years, China has agreed to invest US$400 billion in Iran, including shifting part of its domestic manufacturing industry into "special-economic zones" that allow Chinese factories to access Iran's enormous energy reserves and sell goods produced directly to European, Middle Eastern and African consumers.
Compare China's trade approach with Iran to that of the US. US President Biden's Middle Eastern visit to Israel in mid-July committed to prevent Iran from gaining nuclear weapons and using "force" as a last resort.8 The window for action is fast closing. Iran's inclusion into BRICS within the next 12 months raises the possibility of Team B getting involved in a conflict if Team A was to attack Iran, particularly given the strategic importance of INSTC.
3. Team B commits to multipolar world
Efforts to isolate Russia for its actions in the Ukraine have failed across most of the world. Recent comments from President Putin that, "Everyone should know that, by and large, we haven't really started anything yet", suggest Russia's support from Team B nations will allow it to push ahead with plans to dismantle the current post-WWII US-led unipolar model towards a multipolar world led by emerging market nations.
The signed declaration9 of the recent BRICS summit (represented by Brazil, Russia, India, China, and South Africa) hosted in Beijing in June, included a section on their commitment to a multipolar world, as seen below:
We reiterate our commitment to multilateralism through upholding international law, including the purposes and principles enshrined in the Charter of the United Nations as its indispensable cornerstone, and to the central role of the United Nations in an international system in which sovereign states cooperate to maintain peace and security, advance sustainable development, ensure the promotion and protection of democracy, human rights and fundamental freedoms for all, and promoting cooperation based on the spirit of mutual respect, justice and equality.
It is essential that our readers understand that this is amongst the most important aims of Team B nations over the next decade. This was clearly explained by Russian foreign minister Sergey Lavrov in 2018 when he stated10:
"Today we can trace a tendency to substitute for international law, as we all know it, some kind of 'rules-based order.' That is what a series of our creative Western friends call it."
4. Team B moves towards an alternative to the $USD
If there is one thing that has become more certain since May, it is that BRICS nations, plus developing economies, need a strong relationship with Russia to benefit from its 24.3% of global gas11 and 6.2% of global oil reserves.12 The recent BRICS and SCO summits in 2022 show that coordination amongst developing nations is rising and is expected to lead to the emergence, within the next few years, of an alternate global reserve currency basket incorporating the currencies of each BRICS nation as well as possibly energy and gold. This could place substantial pressure on the US Dollars global reserve currency role over the 2020s.
5. BRICS+ now positioned to surpass G7 GDP within the next 5-7 years
The BRICS nations represent 41% of the global population and 24% of global GDP (PPP basis).13 By contrast the current G7 body, composed of the US, Japan, France, Germany, Italy, UK, and Canada, represent 39% of global GDP but just 9% of the world's population (Figure 4).14
Figure 4: Global population & GDP, BRICS+ vs G7 countries
Source: Holon
Sovereign debt is also becoming a systemic issue for the G7 countries, especially if governments take the hard road and keep raising interest rates to slow inflation. Together, G7 national debts of US$62 trillion have reached 163% of their estimated GDP in 2022.15 By comparison, the five BRICS nations are much healthier, with a combined US$15.4 trillion of national debt at much more manageable levels of just 63% of their GDP in 2022.16
The IMF estimates that the combined GDP (PPP) for the G7 will reach US$52.6 trillion by 2027.17 They estimate BRICS nations will hit US$41 trillion in 2027. If we also add in the 5 nations applying to join in 2023, which include Iran, Argentina, Saudi Arabia, Turkey and Egypt, this raises the BRICS+5 GDP estimate from the IMF to US$46 trillion,18 closing the gap on the G7.
However, if commodity prices are expected to remain elevated through this decade, it will benefit major BRICS+5 countries like Russia, Brazil, South Africa, Saudi Arabia, Iran, and Argentina. This could lift the BRICS+5 combined GDP above that of the G7 by as early as 2027.
What's likely to happen next?
In the July Holon Monthly piece, Sovereign debt; 5 hard truths for investors, who should prepare for central banks to walk back in tough inflation action, we concluded that there is no easy solution to solve global inflation in the short-term, particularly while Team A nations continue to feel the impact of their Russia sanctions within their domestic economies.
A 7th round of European sanctions targeting Russia, along with efforts by US Treasury Secretary Janet Yellen to limit Russian energy profits by capping oil sales at US$40-60 per barrel, will likely make things worse for the global economy.
With Russian oil currently trading at a 25-30% discount to comparable oil from other global exporters,19 India and China can't get enough, raising oil exports by 12% in the first half of 2022 versus the first half of 2021.20 A commitment to trading partnerships like BRICS, SCO (Shanghai Cooperative Organisation) and EEAU (Eurasian Economic Union) suggests Janet Yellen's price-cap initiative is dead-in-the-water.
US efforts to crash the Russian Rouble vs the Euro or US Dollar have also failed spectacularly, with the Rouble up 52% versus the Euro and 35% versus the USD in 2022. Following the confiscation of US$300 billion of Russian foreign exchange reserves in March 2022, pegging energy exports to the Rouble created massive offshore demand at a time of limited Rouble supply. Further pegging of additional commodities to the Rouble21 by Russia is a distinct possibility and could trigger major risks for Euro in 2022.
Within the US, rising US recession concerns are moving into asset prices, including housing. This will almost certainly force the US Federal Reserve to restart Quantitative Easing (QE), possibly in the third quarter of 2022, which would mark a return to money printing and bond buying to ensure interest rates remain artificially low.
Holon believes QE will happen through Yield-Curve control (YCC), mirroring the Bank of Japan by capping the 10-year US Treasury bond yields around 3-3.5% for possibly the next 5-10 years.
What this means for you: Balancing your portfolio with emerging markets
We are at a crossroad in the world today, one which occurs every 100 or so years as the reigns of global leadership and the reserve currency passes on from one country to the next. After taking over from the UK at the end of WW1, the US's reign now looks to be rapidly ending.
While many assume that China was next in line, it now looks increasingly more certain that a collection of nations, possibly beginning with the BRICS nations, and then extending to include SCO members, may take over with a basket of currencies and commodities that will not include the US Dollar.
China is currently the most dominant of the group given its substantial might and manufacturing base, but its shortfall in energy, food, and other commodities makes it reliant on imports and therefore susceptible to blockades (much like Japan was in WW2). China's relationship with Russia, which its leader Xi Jinping called a "New model for the world", as well as other commodity exporters alongside its growing military strength, will continue to reduce but not remove this risk.
India's decision to side with Russia via BRICS and SCO at the expense of the US/Japan/Australia/India "Quad" partnership surprised many. However, its 1.2 billion people and rising global ambitions means its thirst for energy and other resources had to come first over China-related conflict. Within BRICS, India's commitment reduces long-term dominance of China and provides a better balance for a BRICS global leadership potential.
Investment performance over the next few decades will require investments in both Team A and B regions.
If an investor continues to disregard the rise of Team B – likely to hold 80% of the world's population over the next decade – they will miss many of the best investment opportunities from the gradual maturation of developing economies.
Turning your back completely on Team A today also looks to be the wrong decision, with its economies still amongst the largest in the world and home to many of the world's best technology innovators.
The Holon Photon Fund for example, is heavily informed by this hypothesis. It remains balanced across both Team A and Team B, with 35% of portfolio assets invested in Team B members through exposure in China and greater Asia. As the likelihood of this journey towards a Team B trading block grows, we expect Photon's exposure to Team B to also increase as we look to take advantage of the higher growth investment opportunity likely to emerge in these markets.
We feel these are examples of the macro forces which may not seem to receive the media coverage they deserve, but as illustrated above, are important forces nonetheless. We will continue to provide updates.
1   https://www.cnbc.com/2022/07/13/inflation-rose-9point1percent-in-june-even-more-than-expected-as-price-pressures-intensify.html
2  https://www.france24.com/en/europe/20220620-macron-stripped-of-majority-after-crushing-blow-in-parliamentary-elections
3  https://www.tehrantimes.com/news/474677/INSTC-A-sanction-proof-route-with-great-economic-prospects
4  Ibid
5  https://www.weforum.org/agenda/2021/03/the-suez-canal-in-numbers/
6  https://www.americansecurityproject.org/national-security-strategy/u-s-bases-in-the-middle-east/
7  https://www.asiafinancial.com/china-and-iran-sign-400-bn-25-year-oil-deal
8  https://www.voanews.com/a/biden-delivers-tough-talk-on-iran-as-he-opens-mideast-visit/6657764.html
9  https://www.fmprc.gov.cn/eng/zxxx_662805/202206/t20220623_10709037.html
10 https://russiancouncil.ru/analytics-and-comments/comments/vystuplenie-na-konferentsii-sredizemnomore-rimskiy-dialog/?sphrase_id=31559967
11 https://www.worldometers.info/gas/gas-reserves-by-country/
12 https://worldpopulationreview.com/country-rankings/oil-reserves-by-country
13 https://www.business-standard.com/article/economy-policy/brics-members-have-similar-approach-to-governance-of-global-economy-pm-122062300914_1.html#:~:text=The%20summit%20is%20being%20hosted,cent%20of%20the%20global%20trade.
14 https://www.nationmaster.com/country-info/groups/Group-of-7-countries-(G7)
15 https://www.usdebtclock.org/world-debt-clock.html
16 ibid
17 https://www.imf.org/en/Publications/WEO/weo-database/2022/April/weo-report?c=156,132,134,136,158,112,111,&s=PPPGDP,&sy=2020&ey=2027&ssm=0&scsm=1&scc=0&ssd=1&ssc=0&sic=0&sort=country&ds=.&br=1
18 https://en.wikipedia.org/wiki/List_of_countries_by_past_and_projected_GDP_(nominal)#IMF_projections_for_2020_through_2027
19 https://www.hellenicshippingnews.com/russian-oil-exports-up-12-in-2022-as-demand-persists-novak/
20 Ibid
21 https://www.reuters.com/business/find-roubles-if-you-want-russian-oil-grain-or-metals-top-lawmaker-says-2022-03-30/
Disclaimer: This article has been prepared by Holon Investments Australia Limited (ABN: 45 648 884 164, AFS Licence No: 532669) ("Holon"). The information provided in this article is general in nature and does not constitute investment advice or personal financial product advice. This information has not taken into account your investment objectives, particular needs or financial situation. Before acting on any information contained in this article, each person should obtain independent taxation, financial and legal advice relating to this information and consider it carefully before making any decision on recommendations. Holon Funds: Holon Investments Australia Limited (ABN: 45 648 884 164, AFS Licence No: 532669) is the responsible entity and issuer for the Holon Photon Fund (ARSN 633 803 497), the Holon Bitcoin Fund (ARSN: 659 090 294), the Holon Ethereum Fund (ARSN: 659 090 516) and the Holon Filecoin Fund (ARSN 659 090 614) (the Funds). Holon is the investment manager of the Funds. The content of this article does not constitute an offer or solicitation to subscribe for units in the Funds or an offer to buy or sell any financial product. Accordingly, reliance should not be placed on this article as the basis for making an investment, financial or other decision. You should also consult a licensed financial adviser before making an investment decision in relation to a Fund. Any investment needs to be made in accordance with the relevant Product Disclosure Statement (PDS), Reference Guide and Target Market Determination (TMD), and investors should consider the PDS, Reference Guide and TMD before deciding whether to invest in the Funds or continue to hold units in a Fund. Applications for units in a Fund can only be made pursuant to the application form relevant to the Fund. Distributors of our products must consider our TMD. You can access the relevant PDS, Reference Guide and TMD at holon.investments. Holon Global Innovations Pty Ltd (HGI) and Holon are wholly owned subsidiaries of Holon Global Investments Limited. HGI is a FIL Storage Provider and is positioned as a major player in the Filecoin (FIL) decentralised data storage arena for Asia Pacific. FIL Storage Providers are rewarded in FIL for the provision of data storage capacity. Investing involves risk including the risk of loss of principal. Past performance is not indicative of future performance. Holon, its officers, employees and agents believe that the information in this material and the sources on which the information is based (which may be sourced from third parties) are correct as at the date of article. While every care has been taken in the preparation of this material, no warranty of accuracy or reliability is given and no responsibility for this information is accepted by Holon, its officers, employees or agents. Except where contrary to law, Holon excludes all liability for this information.