Part 9: The Five Characteristics of a Resilient Company
Published 09 Nov 2022
"Resilience is all about being able to overcome the unexpected. Sustainability is about survival. The goal of resilience is to thrive."

– Jamais Cascio, author and futurist
As we enter a turbulent economic outlook with a risk of recession, investors are becoming focused on a company's ability to weather tough times. When it comes to business, resilience is no different from Cascio's definition: it's a company's ability to quickly evolve and adapt to disruptions.
We witnessed the importance of resilience as recently as the 2020 Covid-19 lockdowns, where many businesses had to drastically scale back, or even close their doors.
But some companies thrived.
Why?
Almost all of these companies had five things in common across their businesses that helped them through tough times:
  Immense levels of free cash flow

  High levels of cash/healthy amount of debt

  Millions of loyal customers

  Diverse global income streams

  Very minimal supply chain issues
Below, we unpack each of these five traits, highlighting to investors the importance of these factors, as well as how to spot a resilient company that will be able to weather current and future economic environments.
1. Free cash flow
In essence, free cash flow is what is left after a business pays its day-to-day operating expenses. It's the degree to which operating cash flows exceed/lag working capital requirements. Free cash flow is a key metric used to measure a company's financial health. The more free cash flow a company has the stronger its financial situation is.
Take the e-commerce and payments landscape as an example. Free cash flow as a proportion of revenue can vary wildly across a business. The likes of Mastercard and Visa (~40%) hold up year-in-year-out due to the disproportional strength of cash inflows in relation to operating expenses, or OpEx, and capital requirements.
By contrast, early-stage and high-growth businesses like Jumia (African e-commerce), Grab, and Sea Ltd (Southeast Asian e-commerce and payments), have high OpEx, which weighs on cash flows. These businesses therefore often return negative free cash flows when they are in earlier growth stages.
Some businesses, like Amazon, are happy to maintain free cash flow margins at relatively low levels (i.e., ~5%) to maintain and expand its fulfilment and cloud footprint.
Other good examples of year-in-year-out healthy free cash flows can be found in Figure 1: resilient companies like Nike (~10%), Microsoft (~35-40%), Alibaba (~15- 20%), Johnson & Johnson (~20%) and Disney (~5%).
Figure 1: Free cash flow margins, various companies, FY 2021
Source: Holon
2. Cash & debt
When interest rates are historically low, as they have been in recent years, organisations, governments and individuals are drawn into increasing their debt reserves to often unsustainable levels.
But now that interest rates are rising, many organisations are finding themselves exposed. The cost to service their debts has risen sharply. In some cases, the cost may have risen so sharply that they do not have the cash (EBITDA) to pay for that debt. (This is known as the interest coverage ratio.) Companies at risk of failing to cover their rising debt costs are commonly referred to as "Zombie Companies".
The end of low rates has also seen public and private valuations slashed. This has led to huge write-downs in valuations, which can impact companies' balance sheets if the company holds marketable securities, equities and other investments.
One of the best examples of this is when virtual healthcare company, Teladoc, took a $US6.6 billion impairment charge on their Livongo acquisition. Another example is Softbank's write-down of its public and private holdings, including Alibaba, Arm and an extensive technology portfolio under the Vision Funds (goto, Oyo, Sandbox, Consensys, Kabbage, etc).
Figure 2: Net debt-to-equity ratio, various companies, FY 2021
Source: Holon
3. Customer loyalty
Customer loyalty is another crucial component of a company being able to continue to operate during an economic turndown – without happy customers that continue to buy from you, the business will not survive. On top of this, new customers tend to cost more to acquire than existing customers and tend not to spend as much money as repeat customers.
This is evident across most sectors but perhaps most visible when we look at companies in the streaming and social media landscape.
In streaming, Netflix was able to gain a significant first-mover advantage, luring tens of millions of subscribers by providing deep content with a seamless user experience and highly competitive pricing. They were able to maintain a sizable lead for many years, until Disney+ began in 2019 – and now on par with Netflix in subscriber numbers. Meanwhile other players, such as WarnerDiscovery, Paramount, Amazon and Apple TV+ have launched and are nipping at the incumbent's heels, vying for user engagement.
As we push through an inflationary environment, recent research performed by London-based data analytics and brand consulting firm Kantar, is showing us that consumers have started trimming some streaming subscriptions that aren't providing bang for buck1. This shows that Netflix's content spend is working to not only retain customers but also to increase the number of users on the platform: in their Q3 2022 earnings report they announced they added 4.5 million accounts in the quarter.
The same is true across social media. There was a surge in social media use during the 2020/21 lockdowns, which saw platforms' monthly active users skyrocket. Data from Statista shows large annual growth rates in Instagram (16%), TikTok (38%), Facebook (19%), Snap (17%), Twitter (8%), Pinterest (32%), Snapchat (17%), and Reddit (30%)2. However, as we return to pre-lockdown levels, there is a material gap appearing between platforms such as TikTok, YouTube, Facebook – resilient company brands that have strong loyalty – and the rest. This is important to note as consumers start to lower discretionary spending looking forward, they will more likely spend money with brands they are loyal to and trust.
In Figure 3 below, we can see the companies that consumers are mostly likely to stick with.
Figure 3: Customer loyalty leaders, August and September 2021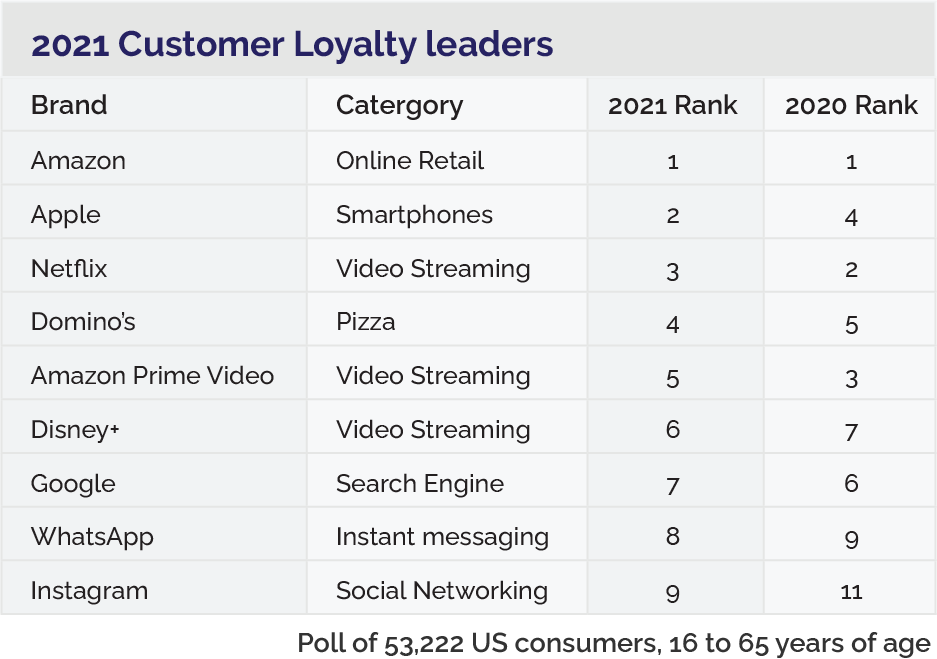 Source: www.marketingcharts.com
4. Income stream diversity
Just like investment portfolios, we need to look at revenue diversification within any resilient companies.
This, of course, is the classic "Don't put all your eggs in one basket". Having many different revenue streams within a business is an excellent way to protect cash flow in a downturn or bear market. The diversification of revenue streams provides a solid base for a company and can even provide the opportunity for growth and expansion during a tough environment.
The Mega Caps today are some of the natural picks for resilient companies; they have massive income streams from all over the world and across many different industries. A great example of this is Apple, who have 42% of its income coming from its domestic market in the United States (Figure 4), and the rest coming from areas including Europe, Japan and Greater China.
Figure 4: Apple Inc. regional revenue split, 2021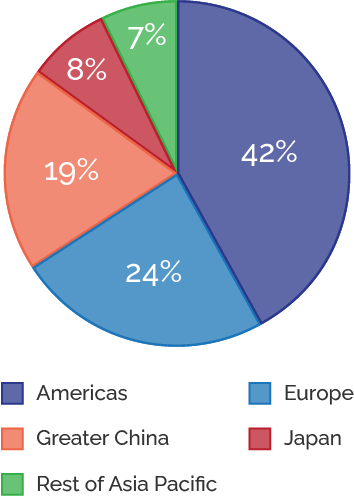 Source: Holon
On top of being diversified across geographies, Apple is also diversified amongst industries with 52% of their revenue coming from their flagship product, the iPhone. Pair this with a growing segment that now represents 19% of total revenues: the services that Apple provide on the backend (Apple Music, Apple TV+), with Mac, iPad and wearables making up the rest of the revenue (Figure 5).
Figure 5: Apple Inc. industry revenue spilt, 2021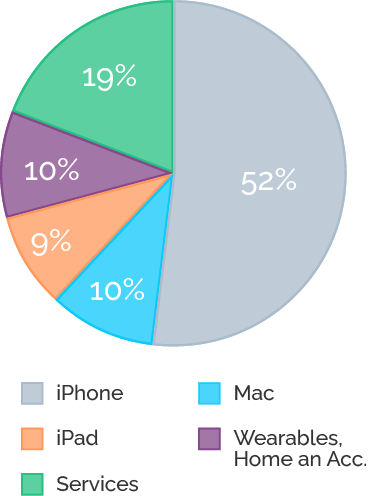 Source: Holon
5. Solid Supply Chains
Supply chains are becoming an even more important component of a business as we navigate uncertain times. China's continuation of their zero Covid policy as well as the European Union's increased energy prices all impact supply chains and highlight how exposed a company can be to an industry or a particular region for core supply chain inputs.
Resilient companies traditionally manage their supply chains by looking to minimize the complexity and logistics involved in the process of manufacturing or sales to the customer. But as we have seen in recent history, unexpected disruptions can change everything. Apple responded to China's zero-Covid lockdowns by shifting its manufacturing and supply chains into India and Vietnam. So, investors should look out for companies that have multiple supply locations for safety against regional shutdowns or other calamities.
Weathering tough times
Consider these five to be non-exhaustive. They represent the core values that we like to measure before making an investment to ensure the resilience of a portfolio holds up. We deem them resilient companies if they have at least these five attributes, and believe they have a better chance to overcome the unexpected, or any environment we may be moving into.
1 https://www.afr.com/companies/media-and-marketing/viewers-cancel-streaming-services-as-inflation-cuts-into-budgets-20221026-p5bt47#:~:text=Australians%20cancelled%20more%20than%20one,to%20market%20research%20company%20Kantar
2  https://www.statista.com/statistics/1219318/social-media-platforms-growth-of-mau-worldwide/
This article has been prepared by Holon Investments Australia Limited (ABN: 45 648 884 164, AFS Licence No: 532669) ("Holon"). The information provided in this article is general in nature and does not constitute investment advice or personal financial product advice. This article does not constitute an offer or invitation to purchase any securities. This information has not taken into account your investment objectives, particular needs or financial situation. Before acting on any information contained in this article, each person should obtain independent taxation, financial and legal advice relating to this information and consider it carefully before making any decision on recommendations. Except as otherwise required by law, Holon shall not be responsible for any trading decisions, damages or other losses resulting from, or related to, the information, data, analyses or opinions or their use. Those acting upon such information without advice do so entirely at their own risk.
Opinions and estimates are current as at the date of publication. Holon will not publish updates if opinions or estimates change. Any opinion or estimate constitutes the Author's best judgement as of the date of preparation and is subject to change without notice. Investing involves risk including the risk of loss of principal. Please note that investments in securities are subject to market and other risks and there is no assurance or guarantee that the intended investment objectives will be achieved. Past performance is not indicative of future performance. A security investment return and an investor's principal value will fluctuate so that, when redeemed, an investor's shares may be worth more or less than their original cost. A security's current investment performance may be lower or higher than the investment performance noted within the report.
Holon, its officers, employees and agents believe that the information in this material and the sources on which the information is based (which may be sourced from third parties) are correct as at the date of article. While every care has been taken in the preparation of this material, no warranty of accuracy or reliability is given and no responsibility for this information is accepted by Holon, its officers, employees or agents. Except where contrary to law, Holon excludes all liability for this information.