PART 7.1: Six core pillars to measure innovation in an investment portfolio
Published 14 Sep 2022
Last month we began our look at the question of whether it was even possible to measure innovation. We believe the answer is a resounding 'yes', and as a reminder we present once again Holon's Six Core Pillars of Innovation (Figure 1).
Figure 1: The six core pillars of innovation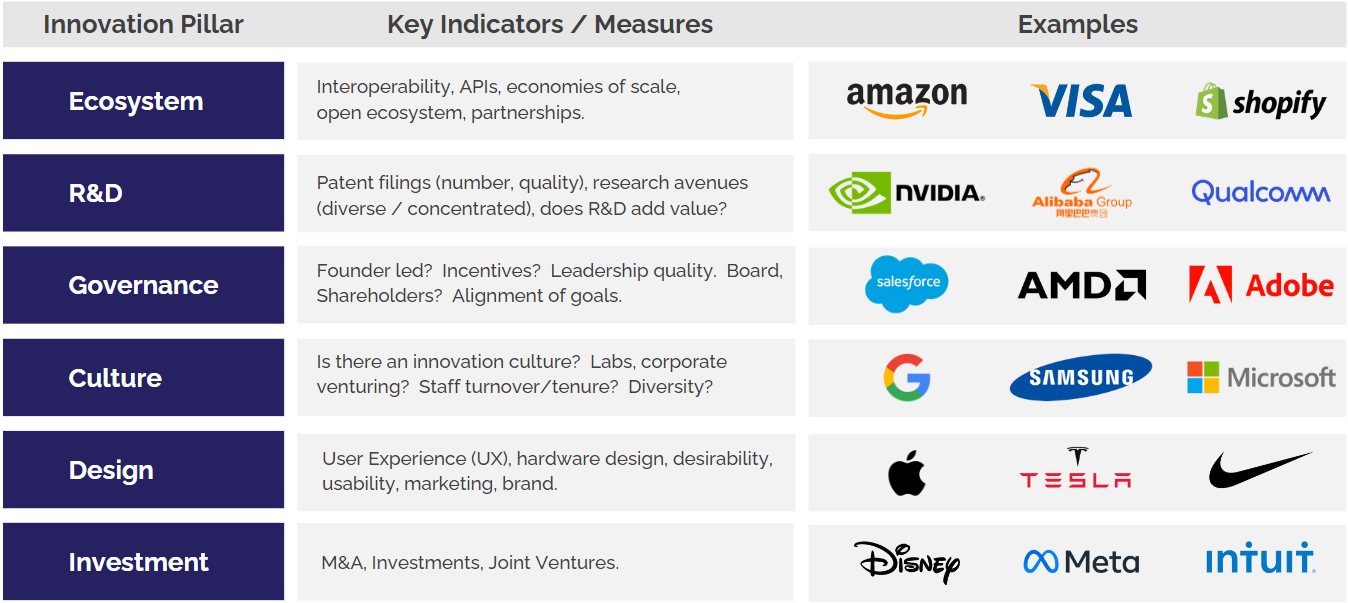 Source: Holon
Having already broken-down Ecosystem, R&D and Governance, we now move on to 4 through 6, how we use these pillars – and how you can too.
#4 – Culture
Culture flows through an organisation from the top-down and is highly dependent on competent leadership and governance; however, it is also quite a nuanced and subjective metric and one which is continually shifting.
With regard to innovation, culture can be more specifically defined as how an organisation drives innovation internally, the company-wide alignment to innovation and its ability to attract and retain key, and diverse, talent.
Here are some things to look out for when measuring a company's innovation culture:
Tenure: Can the company hire and retain core talent; or is there a track record of high talent churn? A casual search on LinkedIn will show that Microsoft's average employee tenure is 4 years versus 2.4 years at Salesforce, one year at Atlassian and 3.4 years at Google. For innovation specifically, what is the tenure of core roles such as Chief Product, Innovation and Technology Officers?
Job postings: Another quick scan online shows that over 25% of job postings at Meta are for engineers and program/data managers. What are these roles, where are they located, and can we extract any clues about these roles and the company's propensity for innovation? A further scan of Apple shows 250 job postings with the term "augmented reality" (vs 89 for Meta and 230 for Snap).
Diversity: A diverse culture is important for a company to innovate. For example, a diverse team (sex, culture, age, disability, religion) is likely to encourage and extract diverse ideas and perspectives to foster innovative products and services. Any progressive firm with a recent ESG report will help with this.
Intrapreneurship: The concept of intrapreneurship is about how a company conceives ideas internally and the process by which they identify, test and implement ideas – as well as show they align to the overarching company vision. Google famously encourages employees to spend 20% of their time on projects which they feel will benefit the company. This ideation time led to the development of Gmail by Google engineer Paul Buchheit. In top-tier companies, there is a process around intrapreneurship to continually promote ideas and run them through a process (labs/scrums) to test the commerciality of the idea and, if appropriate, allocate the required resources to turn that idea into a tangible product or service.
Open innovation: As opposed to intrapreneurship, which is inward-looking, open innovation looks outside of the four walls of an organisation to partner with third-party innovators. Quite often, this is done via a corporate incubator program where a handful of companies (usually startups) work with the corporation to implement ideas, work on proof-of-concepts (POCs) and determine if there is any tangible avenue for future collaboration. A glimpse at the Disney accelerator provides some insight as to the company's innovation strategy. Another example of open innovation is Meta 'open-sourcing' its translation model, allowing people from around the world to contribute to its development. In fact, unbeknownst to most of us, we are contributing to corporate open innovation every day by transacting, searching, driving and streaming (the data corporates receive on this allows them to innovate further).
These are some indicators to look out for when assessing an organisation's innovation culture. The absence of any of these does not necessarily mean a company is not innovative, but you can use these as clues to help form an opinion as to who is establishing a culture to drive long-term innovation.
#5 – Design
Specifically for a consumer-facing product or service, an organisation wants their product or service to be desired.
There is a considerable amount written about the process(es) of design and innovation (i.e., design thinking, lean methodology, innovation design, etc.). But as investors, what we're interested in here is whether there is a track record of creating products or services which have an optimal customer experience (CX), user experience (UX) and product/service design:
Customer experience (CX): Encompasses customer service, brand reputation, pricing and product delivery. Amazon customers, for example, can have millions of products delivered in 1-2 days at a competitive price. Visa and Mastercard have established an ecosystem to create near-seamless global payments.
User experience (UX): Ultimately, how useable is a company's product or service? Is there an element of seamlessness? Is the product differentiated and desirable because of its design? One of the best examples of this is Apple. Just as Amazon has had a relentless pursuit of customer satisfaction, Apple has had a relentless pursuit of simplicity and design. From an aesthetic perspective, the brand is no doubt desirable, while from a useability perspective, it is widely regarded as being the most seamless. Other examples are Nike, Netflix, Spotify, Tesla, Uber and Airbnb. The products are desirable, and the user experience sets a benchmark for its industry.
Trust: Although not strictly design, it is critical for all organisations to have trust at the front and center of their design strategy. This is particularly important when it comes to customer data, cyber security and minimising potential threats which may negatively disrupt CX/UX and break that trust. In fact, some of the world's most innovative brands are often rated as the most trusted – including Microsoft, Sony, Disney, Samsung, Google, Visa and PayPal.
For all companies, it is important to consider how differentiated the brand is by their design. Do customers love the product? Is it seamless? Is the design successful in luring repeat visits and interactions? Is there a barrier to entry the company has established through their design (i.e., Amazon's 1-2 day delivery is a formidable feature for any competitor to match.)?

Source: Adobe Stock
#6 – Investment
Innovation investment is predominantly focused on the acquisition of third-party IP and innovation via investments, partnerships, joint ventures or M&A activity.
The leading innovators in the world are particularly good at identifying, based on the resources available, what innovation they should tackle internally versus externally. Much in the same way that an economy looks at the trade-off between importing vs exporting (i.e., an economy tends to focus on exporting a product or service in which they have a distinct advantage – known as the Production Possibility Frontier1).
A good example here is Microsoft's acquisition of Activision and LinkedIn. In both cases, there is a considerable amount of IP which has been developed at the respective takeover targets, alongside high customer engagement and desirability.
Even for an organisation as big as Microsoft, the barriers to entry for building similar products internally is insurmountable. The same is true for Meta, and how they were able to transform themselves from a dependence on Facebook via the acquisition of Instagram and WhatsApp.
Another example is Disney. Under the tenure of CEO Bob Iger, the company was able to transform itself with the acquisition of Pixar, Marvel, Lucasfilm and 21st Century Fox. Again, Disney could have used that capital to expand their own IP; however, the barriers to building the depth of IP they acquired would be far too great – even for a company as creative as Disney.
Where a company makes an investment, it can more broadly fall into the category of a passive or active investment; and be made directly by the parent or via an associated corporate venture arm. Here are some examples of best-in-class innovators when it comes to investment:
Strategic investment: Shopify has sizeable equity interests in payment platform Stripe (which underpins their Shopify Payments platform) as well as Affirm (which powers its Shop Pay Instalments products). Similarly, they are invested in Israel's Global-e, which powers cross-border payments. In China, leading tech conglomerate Tencent has invested in over 700 companies since 2006; and has become one of the world's most prominent gaming companies by virtue of their investments in Snap, Sea Ltd, Supercell, Riot Games, Ubisoft, Grinding Gear, Kingsoft, Discord, Roblox (China), Krafton, Epic Games, Netmarble – the list goes on. Similarly, since 2009, Alibaba Group has made 258 investments across a range of sectors, including fintech, e-commerce and AI.
Corporate VC (CVC): Strategically, many of the world's leading innovators establish corporate venture capital arms so they can move faster in identifying and investing in highly innovative businesses. Often, they will be established with a clear mandate as to what areas (and to what degree) they will invest, without the red tape of approvals required by multiple reporting lines of the parent company. There are many examples of successful CVCs around the world, including:
• Google Ventures (GV): 986 investments (261 as lead)
• Salesforce Ventures: 663 investments (132 as lead)
• Baidu Ventures: 146 investments (41 lead investments)
• Qualcomm Ventures: 475 investments (117 as lead)
• Samsung Ventures/NEXT: 468 (96 as lead)
• Amazon Alexa Fund: 126 (39 as lead)
• Coinbase Ventures: 69 (18 as lead)
Consider this as a guide, with more research to be done, depending on your priorities – but these are the six core pillars which we believe are critical in helping anyone understand how a company innovates along with some of the key indicators to keep an eye on when determining the degree to which a company is innovative.
And at Holon, we firmly believe that highly innovative businesses will outperform incumbents over the long term.
Again, unlike a company's financials, which are measurable, the degree to which a company is innovative, and certainly its impact on long term value is subjective. With that, we get asked about our methodology and wanted to share – with the hope that you may look at your investment process through a slightly new (and innovative) lens.
1  Production Possibility Frontier (PPF): Purpose and Use in Economics (investopedia.com)
Disclaimer: This publication has been prepared by Holon Investments Australia Limited (ABN: 45 648 884 164, AFS Licence No: 532669) ("Holon"). The information provided in this publication is general in nature and does not constitute investment advice or personal financial product advice. This information has not taken into account your investment objectives, particular needs or financial situation. Before acting on any information contained in this publication, each person should obtain independent taxation, financial and legal advice relating to this information and consider it carefully before making any decision on recommendations. Investing involves risk including the risk of loss of principal. Past performance is not indicative of future performance. Holon, its officers, employees and agents believe that the information in this material and the sources on which the information is based (which may be sourced from third parties) are correct as at the date of publication. While every care has been taken in the preparation of this material, no warranty of accuracy or reliability is given and no responsibility for this information is accepted by Holon, its officers, employees or agents. Except where contrary to law, Holon excludes all liability for this information.