Is energy insecurity driving a changing of the guard?
Published 11 Oct 2022
How an anti-US 'Team B' trading block could use its energy dominance to cripple developed economies – and markets.
The energy dominance of a rising Team B is a major risk to markets
A rising Team B now has the energy power to hold the US and European economies to ransom
Team B's energy dominance could create an economic catastrophe
The cost of energy as a percentage of total GDP has surged a massive six-fold in Europe. It has now surpassed the peak in the late 1970s energy crisis (Figure 1).1
Figure 1: Energy burden as a share of GDP, 1970-2022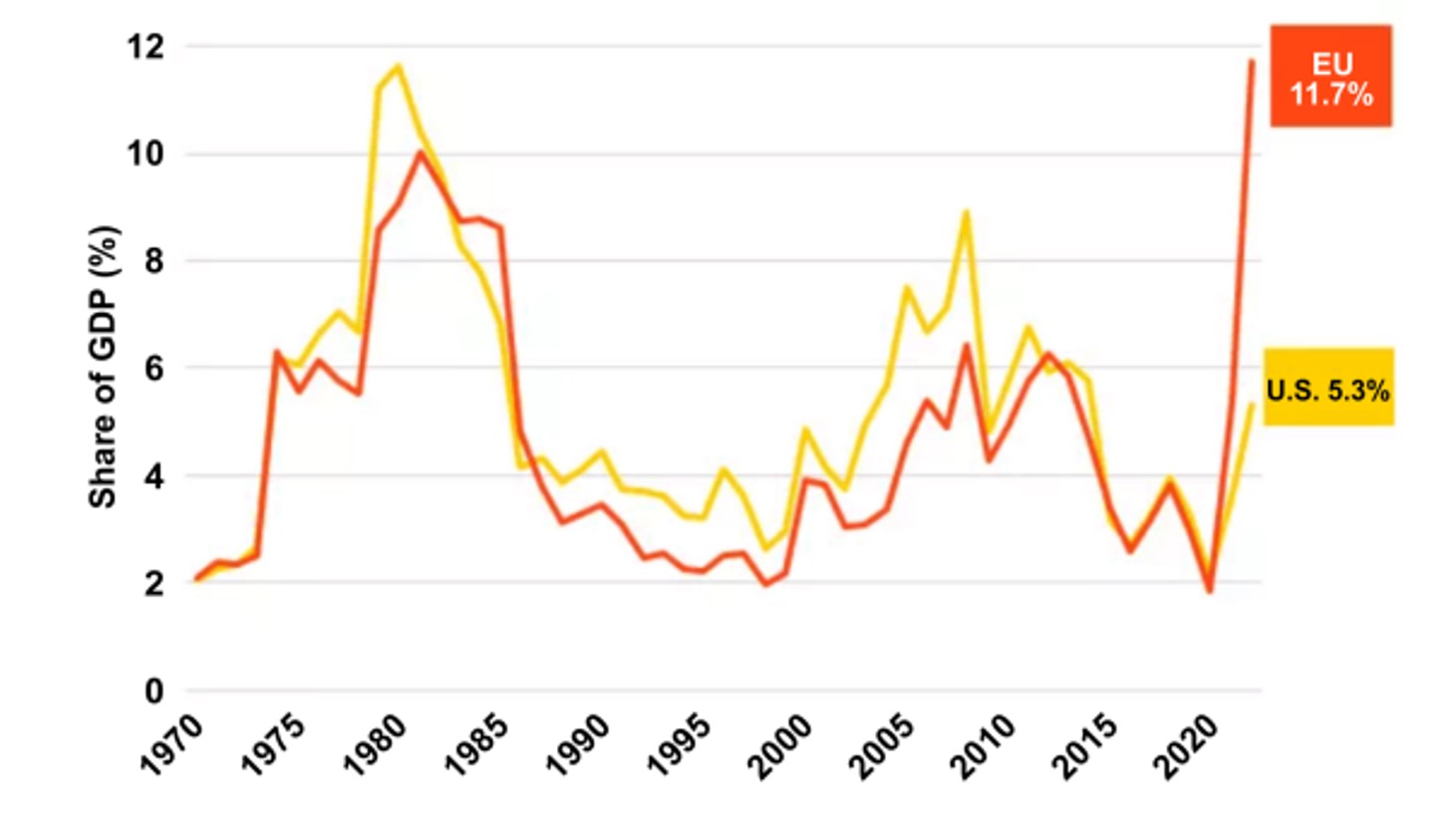 Source: blackrock.com
But the emergence of 'Team B', a growing list of countries aligned to the BRICS+/SCO (Shanghai Cooperative Organisation) trading block that is challenging the US-lead 'Team A', means there will be no short-term solution to the crisis.
Team B is gaining a complete stranglehold on the world's energy supplies. It is now effectively in a position to hold most of the developed world's energy needs – and economies – to ransom.
Investors need to be cognisant that if Team B flexes its energy muscles, an economic downturn could turn into a catastrophe, with major implications for markets.
"…if Team B flexes its energy muscles, an economic downturn could turn into a catastrophe…"
Russia pivots to China
There is no doubt that Team B is becoming more united and powerful in the wake of Russia's invasion of Ukraine.
The heavy sanctions imposed on Russia by Europe and the US – as well as threats directed towards China over its Taiwan policy – has accelerated Team B's planned shift away from Team A.
Russia has shut down almost all its piped gas to the EU, which in 2021 provided over 40% of the EU's energy demand. The loss of the European market will see Russia's gas exports fall substantially. But higher gas and oil prices have offset the impact of reduced volumes.
Russia will continue to pivot its European gas sales towards China and Asia, which are expected to double to 60 BCM (billion cubic metres) per year once the Power-of-Siberia pipeline (Figure 2), which began operation in 2019, reaches full capacity.
Figure 2: Map of Power of Siberia pipelines 1 & 2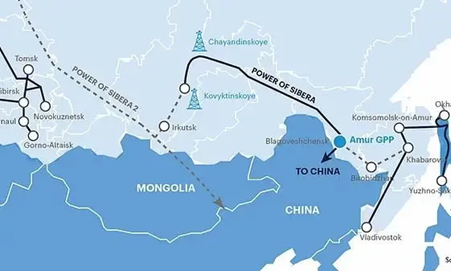 Source: russia-briefing.com
Along with the Power-of-Siberia 2 project (Figure 2), due to commence construction in 2024, this will raise Russia's gas exports to Asia to 120 BCM/year by 20302, a four-fold increase on Asian exports in 2020.
The sabotage on the Nord Stream 1 and 2 pipelines (Figure 3) that occurred on September 26th, instantly shut off 1/3rd of Europe's gas imports from Russia (50 billion cubic meters of natural gas (BCM), 155 BCM total). It also destroyed 50 BCM of potential further supply from the yet-to-be certified Nord Stream 2 pipeline, financed by Russia and Germany at an estimated cost of €9.5 billion.
Figure 3: Nord Stream pipelines from Russia, leaks detected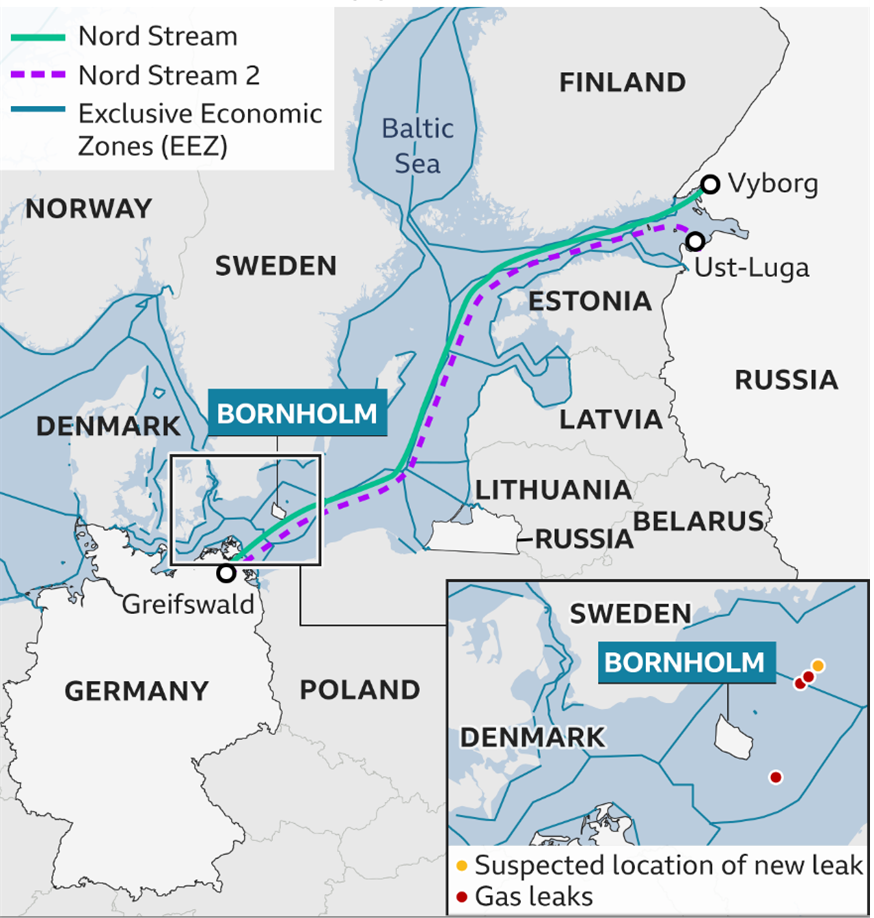 Source: BBC
Blame from Team A was instantly laid on Russia's doorstep, but the heavy monitoring of the Baltic Sea, specifically of Russian warships and vessels in the region, raises serious questions as to this possibility.
Excluding Team A from energy?
But there is a much bigger game at play here: forcing energy dependent countries to buy energy on Team B's terms, thereby hastening the demise of the US Dollar as the global reserve currency.
In Figure 4 below, the bulk of the world's energy reserves are now located in countries that are either current or prospective members of BRICS/SCO.
Figure 4: BRICS % share of global energy volumes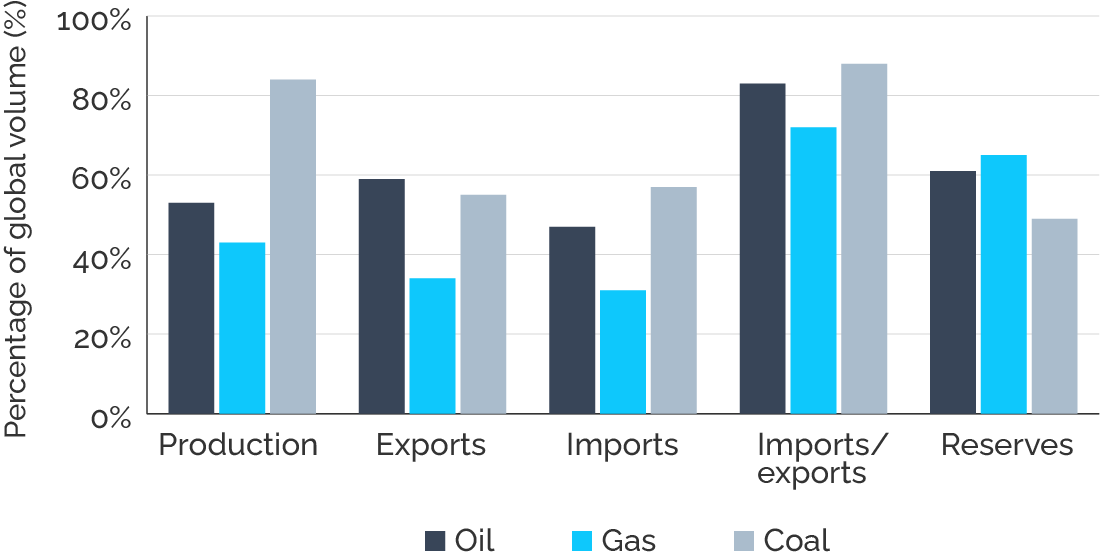 Source: worldometers.info
BRICS-aligned nations are also dominating production and exports.
So, could Team B divert energy supply away from Team A and towards BRICS-aligned countries?
The answer to this question is shown in the second column from the right (imports/exports).
Team B nations, assuming sufficient logistics (pipelines, tankers etc) were in place, could today divert almost all of their energy exports to meet the current import demands of Team B, potentially ending the supply of energy to Team A this decade.
Team B produces the equivalent of 83% of their own crude oil demand, 72% of natural gas demand, and 88% of coal demand. Higher GDP growth and consequent energy demand will likely see the import/export share approach 100% within the next five years, depending on new capacity expansion plans.
Team B's growing awareness of its energy might
The recent SCO meeting in Samarkand, Uzbekistan, highlights the importance – and growing power – of this organisation.
Its original members include China, Russia, India, Kazakhstan, and Pakistan, while Iran became a full member in 2022 and new applicants at Samarkand include Bahrain, Kuwait, UAE, Myanmar, Egypt, Saudi Arabia and Qatar3.
NATO member Turkey also announced its intention to join the SCO, likely angering the US which is staunchly against the SCO's emergence.
Figure 5: XIV BRICS Summit, June 2022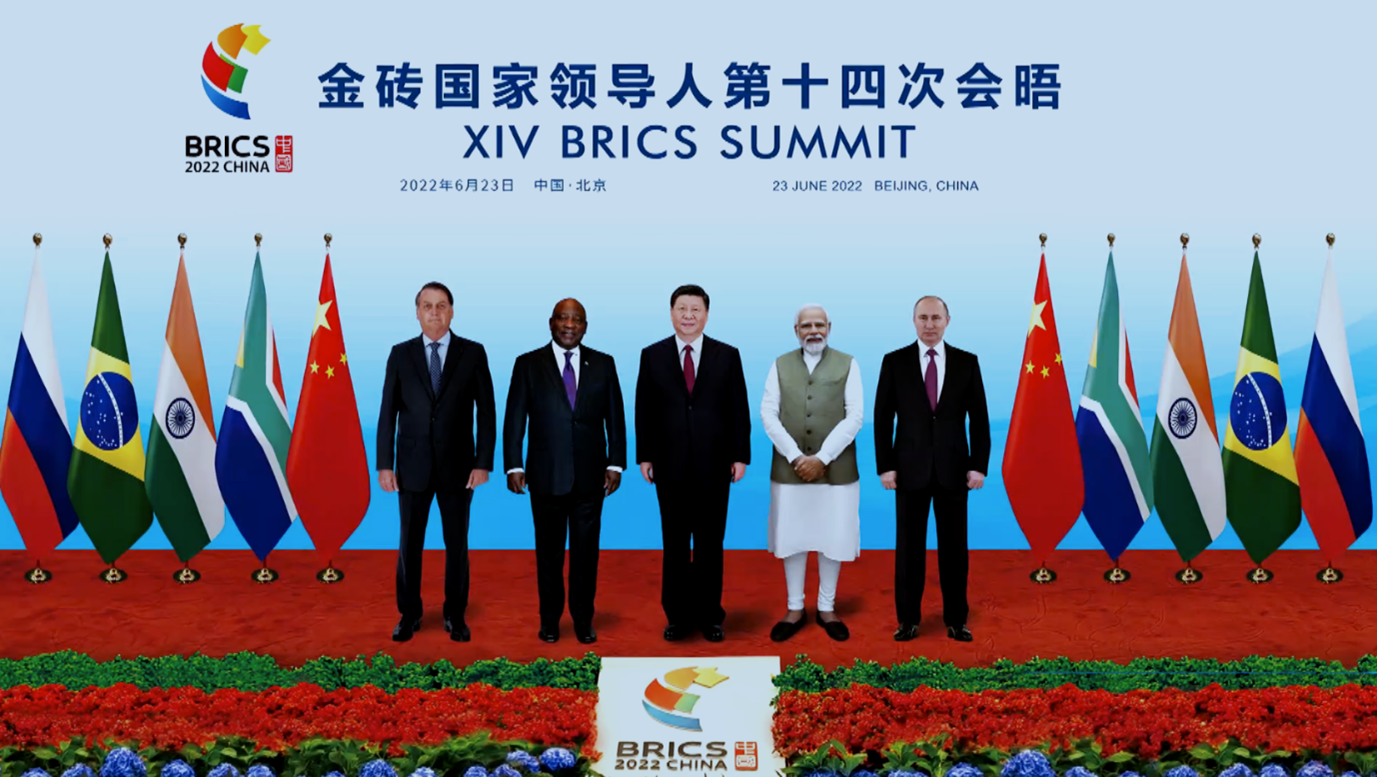 Source: www.ankasam.org
The addition of these new members raises the SCO to over 50% of the world's population, and further strengthens the block's stranglehold on global oil and gas reserves with the addition of large Middle Eastern producers.
What's very apparent is that the SCO is well aware of their bargaining power over Team A, with the president of Kazakhstan, Nursultan Nazarbayev, declaring4 in his SCO speech;
"The SCO member states account for a quarter of global GDP, that is more than US$23 trillion dollars. We have at our disposal the richest reserves of energy resources, coal, rare metals and renewable energy resources".
A dire situation even worse
Europe's energy crisis is already dire.
Further shocks in the event of a cold European winter risks a worsening of the energy price shock. Russia's decision this week to mobilise 300,000 reserve troops following the successful vote to integrate the four Ukrainian regions5 into Russia suggest a long-drawn out conflict in the EU region.
This dire economic situation across the developed world could be even worse if Team B flexes its muscles and cuts off Team A's energy supplies. This would almost certainly trigger a rapid decline in Western industry, heavily dependent on Team B's energy resources and short of time to find replacements. It would also likely force large swathes of Team A's industry to shift to energy-rich regions or face bankruptcy. Finally, an accelerating employment crisis coupled with a sovereign debt crisis across indebted western countries would trigger a collapse in their economies.
How likely is this to happen? Unfortunately, a lack of real diplomatic effort between Team A and B, means this risk is growing exponentially. The recent attack on the Russian pipelines has raised this risk even further.
This risk means that investors should prepare for further bouts of heightened volatility in asset prices, particularly equity markets. They should also continue the process of shifting a portion of their assets towards Team B countries, specifically China and India, as their growth and long-term prospects look substantially better than Europe.
1  https://www.blackrock.com/corporate/literature/whitepaper/bii-macro-perspectives-march-2022.pdf
2  https://www.csis.org/analysis/can-russia-execute-gas-pivot-asia 
3  http://eng.sectsco.org/politics/20220916/912890/SCO-member-states-signed-memorandums-on-granting-SCO-dialogue-partner-status-to-the-Arab-Republic.html
4  https://astanatimes.com/2022/09/sco-summit-president-tokayev-focuses-on-transit-and-transport-food-and-energy-security/
5  http://en.kremlin.ru/events/president/transcripts/69390
This article has been prepared by Holon Investments Australia Limited (ABN: 45 648 884 164, AFS Licence No: 532669) ("Holon"). The information provided in this article is general in nature and does not constitute investment advice or personal financial product advice. This information has not taken into account your investment objectives, particular needs or financial situation. Before acting on any information contained in this article, each person should obtain independent taxation, financial and legal advice relating to this information and consider it carefully before making any decision on recommendations. Holon Funds: Holon Investments Australia Limited (ABN: 45 648 884 164, AFS Licence No: 532669) is the responsible entity and issuer for the Holon Photon Fund (ARSN 633 803 497), the Holon Bitcoin Fund (ARSN: 659 090 294), the Holon Ethereum Fund (ARSN: 659 090 516) and the Holon Filecoin Fund (ARSN 659 090 614) (the Funds). Holon is the investment manager of the Funds. The content of this article does not constitute an offer or solicitation to subscribe for units in the Funds or an offer to buy or sell any financial product. Accordingly, reliance should not be placed on this article as the basis for making an investment, financial or other decision. You should also consult a licensed financial adviser before making an investment decision in relation to a Fund. Any investment needs to be made in accordance with the relevant Product Disclosure Statement (PDS), Reference Guide and Target Market Determination (TMD), and investors should consider the PDS, Reference Guide and TMD before deciding whether to invest in the Funds or continue to hold units in a Fund. Applications for units in a Fund can only be made pursuant to the application form relevant to the Fund. Distributors of our products must consider our TMD. You can access the relevant PDS, Reference Guide and TMD at holon.investments. Holon Global Innovations Pty Ltd (HGI) and Holon are wholly owned subsidiaries of Holon Global Investments Limited. HGI is a FIL Storage Provider and is positioned as a major player in the Filecoin (FIL) decentralised data storage arena for Asia Pacific. FIL Storage Providers are rewarded in FIL for the provision of data storage capacity. Investing involves risk including the risk of loss of principal. Past performance is not indicative of future performance. Holon, its officers, employees and agents believe that the information in this material and the sources on which the information is based (which may be sourced from third parties) are correct as at the date of article. While every care has been taken in the preparation of this material, no warranty of accuracy or reliability is given and no responsibility for this information is accepted by Holon, its officers, employees or agents. Except where contrary to law, Holon excludes all liability for this information.