History repeats: Why Tencent and Alibaba are an outstanding investment opportunity after the latest China sell off
Published 31 Aug 2021
Last month, Holon wrote a note arguing that investors had misinterpreted the Chinese regulator's recent policy announcement that sent shares plummeting. Many fund managers are now dumping their Chinese holdings, declaring the country too risky.
We believe that this sell-off, however, is normal and has occurred every few years in the past decade-and-a-half when foreigners misinterpreted Chinese policy.
(It is worth noting that Chinese domestic investors responded to these actions differently to foreign investors, with the local A share market down by only 2% since July 1st. This suggests that local investors believe that the regulators 'bark' will be less than its 'bite', with recent policy announcements unlikely to have a big impact on Chinese listed companies.)
But most importantly, the sell-off has created an outstanding investment opportunity in the two Chinese internet giants, Alibaba and Tencent, for investors who want to look through the short-term noise.
Tencent and Alibaba were the initial targets of China's recent anti-competition and economic policy announcements. They both fallen by 45% over the past 5 months.
The two technology giants Alibaba and Tencent now look extremely cheap with a 60% valuation discount to US listed technology companies. This is a remarkable turnaround given that both China stocks traded at 50-100% premiums over US technology stocks back in 2017, as can be seen in the following chart.
Alibaba and Tencent are currently valued at a 60% discount to the US S&P 500 Information Technology and Consumer Discretionary sectors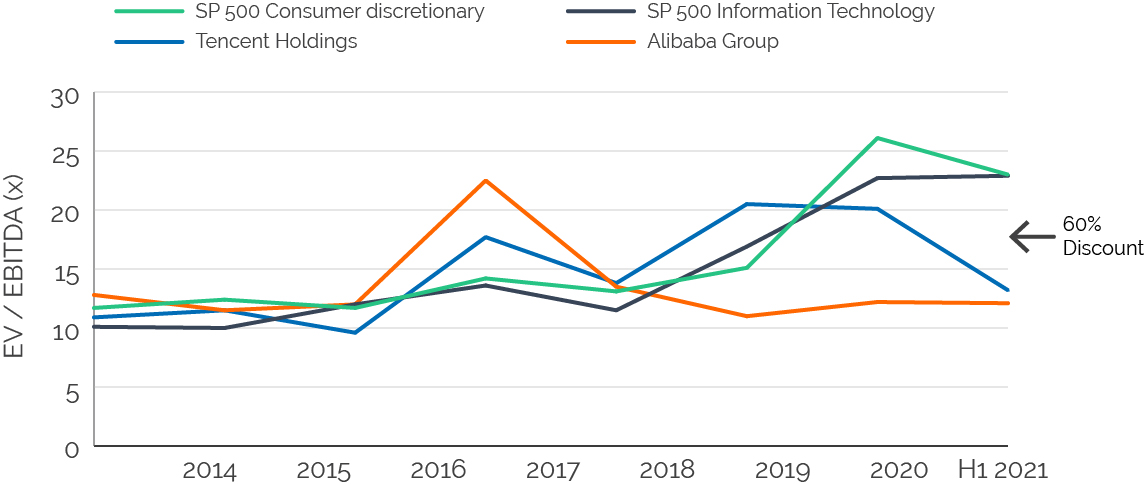 Tencent Holding's rebound promise
Tencent's valuation is approaching the valuation lows it has reached five times since 2010.
The chart below outlines the current EV/EBITDA valuation for Tencent from 2010. The grey line shows the 1-year forward EBITDA estimates. The blue line shows the 2-year EBITDA estimates.
We can see a clear pattern emerge: Heavy selling on China policy fears is followed by a sharp rebound over the following 12 months as investors realize they have over-reacted.
These overreactions are shown below with blue arrows.
Tencent Holdings: Outstanding returns seen whenever 1-year
EV / EBITDA forward valuations slip below 12x.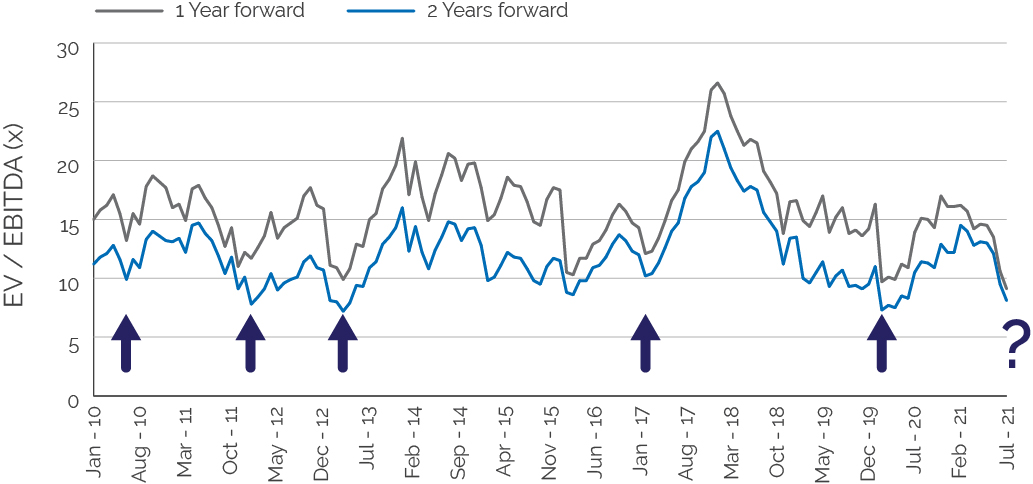 For long-term investors who understand these bouts of volatility in China, each of these 5 sell-off events – Tencent's 1-year forward EV/EBITDA multiple has fallen below 12x — has delivered outstanding returns over the following year. As you can see in the chart below, share price gains after the 5 sell-off events range from 30% in 2020, to 125% in 2013.
The current bout of selling has seen Tencent's valuation fall to 9x, which has resulted in its share price rebounding 15% this week. As the world's leading video gaming platform, Holon believes Tencent offers substantial share price upside to our discounted cash flow (DCF) valuation of HK$1020.
Tencent Holdings: Historical 12 months share price returns following a fall in its 1- year forward EV to EBITDA valuation below 12x

Alibaba Group's big upside
Turning to Alibaba Group, we can see a similar pattern.
Things were going well for Alibaba in 2020, with record investor demand of US$3 Trillion for the proposed US$35 billion Hong Kong & Shanghai IPO of Alibaba's 33% owned financial subsidiary ANT Group.
But with Alibaba's share price peaking at $312 on 26th October, the ANT's IPO was abruptly cancelled by Chinese financial regulators on November 2nd over concerns that ANT's financial loan book was substantially undercapitalized and in breach of Chinese lending standards. This was followed by additional claims of anti-competition breaches by government regulators, which led to a fine of US$2.8 billion in 2021.
But, like Tencent, each period of Chinese government intervention has inevitably led to panic selling of Alibaba by foreign investors, as seen in the chart below.
Alibaba Group: 50% 12-month returns when 1-year
EV / EBITDA valuations fall below 15x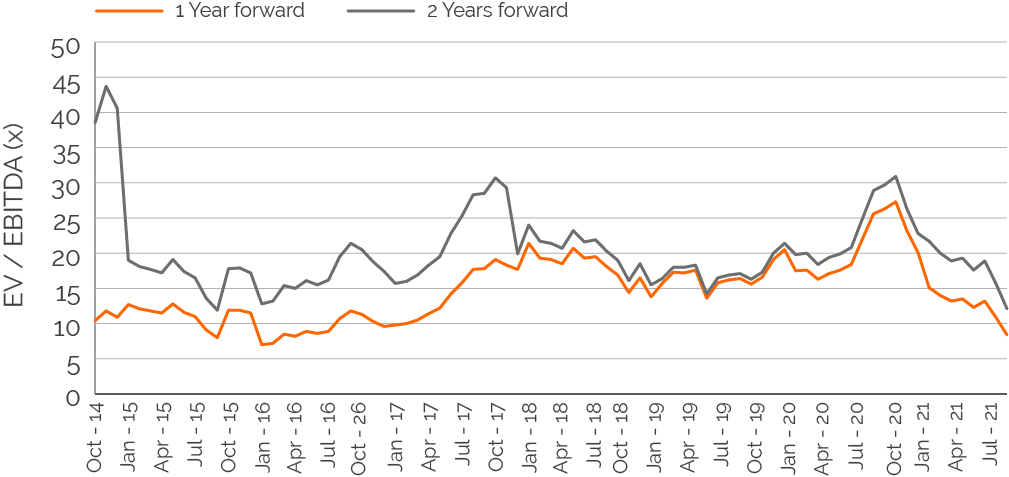 While Alibaba has a much shorter trading history than Tencent, the same outstanding investment opportunity is seen whenever it trades below a 1-year forward EV/EBITDA multiple of 15x. This has occurred in January 2017 and November 2019, when a post-sell-off rebound delivered 12-month returns of 72% and 51% respectively.
Alibaba reached a record low of 12x on August 20th this year and has seen a sharp rebound this week of 12%.
We believe positive news surrounding the relaunch of ANT Group's IPO over the next 3-6 months should provide a strong catalyst for a rebound in Alibaba and could indicate China's current bout of government intervention is nearing an end. While we have recently trimmed our earnings forecasts over the next two years to reflect the impact of policy on Alibaba, our DCF valuation of HK$520 offers substantial share price upside.
So, what does this all mean for investors?
It's very easy for investors to forget that China is an emerging market with a history of capitalism that spans less than one generation. Like a teenager first learning to drive, China's heavy-handed policy adjustments result in higher volatility in equity markets than more established western financial markets.
As we explained in our recent note, China has made it clear that it is following its own path and is not looking to replicate the West's version of capitalism. Rightly or wrongly, understanding the purpose of the Chinese government's policy adjustments should ensure investors avoid the trap of dumping China shares on unsubstantiated fears that President Xi is looking to reverse the enormous gains China has made in building its economy over the past 30 years.
Identifying these key valuation lows in Tencent and Alibaba, alongside the broader China investment universe, provides an outstanding investment opportunity for long-term investors