Energy inflation: Why Germany's gas reserves are unlikely to come to the rescue this winter
Published 07 Nov 2022
How Germany's 'gas reserve rescue' myth could rock already fragile markets
Most investors understand that Germany is highly dependent on Russian gas, which met 49% of its gas usage in 2021. In August 20221 the German government announced it would cease all Russian gas imports by as early as 2024. It will turn to higher LNG imports, lowering demand and extending the life of its three remaining nuclear power plants.
But as we head into winter, the September 26th terrorist attack (Figure 1) on the two main Russian gas pipelines flowing into Germany – Nord Stream 1 (NS1) and Nord Stream 2 (NS2) – has dramatically changed the balance of energy security for Europe, and especially Germany.
Figure 1: Location of attacks on Nord Stream 1 & 2
Source: Adobe Stock
Many have been touting Germany's gas reserves as a possible salvation from a disastrous winter. But a close look at the situation clearly debunks any notion that these reserves can solve their gas crisis. That means Germany, the world's 4th largest economy, is facing the prospect of enormous economic pressure and worsening inflation, a situation that could rattle already fragile markets.
Why natural gas reserves are not really reserves
One of the key underlying beliefs pushed by EU leaders is that Germany's enormous gas reservoirs, which on October 15th contained almost 23 BCM (billion cubic metres) of gas2, are sufficient to see it through the next six months of winter.
The terrorist attack on the NS1 and NS2 pipelines, however, is almost certainly making German and EU leaders very nervous, given that it has completely stopped NS1 gas flow through Germany's largest pipeline, as shown in Figure 2 below3.
Figure 2: Nord Stream pipeline volumes, May to October 2022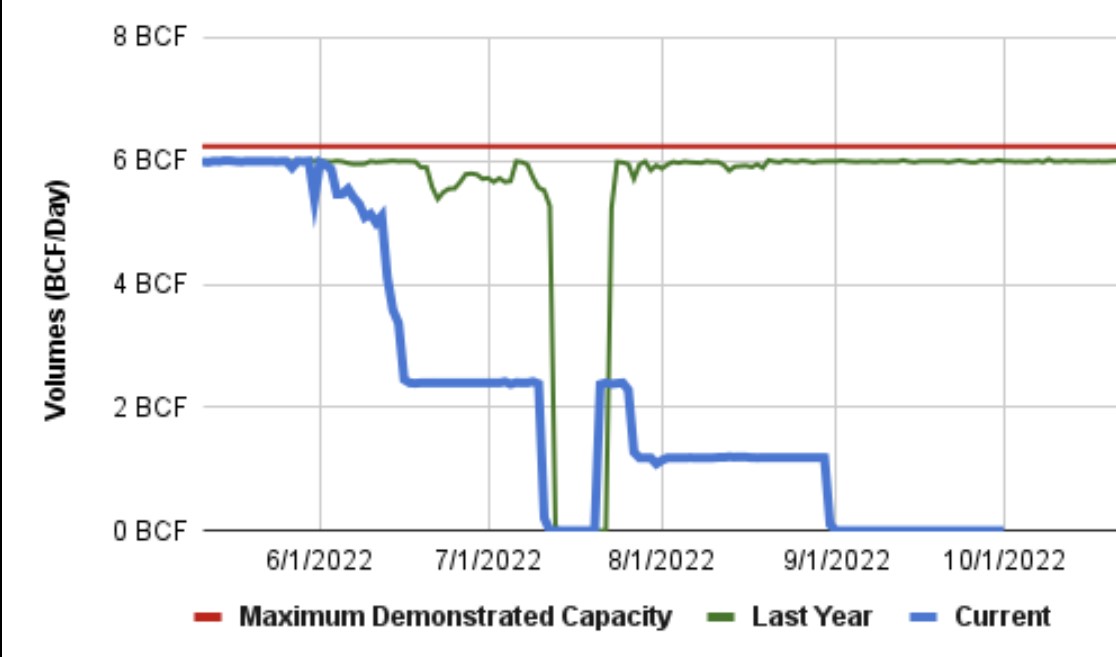 Source: celsiusenergy.net
This has created two specific problems that cannot be solved quickly.
Problem 1 – Reduced gas pressure will limit extraction potential
Germany's actual gas storage capacity is closer to 37 BCM, but approximately 40% of this volume must be set aside as 'cushion gas'. The cushion ensures a minimum level of gas pressure within the reservoir to allow any additional gas above this level (called 'working gas') to be extracted to the surface (pipeline network). A drop in pressure below the cushion gas level will cause gas flows to stop. This is shown in Figure 3 below.
Figure 3: Nord Stream gas flows
Source: Holon
The challenge for Germany will come this winter when the volume of gas extracted from the reservoir is much greater than new gas additions. That could result in an eventual fall in reservoir pressure below the minimum cushion gas level.
Before the destruction of NS1 and NS2, gas pressure was maintained by topping up gas reservoirs each day with Russian piped gas imports. The gas grid was never designed to rely almost exclusively on gas reserves.
A disaster looks certain this winter as reservoir pressure declines.
"The gas grid was never designed to rely almost exclusively on gas reserves."
Problem 2: Preventing pipeline freezing
The second major issue set to limit gas supply relates to changes in the physical properties of gas when it is shifted into storage to meet higher demand in winter months. This process compresses the gas, and its temperature rises above 100 degrees Celsius. Extraction causes the opposite effect, lowering gas pressure and shifting temperature back towards 40 degrees4. Extreme care needs to be taken to prevent a build-up of methane hydrates that can freeze up the above ground pipeline network, preventing gas flow and create dangerous safety conditions. By blending small amounts of reservoir gas into large volumes of Russian piped gas, the risk of methyl hydrates was substantially reduced. Without the large pipeline gas flows previously supplied by Russian gas, the volume of gas that can be used from gas reserves is severely limited.
The combination of problem 1 and problem 2 suggest that Germany cannot rely upon its gas reservoirs to meet a large portion of their energy needs as they head into winter. Any attempt to do is an untested experiment that risks substantial damage to gas infrastructure and creating dangerous conditions (explosions, reservoir collapse etc).
The EU gas shortage is turning critical over the next 5 months
Over the period from Oct 2021 to March 2022 (winter), Germany consumed approximately 67 BCM of gas5. With Russian piped gas imports contributing 49% of total German gas usage in 2021, sufficient gas flow allowed them to cap reservoir extraction to ~20% volumes. While the data has been extrapolated and is not completely accurate, it does illustrate that large gas inflows from Russia over the heavy demand period during the German winter provided sufficient gas for Germany to remain in surplus, highlighted in blue in Figure 4, in the event of a severe winter storm.
Figure 4: German gas inflows, October 2021 to March 2022
Source: Holon
If we fast forward to the period from October 2022 to March 2023, we get a very different picture that looks likely to emerge. Using the same gas demand as that which occurred last winter, we can see that the substantial drop in piped gas because of the loss of NS1 and Ukraine-related gas flows (Figure 5, column 2) looks set to push Germany into a substantial energy deficit from November 2022 until March 2023.
Figure 5: German gas inflows, October 2022 to March 2023 (projected)
Source: Holon
This data suggests that the total deficit over this six-month period could reach 12.5 BCM, equivalent to 19% of Germany's 2022 winter demand of 67 BCM. This aligns with the German government's goal to urgently cut energy usage by 15-20%. If winter storms emerge, this deficit will grow quickly, possibly forcing the closure of German industry in preference for residential heating needs.
The 30% fall in piped gas over the period also lowers the extraction rates from gas reservoir storage given the risk of methyl hydrate production that we raised in point 2 above. If extraction is limited to 20% of total piped gas volume, we could see up to 61% of total gas reserves remaining stranded through winter given the risk of substantial pipeline infrastructure damage.
What does this mean for investors?
1. Inflation risks accelerating into 2023
The risk of an inflationary spike from surging energy prices remains extremely high. German gas demand sits on a knife-edge, with European gas prices highly dependent upon the ability of governments to reduce demand by 20% against 2021/22 levels and the severity of the upcoming winter season. If cold weather arrives, the consequent gas demand spike will almost certainly force governments to close industry in favour of residential heating, while a scramble for energy supplies will drive prices back to or above the September 2022 peak level.
2. Rising deficits and sovereign debts will continue to dominate headlines
European governments are once again getting out their credit cards to subsidize energy bills for citizens across the EU, with the first package of €200 billion being prepared for distribution as we approach winter. The loss of the substantial income generated from re-exporting Russian gas to other EU nations is also a substantial blow for Germany, which is also reeling from double-digit inflation and a rapidly ageing population (48-year average age) that will demand higher pension payments to cover accelerating costs.
The switch from cheaper piped gas to expensive LNG is also driving a hole in balance sheets across Europe, while the added expenditure to build LNG receiving terminals and related infrastructure will run into the hundreds of billions of dollars. All this suggests that sovereign debts will continue to grow substantially over the next decade, placing further pressure on global bond markets that are beginning to reprice government bond rates higher to reflect their worsening finances.
3. A seasonally warm winter could see markets react positively
One the flip side, if Germany can reduce its energy demand by ~20% and the EU winter remains warmer than market expectations, markets could see a relief rally on expectations that Germany and the EU will survive a gas shortage over the next 6 months. Another positive catalyst would be a reduction in the conflict between Russia and the Ukraine over the winter months, however the NS1/NS2 explosion and the bombing of the Kirsch Bridge in Crimea suggest that a settlement remains unlikely.
1  https://www.weforum.org/agenda/2022/08/energy-crisis-germany-europe/
2 https://www.bundesnetzagentur.de/EN/Areas/Energy/Companies/SecurityOfSupply/GasSupply/start.html#:~:text=As%20from%2012%20October%202022,level%20in%20Germany%20is%2095.63%25.
3  https://www.celsiusenergy.net/p/european-natural-gas-inventories.html#Nord
4 https://www.sciencedirect.com/topics/engineering/natural-gas-storage
5  https://www.bundesnetzagentur.de/EN/Areas/Energy/Companies/SecurityOfSupply/GasSupply/grafik_consumption.html 
This article has been prepared by Holon Investments Australia Limited (ABN: 45 648 884 164, AFS Licence No: 532669) ("Holon"). The information provided in this article is general in nature and does not constitute investment advice or personal financial product advice. This information has not taken into account your investment objectives, particular needs or financial situation. Before acting on any information contained in this article, each person should obtain independent taxation, financial and legal advice relating to this information and consider it carefully before making any decision on recommendations. Investing involves risk including the risk of loss of principal. Past performance is not indicative of future performance. Holon, its officers, employees and agents believe that the information in this material and the sources on which the information is based (which may be sourced from third parties) are correct as at the date of publication. While every care has been taken in the preparation of this material, no warranty of accuracy or reliability is given and no responsibility for this information is accepted by Holon, its officers, employees or agents. Except where contrary to law, Holon excludes all liability for this information.