Don't misinterpret China's policy changes – the long term opportunities are now!
Published 30 Jul 2021
Chinese equity markets have again seen heavy selling pressure over the past month following a series of policy announcements from the Chinese government targeting anti-competitive behaviour in its domestic economy.
Western commentators have been quick to label each of these announcements as further proof that China's President Xi is seeking to tighten his power grip on the country, favouring state owned entities to ensure he remains head of China for decades to come.
We believe that Western commentators are misinterpreting the Chinese central Government's policy goals.
We examine five major policy announcements over the past nine months where commentators' interpretations have been inaccurate to provide investors with a broader perspective on the long-term opportunities that Chinese stocks are now offering.
The elephant in the room
Let's start by addressing the elephant in the room. Relationships between the US and China have steadily worsened over the past five years following the election of Donald Trump as the President.
US accusations against China include launching domestic cybersecurity attacks, widespread human-rights abuses in Xinjiang, attempts to stifle global trade through 'one-belt-one-road' plans, and full responsibility for the release of the Covid-19 virus from a Wuhan biological weapons lab. This had led to a 'tit-for-tat' trade and sanctions wars, as well as rising risk of a military confrontation as China exerts its territorial claim over the South China and East China Sea.
It is critical that investors understand the infancy of capitalism in China in order to effectively interpret recent Chinese economic policy decisions.
The shift away from Communism towards a 'socialist market economy' in China can be traced back to a simple statement made by former Chinese President Deng Xioping in the early 1980's. His statement "Rang yi bu fen ren xian fu qi lai," which translated into English means "Let some people get rich first", coincided with the first stage of economic reform. This stage included the creation of special economic zones (which allowed foreign companies to invest in China) and the removal of laws prohibiting private business ownership.
A second set of reforms was undertaken from 1998-2002 to privatise State Owned Enterprises (SOE) and open up the economy to competition from domestic and foreign private companies. It is estimated that over 60-80 million SOE employees lost their jobs over this 4-year period.
These massive economic reforms, led by former Chinese Premiers Zhao Ziyang (1980–1987), Li Peng (1987–1998) and Zhu Rongji (1998–2004), coupled with China's membership of the World Trade Organisation (WTO) in 2001, triggered an economic boom in China (see below chart).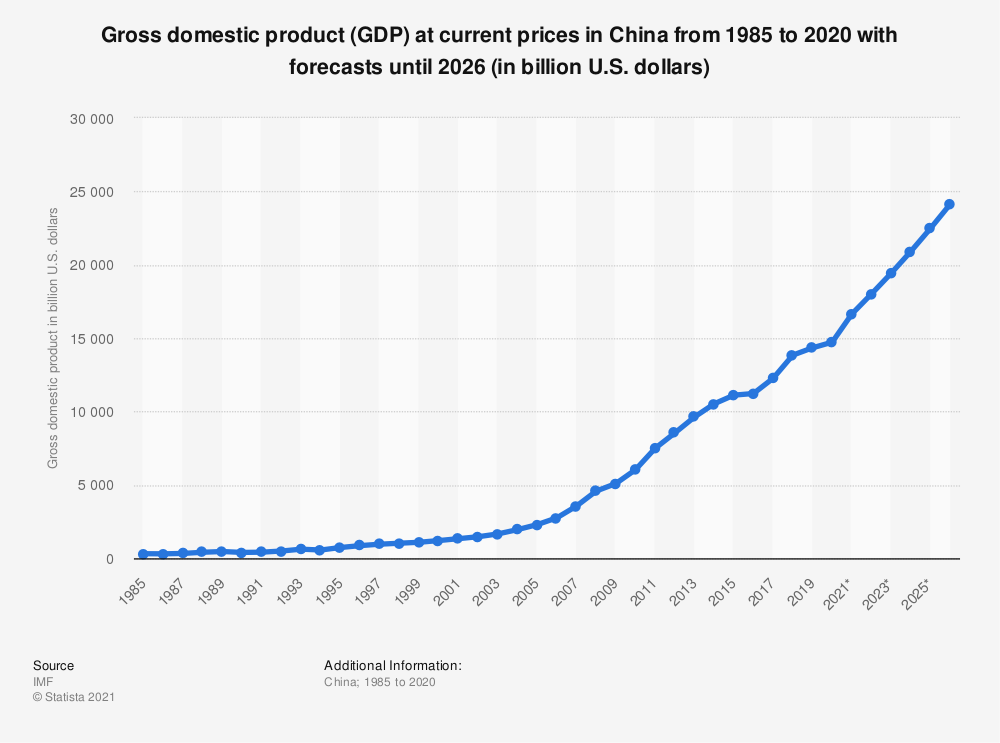 In the current heightened state of tension between the US and China, it is very easy for investors to misinterpret each new domestic economic policy announcement as further steps by China's government (and President Xi) to tighten its grip over the Chinese private sector and the broader Chinese economy.
We believe that by understanding China's past economic reform, investors can make more informed decisions about the purpose of recent economic policy announcements.
A succession of policy actions over the past nine months by the Chinese central government have resulted in increased volatility in Chinese publicly listed companies, with many down 50% since February. Five of these policy announcements and investors' reactions are outlined below.
     1. Alibaba's ANT IPO cancelled in November 2020
Alibaba's financial and payments subsidiary, ANT Financial, announced in Mid 2020 its plans to raise US$37 billion by publicly listing (IPO) on the Shanghai and Hong Kong stock exchanges in November 2020.
Demand from retail investors alone to acquire shares in ANT surpassed US$3 Trillion. However, on 2 November 2020, the Chinese financial regulator cancelled the IPO just days before its proposed listing date.
Blame for the unexpected IPO cancellation was immediately directed at negative comments made on 24 October 2020 by Alibaba founder and ANT Chairman, Jack Ma, where he accused the Chinese regulators of "stifling innovation" in financial services. Rumours also quickly spread that Jack Ma had been detained for 3 months for 're-education' following these comments.
Statements from the Chinese financial regulator regarding its decision to cancel the ANT IPO were mostly ignored by the western press.
Over the past two years, ANT Financial had accelerated its push into providing financial services and insurance to Alibaba's customers (>800 million) without the necessary licences or capital requirements in place to protect lenders. With new reforms due to be released soon by China's financial regulator that would force Alibaba to address these issues, the regulator pulled the plug on the IPO.
Recent rumours suggest that the ANT IPO process will restart again, possibly in late 2021.
     2. Anti-monopoly laws
China released new Anti-Monopoly legislation in 2020 (to be enacted in 2021) that seeks to prevent private companies from stifling competition in the Chinese domestic economy. The internet platform sector, led by global technology giants Tencent and Alibaba, were the first casualties of this reform.
The Chinese regulator believed that Tencent and Alibaba (with over 800 million customers each) were abusing their power by preventing local businesses looking to sell products online to Tencent's and Alibaba's customers to operate on both platforms. Additional concerns included preventing third parties from accessing customer data on each platform.
We believe that the introduction of anti-monopoly laws will create a fairer domestic market and stimulate economic growth. This should give entrepreneurs added comfort to start a new business in sectors previously dominated by Alibaba and Tencent.
Alibaba was fined US$2.8 billion as a result of the regulator's investigation of its anti-monopoly practices. Investors should expect a series of continued policy adjustments to ensure market leaders conform to the new laws.
Additionally, we believe investigations to continue across other sectors like healthcare and delivery services.
     3. DiDi IPO Collapse
DiDi is the largest ride-hailing company in China (the Uber of China). DiDi announced plans to list on the Nasdaq market in April, and successfully raised US$4.4 Billion on June 30 with a market valuation above US$60 Billion.
The next day, all hell broke loose and Didi's share price collapsed below its IPO price of $14, and today remains down 40% at $9 per share. This time it was China's Cybersecurity regulator (CAC) that was responsible for reprimanding DiDi.
A report released by the Wall Street Journal and the UK's Financial Times stated that the CAC had visited DiDi prior to the IPO and expressed concern that they were in breach of China's data security laws which prevent the transfer of data outside of China without strict regulatory approval. The press reports also suggested that DiDi chose to ignore the CAC's recommendation to delay the IPO until an investigation was complete, possibly influenced by its largest shareholders Softbank (21% stake) and Uber (12% stake).
On Friday 4th July, the CAC announced to the market that they have launched a formal investigation into DiDi, forcing the company to not sign on any new customers, while Chinese App stores were instructed to remove the DiDi App from their offerings.
The Chinese government is also providing key regulators with the ability to prevent Chinese companies from listing in overseas markets, raising concerns that Chinese companies will now be forced to list only on domestic exchanges in Shanghai or Hong Kong. Severe penalties ranging from a large fine (expected to be higher than Alibaba's recent $2.8 billion fine) to possible delisting and cancellation of its US shares have been highlighted in recent press reports.
     4. Introduction of minimum wage and benefits laws
The package and food delivery business in China has been extremely competitive over the past decade, with leading operators competing head-to-head for market share in cities across China by undercutting each other's delivery costs.
Delivery drivers have carried the burden of this intense competition, with poor working conditions and very low wages common across the industry. Last month (July 2021) the Chinese government regulator released plans to introduce a compulsory minimum wage and additional benefits (such as healthcare and insurance) to better protect workers from this intense competition.
The food delivery sector is dominated by two leading players, Meituan (Tencent 10% stake) and Ele.me (Alibaba subsidiary). Both have borne the brunt of the regulator's scorn, with Meituan's share price down over 50% over the past 6 months, while Alibaba has fallen by 40%.
Commentary suggests that both companies have been addressing improvements in working conditions through consultative meetings with its delivery drivers (Meituan has over 4 million drivers nationwide). Both companies have promised to meet the government's new policies.
     5. Education sector to shift to Not-for-Profit model
This last policy action surprised investors when it was announced during the last week of July. Concerned with the rising cost of education and after school tutoring by private and publicly listed education providers in China, the central government's announcement resulted in a collapse in US listed education stocks (some falling 70% in a single day) and triggered heavy selling across all Chinese listed names.
Concerned that this policy would be applied across other sectors including technology, investors began to dump shares across the board, with Tencent and Alibaba both falling over 20% in the last week of July.
Investors need to understand China's greatest threat as the largest global economy (on a PPP basis) is its rapidly declining birthrate and ageing population.
Over the period from 2040 to 2060, China's population is expected to collapse from 1.6 billion people to 1 billion as a result of its one-child policy enacted in the 1980's to control its rapidly growing population. The Chinese central government has announced a raft of policies over the past decade to encourage Chinese couples to have two or even three children to try and reduce its population decline concerns.
Rising costs in key sectors such as education, healthcare and agriculture are limiting the success of this population policy shift as couples struggle to cover the costs of bringing up one child in domestic China.
Additional concerns include an accelerating gap between China's richest and poorest citizens, limiting their ability to improve their livelihood through educating their children. This government policy is targeting private companies in the most sensitive sectors like education, but could also extend to Healthcare (access to pharmaceutical drugs and medical procedures) and agriculture in the near future.
What Does this all mean?
The Chinese central government's recent policy announcements have rattled Chinese listed share prices from panicked investors who have decided to sell first and ask questions later.
While they seem draconian compared with the lack of action from US regulators (such as the US SEC that failed to address questionable practices of the role of banks that led to the 2008 global financial crisis), investors should remember that Chinese capitalism (or the government's preferred term of a 'socialist market economy') is less than two decades old.
Investors should avoid the trap of believing that the Chinese government wants to stifle competition by favouring state owned/affiliated companies. In our view, a government willing to sacrifice 60-80 million government employees in just four years (1998-2002) in favour of supporting privately owned companies, is highly unlikely to reverse twenty years of reforms.
The motivation behind all these policy changes is the Chinese government's next economic and political target of reducing inequality and seeking "common prosperity" after the huge economic success in the past 40 years.
The government will focus more on bread-and-butter issues like education, healthcare, social security, food safety and affordable housing. Specifically, that's educational fairness, competition fairness of digital platforms and privacy/data security in the policy changes we mentioned above.
However, the target of "common prosperity" does not mean the reverse of the previous reforms, but to introduce competition and create a level-playing field.
While the purpose of policy adjustments continues to be misunderstood (or misreported) by western commentators, we believe investors should continue to expect higher volatility in these Chinese markets.
However, in China's case, if investors are willing to stomach the higher volatility, we believe that there is the opportunity to earn much higher long-term returns than more developed markets.