CBA versus Alibaba: Is 'safe' the new risky?
Published 28 Jul 2021
The Commonwealth Bank (CBA), Australia's largest bank and company (with a market cap of A$175bn), recently rallied to all-time highs, crossing the A$100 mark. 
But we don't believe these moves are based on fundamentals. 
In this article we compare CBA's financials to China's Alibaba to show that CBA's share price is simply a beneficiary of money printing at scale, combined with a zero rate environment, which is feeding through to most assets.
CBA Share Price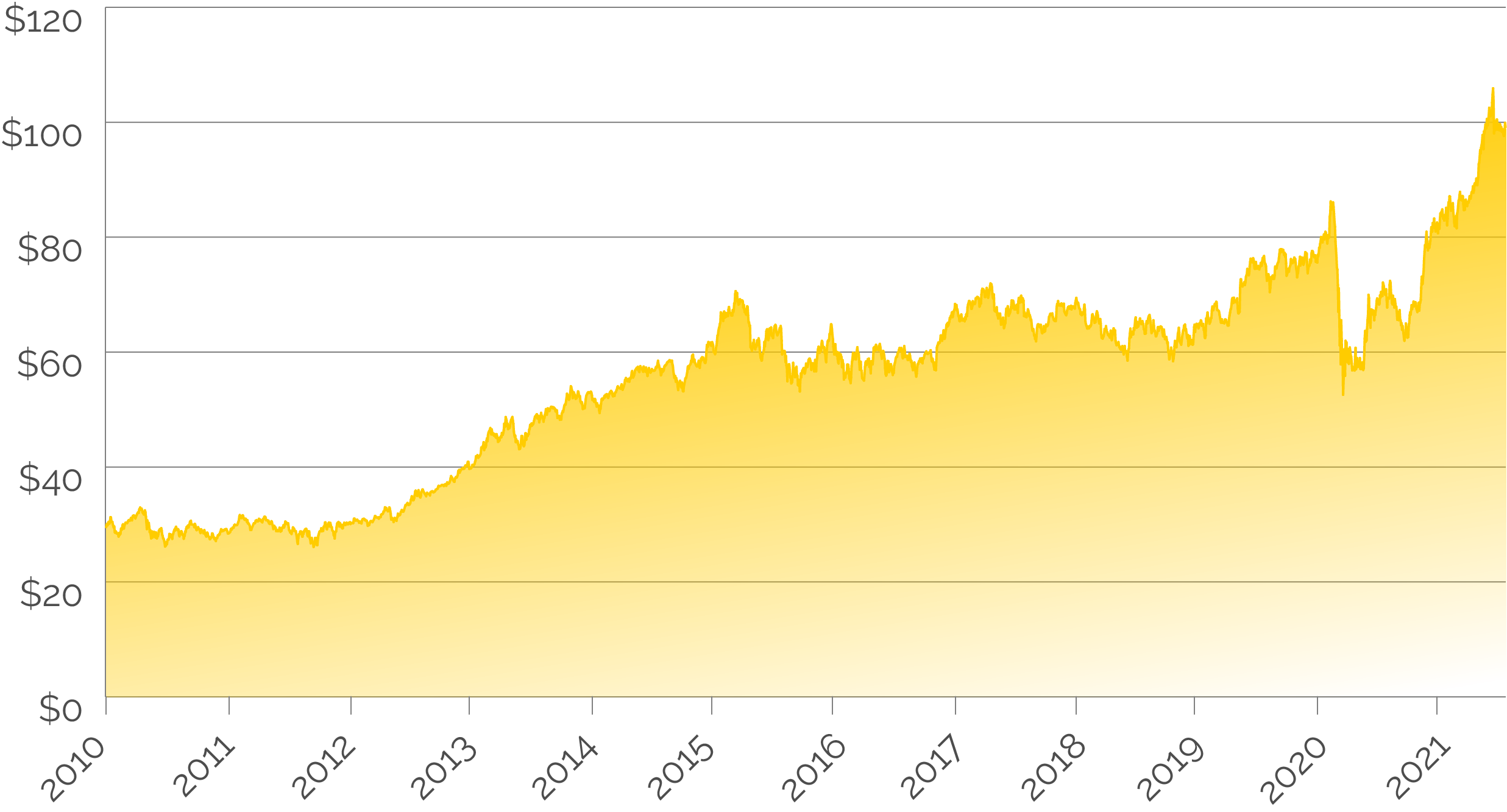 If investors can understand what is really driving CBA's share price higher (not good performance), they will better understand that this 'safe' investment and its attractive dividend yield is now actually risky. 
And investors will also understand that there are better opportunities in 'risky' investments (such as Alibaba) that are safer because they promise much higher future performance and significantly increase the probability of investors reaching their financial, lifestyle and retirement goals.
CBA's earnings going sideways and balance sheet under pressure
Ultimately, it is a company's earnings and balance sheets that drive its fundamental values. Earnings and balance sheet, in turn, determine what level of dividends or cash a company can return to shareholders. The CBA's earnings and balance sheet are both poor and don't justify it's record share price.
Over the last 10 years, CBA's earnings per share have grown at just 1% per annum. In the 5-year period to 2016, before the Government implemented the Murray Financial Services Inquiry (FSI), the CBA gained market share and pricing power (with net interest margin rising), which led to 5% growth in earnings per share.
But the most recent 5-year period has been a different story. The CBA was hit by the FSI's substantially higher capital requirements, and the Banking Royal Commission's higher compliance costs. As you can see in the table below, that led to earnings per share going backwards.

When it comes to CBA's balance sheet, the company's return on equity has halved since 2007, from 21% to 11% today, mostly driven by regulatory capital strengthening required post the global financial crisis (GFC).
The problem is, the prolonged zero interest rate environment being enforced by Central Banking globally is reducing income while at the same time fueling asset price growth. This in turn forces the Australian Prudential Regulator (APRA) to require more capital to be held in the system to protect against a severe shock. It is unlikely this value destroying cycle for bank shareholders will be resolved in the next five years.
Meanwhile, the CBA faces the impending disruption from the global digitalisation of financial services driven by the likes of Web 3.0, blockchains, distributed ledger technologies, and central bank digital currencies. Those developments will enable globally scalable financial services models which will compete vigorously with the CBA.
Alibaba shows why CBA's share price isn't justified
Notwithstanding the low to no growth, and continually falling returns on equity, CBA is currently trading at all time high multiples. At a price to earnings multiple of 19 times next year's consensus earnings.
But if we compare CBA to Alibaba, the Amazon of China, we can see that CBA's share price and multiple are completely unwarranted.
Alibaba is trading on multiples at face value that are not too dissimilar to CBA's (11% premium). But if you look at Alibaba's balance sheet, the company holds approximately A$259bn in net cash and investments (greater than CBA's market cap).
Essentially, for Alibaba, you are paying A$491bn for A$35bn of earnings – a multiple of 14 times earnings.

When you look into the earnings composition, you realise Alibaba is investing heavily in the future, i.e. the earnings include significant investment through the Profit and Loss. Importantly, Covid-19 has accelerated digitalisation, which is supporting those investments.
While Alibaba's earnings are unlikely to grow at the heady pace of 45% per annum experienced over the last 10 years, they are more than likely going to be higher in the next 10 years given the structural tailwinds. On the other hand, there is a real possibility that CBA's earnings over the same period will be lower than today, driven by structural headwinds.
When the 'safe' becomes risky
This simple comparison is stark. You don't need to know too much about each company (both are well known and dominate in their respective markets) to come to a conclusion as to which is a better investment, and which is at more risk of not protecting and growing your wealth.
Naturally, the allure of chasing yield (CBA pays out approximately 75% of earnings) in a zero-rate environment is leading to a dynamic of '…what was once safe is now risky…'
This dynamic is flowing through many assets which have traditionally been viewed in this way. It is exacerbated by a narrow Australian equity market where limited alternatives leads to even higher multiples for better-quality business.
CBA's 3.8% dividend yield looks attractive in a world of zero rate-printing. However, from these price levels, CBA's total return is likely to be negative. And its earnings and balance sheet will continue to be pressured over the medium to longer term by the structural issue confronting banking today.
To reach their financial and retirement goals in the current environment, we believe that investors should accept some volatility and focus on earnings power and balance sheet in companies like Alibaba. Ultimately, in a world where central banks have socialised markets, that is a lower risk and higher return strategy than chasing near-term income in institutions like CBA.