Alibaba, Tencent & Meituan: 3 China innovation stocks we like
Published 26 Apr 2021
Last October, billionaire founder of Alibaba, Jack Ma, made a controversial speech slamming China's financial watchdogs. The next day, Alibaba's 33% owned ANT financial Hong Kong and Shanghai dual listing was cancelled by the Chinese Government. Rumours also circled that Jack Ma had disappeared in China for 3 months for 're-education'.
Whilst an industry-wide antitrust investigation was launched not long after the IPO, local chinese news is less certain about the order of events leading up to ANT's IPO Cancellation. An alternate version of the story suggests that fearing a major government policy shift against the Alibaba dominance online, ANT/Alibaba rushed to get their listing away prior to the announcement of new anti-competition laws.
Jack Ma's angry outburst could therefore be viewed as a response to the timing of anti-competition laws, with the IPO cancelled because of the need to rewrite the prospectus document to incorporate new investor disclosure requirements. Jack Ma was also regularly reported in local news over the past 6 months, including regular sightings playing golf in Shenzhen.
Regardless of the order of events that led to ANT's IPO cancellation, the Chinese Government backlash against Alibaba tarnished the stocks investment fundamentals over the past 5 months. Along with the recent sell-off in tech stocks, the IPO cancellation saw Alibaba shares tumble by 32%, hitting a low of $US215 in December last year. They have since rebounded slightly to now trade at $US230.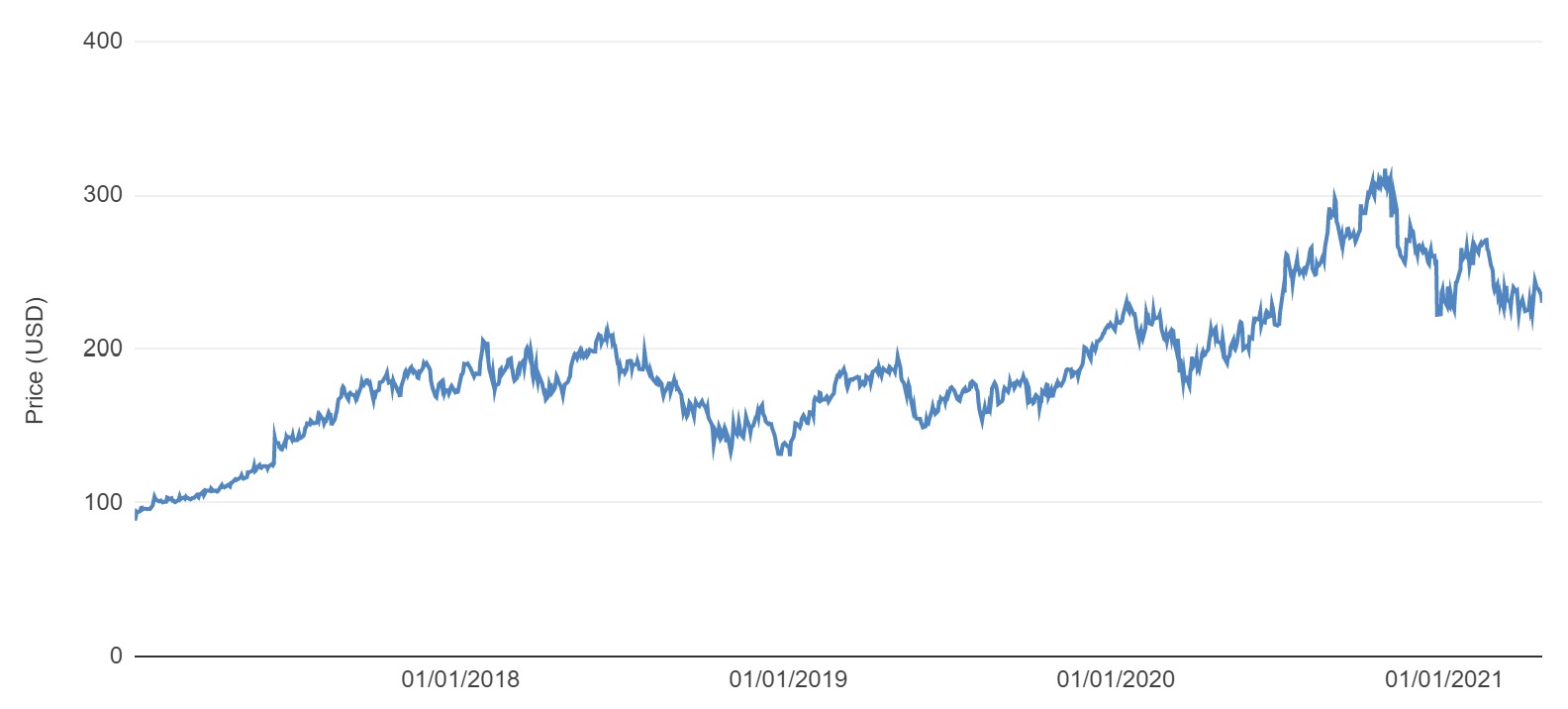 Figure 1: Alibaba share price since 1st January 2017
Ma's plight, along with the ongoing tension between China and the US, have many investors questioning the outlook for Chinese equities.
Despite the challenges, we believe that China's leading innovation companies – particularly digital giants Alibaba and Tencent, along with delivery platform China Meituan — continue to offer amongst the best long-term investment opportunities globally
These three Chinese digital giants recently produced very strong results that exceeded our expectations and they remain exceptionally well placed to benefit from the shift to digital. Indeed, the recent volatility has provided investors with a good entry point to buy the shares.
Alibaba and Tencent's cloudy blue sky
There are a number of reasons to believe that Alibaba and Tencent will continue to outperform.
The first is their strength in cloud computing. Alibaba's core retail operations are now servicing 800 million customers. But its cloud operations offer immense long-term growth and we believe will likely surpass Alibaba's retail operations to become its main revenue by 2030.
Cloud data is expected to expand over 100-fold between 2020 and 2035 as multiple new technologies, including artificial intelligence, blockchain, Internet-of-Things (IoT), 5G and genomics become adopted over the next decade. Both Alibaba and Tencent are exceptionally well positioned as the two largest cloud providers in China.
Outside of its ever growing cloud operations, Tencent's core gaming operations are performing strongly. The company recently delivered stellar results that were a full year ahead of our 2020 annual forecasts. Its portfolio of video game developers continue to see it as the best placed gaming content provider in a massive video-gaming market that reached 2.7 billion users in 2020 (Statista).
Both of China's innovation giants also saw operating profit margin expansion in 2020, driven by their past five years of heavy capital investment beginning to mature and release substantial jump in profitability.
We believe that operating margins will continue to accelerate and surprise investors to the upside, especially as heavy capital investment (including acquisitions) and over the past 5 years begins to deliver strong earnings growth through the 2020's.
A final reason to like Alibaba and Tencent is their enormous investment portfolios (surpassing US$250 billion valuation for both Alibaba and Tencent) which will continue to increase in line with expected strong growth in Chinese demand for digital services. We believe that this will continue to grow by >20% per year over the next 5-10 years.
Alibaba and Tencent have both invested in over 100 private and listed digital companies each over the past decade, generating substantial upside by directing Tencent's 1Bn daily users to their services.
China Meituan's strength in delivery
One of Tencent's investments is its 10% stake in China Meituan, the leading logistics delivery platform in China with over 60% market share. This is another Chinese stock we believe will outperform and in which our Holon Photon Fund has invested.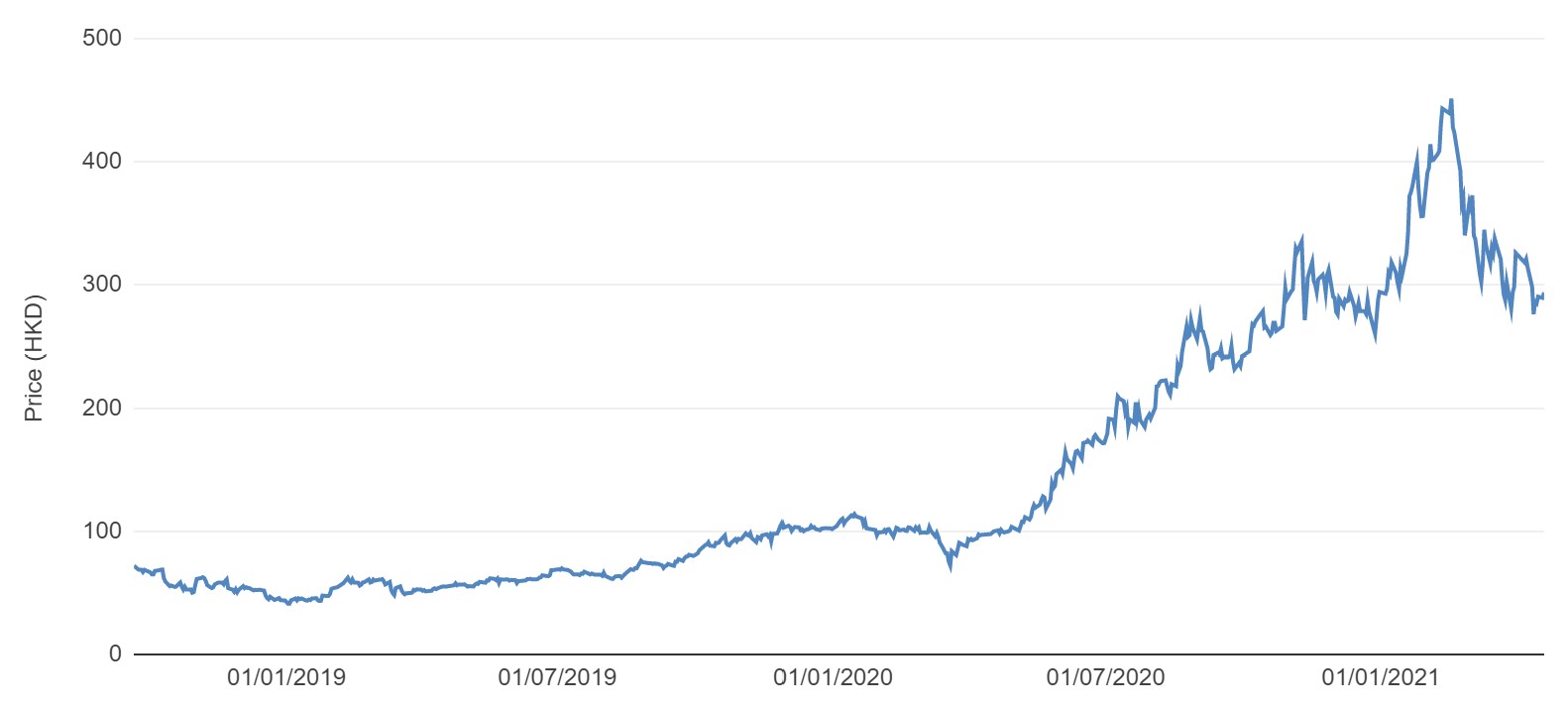 Figure 2: Meituan share price since IPO listing on 21 Sept, 2018
Last mile logistics delivery had a strong 2020 driven by Covid-19 concerns and more consumers switching to delivery platforms. Tencent's stake in Meituan has seen Tencent promote Meituan heavily to its one billion users, and Meituan's own user base has now reached 520 million customers in December 2020. User frequency remains low at around 28 times per year, offering substantial upside as Meituan introduces new products onto their platform.
With Meituan branching away from food delivery and entertainment services, we expect the company to benefit from a significant increase in the frequency of grocery and pharmaceutical delivery use to above 50 times per year over the next five years. We also believe there is significant upside in Meituan's heavy investment in logistics infrastructure, particularly within the agriculture sector.
Regulatory risk or regular adjustments?
Of course, the over-riding issues facing China's leading technology companies today is the rising risk of further government policy intervention.
As mentioned, following the cancellation of ANT Group's IPO in late 2020, Alibaba's share price has been under pressure on concerns from investors that Chinese regulators are out to get Jack Ma.
In early April, Alibaba was fined 18 billion yuan for violating anti-monopoly rules. We believe that the Chinese regulator's primary concern remains,increasing competition within the Chinese digital market.
While a restart of ANT's IPO in 2021 would be a strong share price catalyst for Alibaba (33% stake in ANT), rumours that Jack Ma may be forced to sell a portion of his ANT stake (~8% direct holding) to a Chinese government-affiliated pension fund will continue to negatively impact investor sentiment until clarified.
While round one of policy adjustments and penalties has occurred, investors should expect regular policy adjustments to occur over the next five years until the government regulator has successfully achieved its end goal of opening up the chinese digital economy to broader competition.
Alibaba and Tencent are obvious targets for government regulators who see their one-billion customer size providing immense market power leading to less competition in the Chinese digital economy. However, additional targets might also include Meituan, JD.com, and Bytedance (TikTok).
While this may limit future growth potential in some areas of existing operations, immense balance sheets and free cash flow provide the resources to tackle new sectors like healthcare and education, both huge opportunities that are likely to receive strong government policy support.
Substantial upside
A large portion of our Holon Photon Fund is invested in Chinese companies. Each investment continues to perform exceptionally well and all remain substantially undervalued against our discounted cash-flow (DCF) valuation.
We continue to believe that China's leading innovators offer substantial upside for long-term investors. Any current weakness on US/China political tension should be used as an opportunity to raise investment exposure to these exciting investment opportunities.