5 Tech 'cash cow' growth companies offering a once-in-a-decade investment opportunity
Published 29 Jun 2021
Traditional value stocks have rebounded strongly from their 2020 lows, with the MSCI US Value Index up 40% over the past 12 months and investors believing they are undervalued and likely to benefit from stimulus-related spending.
Investors rotated away from 2020's best-performing growth companies, which have seen consistent profit taking through most of 2021.
But while value stocks were attractively priced in Q4 of 2020 following a prolonged Covid-19 selloff, most now appear fully or over-priced and need to deliver consistent revenue and earnings growth to avoid a sharp share-price fall.
Indeed, after the chase for value over growth since September, the world's best growth companies, with their colossal cash holdings are now providing investors — particularly retirees — with once-in-a-decade attractive valuations.
Kings of Cash
We are seeing attractive investment opportunities in the 'Mega Cap' technology companies such Amazon and Google in the US, and Alibaba, Meituan and Tencent in China. Each company has delivered outstanding first-quarter results and provided solid guidance for continued healthy growth.
But it is their enormous cash reserves and investment portfolios that uniquely position them as key beneficiaries of the global shift online, which should deliver consistent share price appreciation over the next 5 years.
The chart below shows that we expect the world's top five leading growth companies to rapidly accelerate their cash reserves in coming years above 20-30% of today's market capitalization. While net cash comparables against the broader market are hard to find, one study undertaken in March 2020 suggested net cash holdings for the SP 500 index (after removal of finance and banks) were below 2% at the time of the study.
Accelerating cash reserves should provide investors with more confidence in global technology companies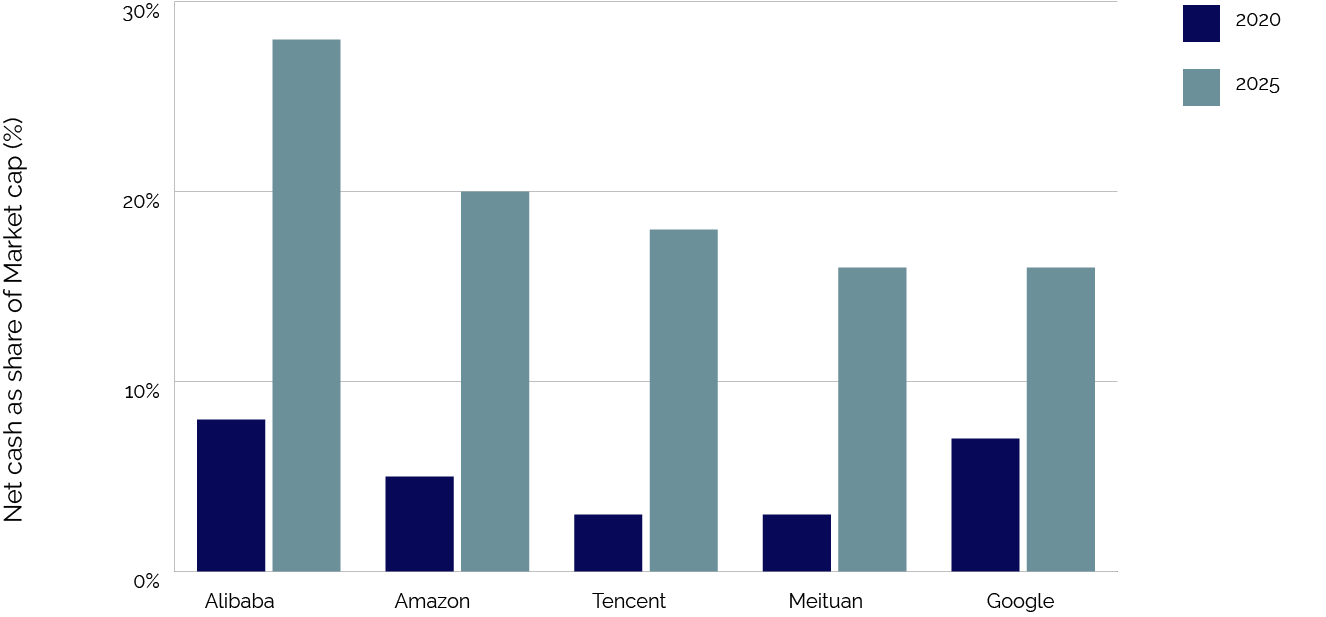 Below we take a closer look at the profile of the top three technology companies that Holon believes have the most attractive long-term growth profile and balance sheets (net cash).
1. Alibaba
For Chinese technology giant Alibaba, net cash reserves will reach almost 30% of current market value in 2025. This estimate, however, excludes Alibaba's listed and private investment portfolio which currently exceeds US$200B. If we include its investment portfolio, these reserves exceed 40% of Alibaba's market value today. And based on our current growth estimates, cash reserves plus the value of Alibaba's investment portfolio will exceed 100% before 2025, effectively providing a patient investor with the opportunity to own a business generating an estimated US$85B of operating cash flow in 2025 for free. Since the 2001 technology crash, it's doubtful that a global technology powerhouse has ever traded as cheap as Alibaba does today (its shares are up only 2% since June 2018).
2. Amazon
Holon believes Amazon's average revenue growth will exceed 25% annually for the next 5 years, with 2025 operating cash flow exceeding US$200B and total cash reserves reaching US$440B.
Amazon's share price has been flat since September 2020. Amazon now trades at 19x our 2021 Enterprise Value (EV – its current market value less its net cash) to EBITDA. This is 44% below its 5-year average of 32.4x.
We expect Amazon's EV/EBITDA ratio to fall to 7x by 2025. This rapid fall in EBITDA multiple, highlighted in steel blue in the chart below, has rarely seen a more attractive entry point into Amazon over the past 20 years.
Amazon: Strong earnings growth + cheap valuation = core holding
3. Tencent
Global gaming giant Tencent also has a large investment portfolio which exceeds US$250 billion. While the value of this portfolio and current net cash reserves exceeds 25% of today's market value, five-year global gaming market annual growth estimates of 9% should allow the value of Tencent's cash and investments to exceed 80% of its current market value before 2025. Like Amazon and Alibaba above, Tencent offers investors exceptional value rarely ever seen, with profit growth above 25% expected over the next 5 years.
Chinese last mile logistics platform Meituan (4.6M delivery drivers across all of China) and global search leader Google are additional examples of global technology leaders accumulating massive cash reserves and long-term investment portfolios that underpin their current valuations and offer long-term investors significant long-term return profiles.
A cornerstone holding for retirees
While investors have been fretting about the performance of tech, the Mega Cap growth companies' excellent balance sheet strength and highly attractive valuations should reduce fears that global technology shares are expensive and at risk of significant price falls.
Indeed, when we add the attractive earnings certainty and lower operating risk of Mega Cap tech growth companies to cash and valuations, it's clear these companies provide investors with much more financial stability than traditional alternatives, which makes them particularly suited to retirees seeking income.
As investors and retirees know, cash and bonds are extremely low yielding in the current environment, and investors holding them risk big losses given heavy government intervention and the coordinated efforts of global central banks to stimulate inflation.
With income hard to generate, and with Mega Cap tech growth companies likely to generate substantially higher returns for lower risk than traditional bonds, retirees could invest in these companies, then sell a small portion of their positions each year to fund income.
Superior long-term value
The world is, and will likely continue to remain, volatile and uncertain.
We believe investors can reduce that uncertainty if they reposition their investment portfolios towards growth companies offering the strongest balance sheets and the highest earnings certainty.
The Mega Cap tech growth companies should help to deliver much better long-term investment returns than cash and bonds and most traditional 'value' companies.
And investors seeking income might consider selling a small portion of their assets each year to fund necessary expenditure. This is almost certainly less risky than investing in lower-grade bonds or equities in the quest for yield.