5 reasons why Big Tech shares won't crash in 2021
Published 23 Feb 2021
There is growing talk that technology stocks are overvalued and vulnerable to a crash in 2021, with the Nasdaq Composite Index up 60% since January 2020 and 110% since the Covid-19 market lows in March 2020. 
But while some parts of the tech market are frothy and perhaps vulnerable to a correction, we believe that the big global technology leaders, or 'Big Tech' — companies like Alphabet/Google, Apple and Alibaba are not in bubble territory and are unlikely to crash this year. 
We cover the five key reasons why we expect big tech to remain resilient and continue to be strong this year, even if the broader market stumbles.
In recognising the strength and relative resilience of global tech leaders, it will be clear to investors that the current outperformance of equities is not built on hype and emotion — as many commentators are saying — but is led by companies with strong fundamentals that will continue to deliver superior returns for some time. 
Investors that understand Big Tech DNA will be less inclined to panic during market jitters and retreat to the perceived safety of cash and fixed-income bonds, where they will earn lower returns and expose their wealth to the growing risk of accelerating inflation.
1. Big Tech is winning from Covid-accelerated digitisation
The first reason we don't believe Big Tech will crash this year is these companies continue to win from the accelerated digitisation of our lives.

As the world went into total lockdown in the wake of Covid-19 last year, we quickly realised how essential the leading technology platforms were. Communication platforms such as Zoom, Google and Microsoft; e-commerce sites like Amazon and Shopify; and media platforms like Netflix and Roku were rapidly adopted across the globe to ensure businesses and consumers could stay connected. In the US market, online retail as a share of total retail spend reached 21.4% in 2020, up from 14.3% in 2018. 
2. Big Tech owns the digital infrastructure
The leading technology companies — including Amazon, Microsoft, Google, Alibaba and Tencent — provide the digital infrastructure necessary to connect people globally. Each has made enormous capital investment over the past decade to uniquely position themselves to benefit from the global shift online.  With 100's of millions of customers using their technology infrastructure and platforms each day, the world's leading technology innovators have a significant advantage by utilising their customers' data to develop new business opportunities that appeal to their customers' changing needs.  

Recent financial results from leading digital infrastructure companies supports Holon's thesis of long-term profit growth over the next 1-2 decades. Revenue from cloud infrastructure, for example, continues to grow by 50% per year, and is on-track to grow from US$100B in 2020 to US$500B before 2025. The arrival of autonomous vehicles and Internet-of-things networks will further accelerate data creation and revenues for these technology providers in the next five years.
Expected Growth in the size of the global data set for 2015 to 2035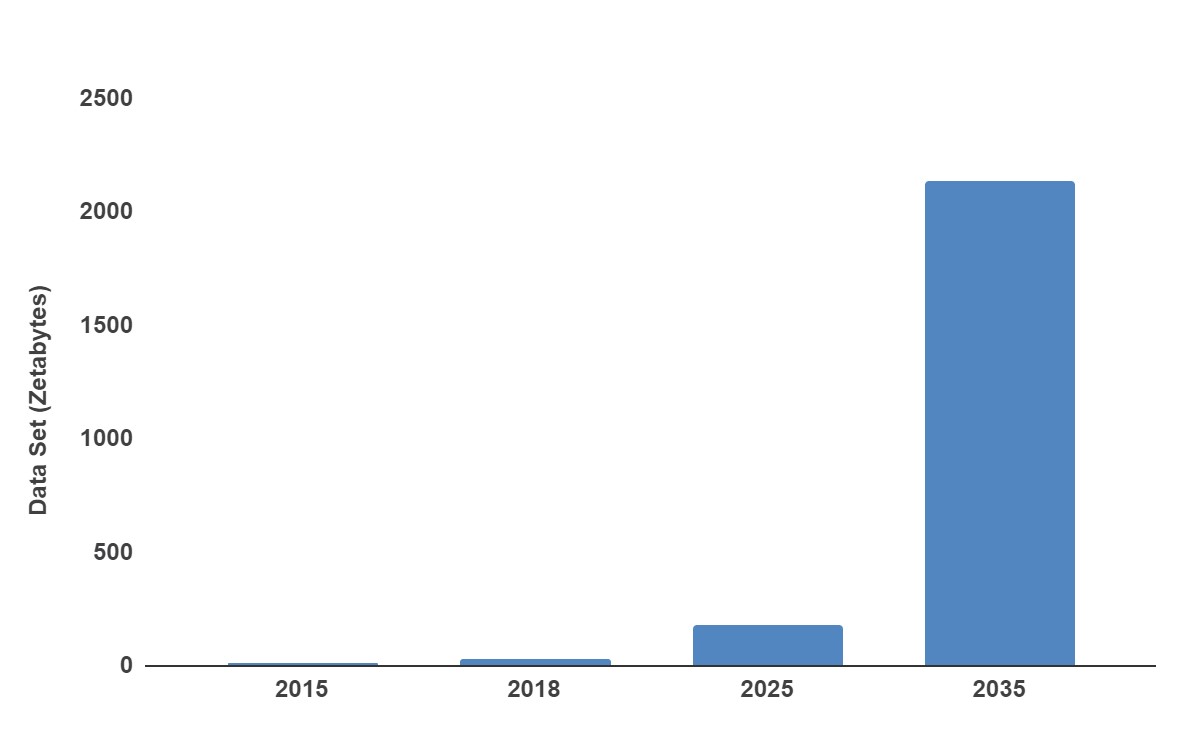 Holon also invests in innovators that are using this digital infrastructure to build unique business models and reach new customers across the global scale. This includes new payment platforms, like Afterpay, which has scaled to 20 million customers in 2020 and may reach 100 million customers within as little as 5 years. Roku, a global digital television aggregator, is following Netflix's path and has the potential to reach an audience of 1.6 billion customers. Both are examples of exceptionally managed businesses that are disrupting entrenched players and delivering an improved experience for new customers.
3. This is not the late 90s
Many investors fear we have returned to the glory days of the dot com bubble of the late 1990s and early 2000s, and we are at risk of a repeat of the boom-crash playbook. But we believe this time is different from that period.

The dot com bubble was characterized by rapid initial technology infrastructure buildout with very little revenue or customers. These technology companies needed to convince people to switch away from the comfort of analog (e.g. newspapers) towards a new digital future (the internet). 
Fast forward to today and we have almost 4 billion smartphone users globally, while total payments across digital networks reached over US$5.5 trillion. Technology is now at the core of almost everything we do every day. 
4. Big Tech is a hedge against inflation
One topic we have discussed in our recent insights is the ongoing debasement of fiat money as global governments struggle to stimulate economic growth as a result of ongoing Covid-19 shutdowns. 

Recovery efforts over as long as 5-10 years will almost certainly require additional monetary (more cash handouts) and fiscal (more infrastructure) support programs, all of which will be paid through a combination of more debt and outright money printing. The impact will be a reduction in the value of existing money as the supply of total money within the financial system accelerates. For the everyday consumer, the impact will be an increase in the cost of living of everyday items and services such as food, energy, transport and education. 
Investing in traditional asset classes like cash and bonds no longer produces sufficient returns to protect our purchasing power. Within the equities asset class, accelerating disruption is also negatively impacting the revenue and share prices of most sectors outside of technology and healthcare. Our expectation of strong investment returns over the long-term for leading  technology companies should underpin share price strength for investors.
5. Big tech is reasonably valued
Finally, we don't believe leading global tech stocks are overvalued, Holon remains comfortable that fearful claims of a 'bubble valuation environment' are not backed up by facts. 

The lead-up to previous stock market crashes has been characterised by excessive valuations as investors chase returns beyond sensible risk levels. With current returns on US 30-year treasury bonds unlikely to surpass 2-3% over the medium term, some investors are concerned that the strong recent share price performance of technology companies is sending a similar warning signal that a market crash is imminent.  
Holon uses a discounted cash flow (DCF) methodology to assess the value of companies within our equity portfolio. This valuation method is used to estimate the value of an investment based on its expected future cash flows (how much money it will generate in the future). Once the future cash flows are estimated, a discount rate is applied to these cash flows to determine an expected share price target. Traditionally, the discount rate used in equity markets is ~6%, but this may fall as low as ~4% to justify bubble valuations prior to market crashes. 
Holon uses a more conservative discount rate of 9.5%. Even when we use this higher rate compared with the 6% equity industry standard, Holon sees significant upside in our share price targets for companies across our portfolio. This provides us with significant comfort that valuations are not expensive within the technology universe. 
If we look at Amazon's valuation as an example, Holon's current DCF price target is US$4,300 using our 9.5% discount rate, a full 40% above the current share price of US$3,000. If we however adopted the lower 6% discount rate, this would raise our share target above $10,800, confirming our belief that leading global innovators are not in bubble valuation territory and offer attractive long-term returns. 
Big Tech annual profits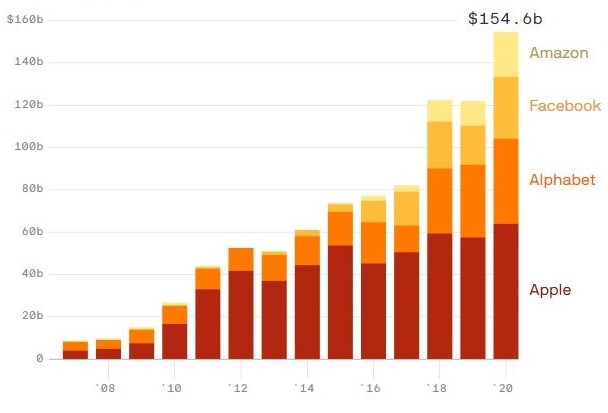 https://awealthofcommonsense.com/2021/02/the-biggest-difference-between-now-the-dot-com-bubble/
The best option for 2021
We believe that investors have two clear options as we move further into 2021.
Do they listen to negative headlines and doom mongers and switch their savings into the perceived safety of cash and bonds, thereby risking a significant loss of purchasing power? 
Or 
Do they seriously look at the changing impact technology is having on both their own and their children's lives, and invest in the leading global technology providers they increasingly use every day? 
We believe investors should choose the latter option. While markets may always remain volatile, especially during periods of global economic slowdowns, valuations and sustainable revenue growth provide strong support that leading global innovation stocks are unlikely to crash in 2021.