Visa's shift towards digital payments make it a must-own growth stock?
Published 29 Jun 2021
In a world of crypto and buy-now-pay later (BNPL), Visa — and even the very notion of credit cards — might be starting to seem old fashioned. But the company is actually well placed to benefit from the accelerating online shift.
Since listing on the NYSE in 2008 at $44, Visa shares have appreciated by 2100%, driven by rising card usage globally and its acquisition of Visa Europe (previously a separate company) in 2016. The stock has significantly outperformed the MSCI All Countries Index.
Visa stock price relative to MSCI All Countries Index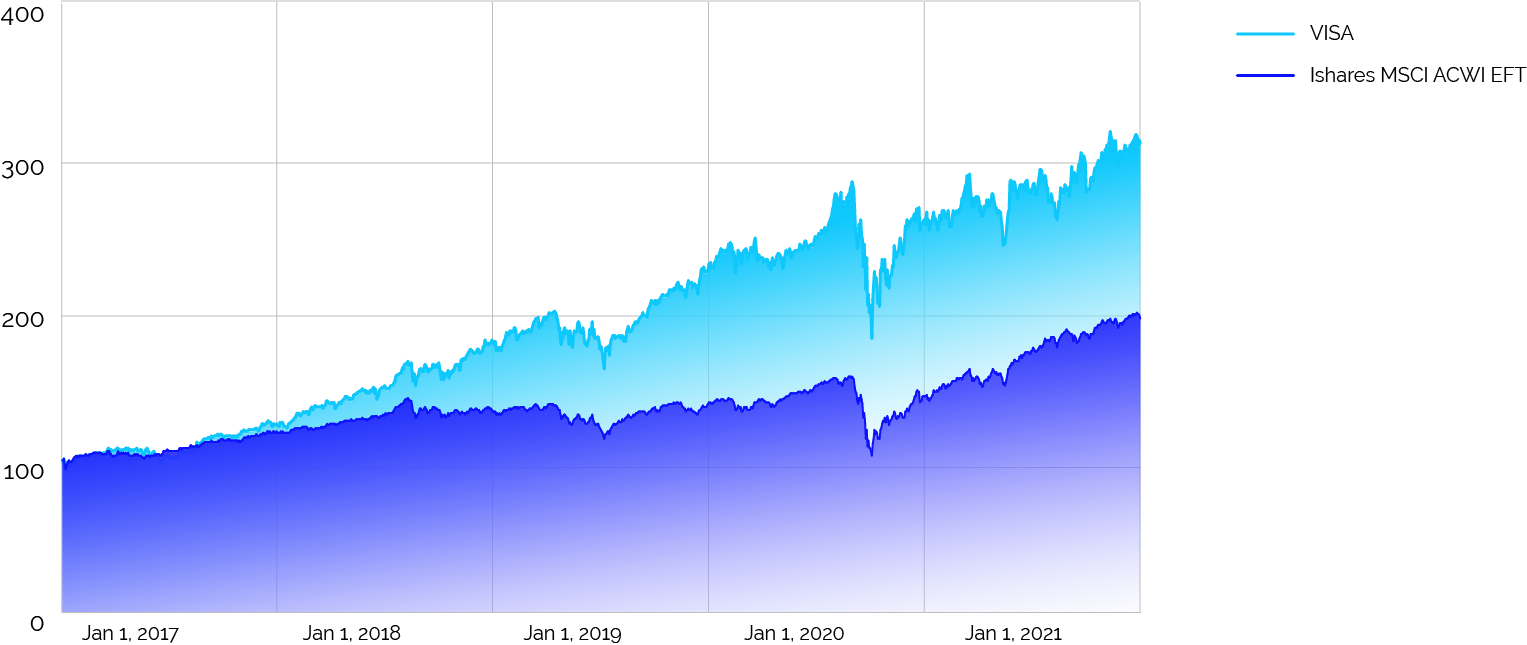 This performance has made Visa one of the most valuable companies in the world, with a market capitalization of $500 billion and a brand alone estimated to be worth $28 billion.
We believe that Visa's growing strength in the online space will underpin continued strong performance in its share price. Visa's average annual sales growth of 10% over the past 9 years firmly plants it in the 'value' category for most long-term investors. However, its recent pivot towards digital payment rails using cryptocurrencies looks set to provide a new sales growth driver that could accelerate share price appreciation and attract 'growth' style investors.
A valuable network
When we are paying for a coffee, buying new clothes at a store, or booking a holiday online, few of us stop to think about how a Visa debit or credit card actually works. We simply place our trust in their brand, which ensures over 500 million transactions occur seamlessly each day.
In 1958, Bank of America launched its BankAmericard program, which initially began as a credit program between Californian banks. It quickly grew into an international business before adopting the name 'Visa' brand name In 1976,
Visa operates through a multi-sided platform that connects banks with both merchants and customers. Its long-term value proposition stems from the incentives it provides banks, merchants and consumers to operate across a single network.
Banks saw an opportunity to increase high-margin (up to 20% annual rates) customer loans through credit cards, rather than traditional checking accounts. Merchants stood to benefit from improved electronic record keeping of transactions, while costs were lower than "interchange fees" associated with checking accounts between banks and merchants. Finally, consumers stood to benefit from the added convenience and security provided by using the Visa Card Network over other payment methods.
Today, the Visa network comprises over 3.4 billion debit and credit cards that generated US$8.8 trillion in payments volume on 180 billion individual transactions last year. This scale generally results in competitors partnering with Visa through co-branded cards rather than competing head-to-head. But, importantly, that scale also allows Visa to benefit from significant network effects, which results in a continuous cycle of more cardholders attracting more merchants attracting more cardholders.
The enormous scale of the Visa network, unmatched globally, drives its current brand value and market capitalisation.
There are some threats looming. For example, young people are not attracted to large credit balances and prefer BNPL loans, such as a $500 loan over four weeks — that renew continuously.
But we believe that Visa will continue to create enormous value in an increasingly digital world.
Stealing market share from cash and cheques
Firstly, we believe that Visa can continue to grow its payment volume by taking market share away from 'offline' cash and cheque payments. US$18 trillion in cash and checks globally are still processed annually, offering a significant opportunity for Visa to continue to move consumers toward using its debt and credit payment options.
Visa also sees a large revenue opportunity amongst the US$185 trillion of annual payments that occur between consumers and business operators off the Visa network. Visa, for example, recently partnered with Airbnb, which now uses the Visa Direct network for rental payments to each property owner.
The chart below highlights the significant growth in Visa's payment volumes from US$4 Trillion to US$8Trillion since 2011 (blue bars), while cash transactions were flat over the entire period. We expect that trend to continue with payments across the Visa network expected to surge to US$14T by 2025.
Visa payments expected to hit US$14 trillion by 2025

Leading the disruption
But perhaps the factor that is most important in underpinning our faith in Visa's digital future, is the company's firm commitment to building a digital payment network using blockchain technology and digital currencies.
Holon believes that digital currencies (especially digital versions of fiat currencies) will allow Visa to make substantial savings on transaction processing costs, and will likely improve Visa's 0.19% average-fee-per-transaction (as a % of the total transaction prices). With total transaction volume reaching US$11.3 Trillion in 2020, any improvement in the average transaction margin above 0.19% will have a significantly positive impact on Visa's earnings.
Visa's trusted global brand name also allows it to act as a bridge between customers and financial institutions (banks) looking to transact in digital currencies. With $17 trillion of cash transactions occurring globally in 2020, a shift from physical money towards digital money could see the Visa network capture a significant share of these transactions. Visa's 3.5 billion credit and debit cards in circulation that have already met KYC (know-your-client) and AML (Anti-Money laundering) requirements means it is exceptionally well placed
Visa partnered with Crypto.com to launch its first Visa-branded cryptocurrency card in September 2018. Following subsequent launches in the U.S. (Jul 2019), 31 European markets in Europe and Canada (November 2020). The Crypto.com Visa Card is the most widely available card of its kind in the world. Users can convert their crypto into one of the supported fiat currencies (EUR / GBP / HKD / SGD / USD / CAD) and pay with their card anywhere Visa is accepted. Australia was also added to the program in May 2021.
On March 29, Visa became one of the largest traditional payment providers to settle a payment transaction using a digital asset called a USD coin. This stablecoin is backed by U.S. dollar currency held in a bank account, with transactions settled over the Ethereum blockchain network. Visa's recent partnerships and sizable internal development team highlights Visa's commitment to embrace digital payments and innovation.
A lucrative toll road
Ultimately, like a toll road, Visa earns its revenues by taking a clip off each transaction across its payment network. The average return on each of these transactions in 2020 was 0.19% of the transaction's value.
Strong EPS growth expected to continue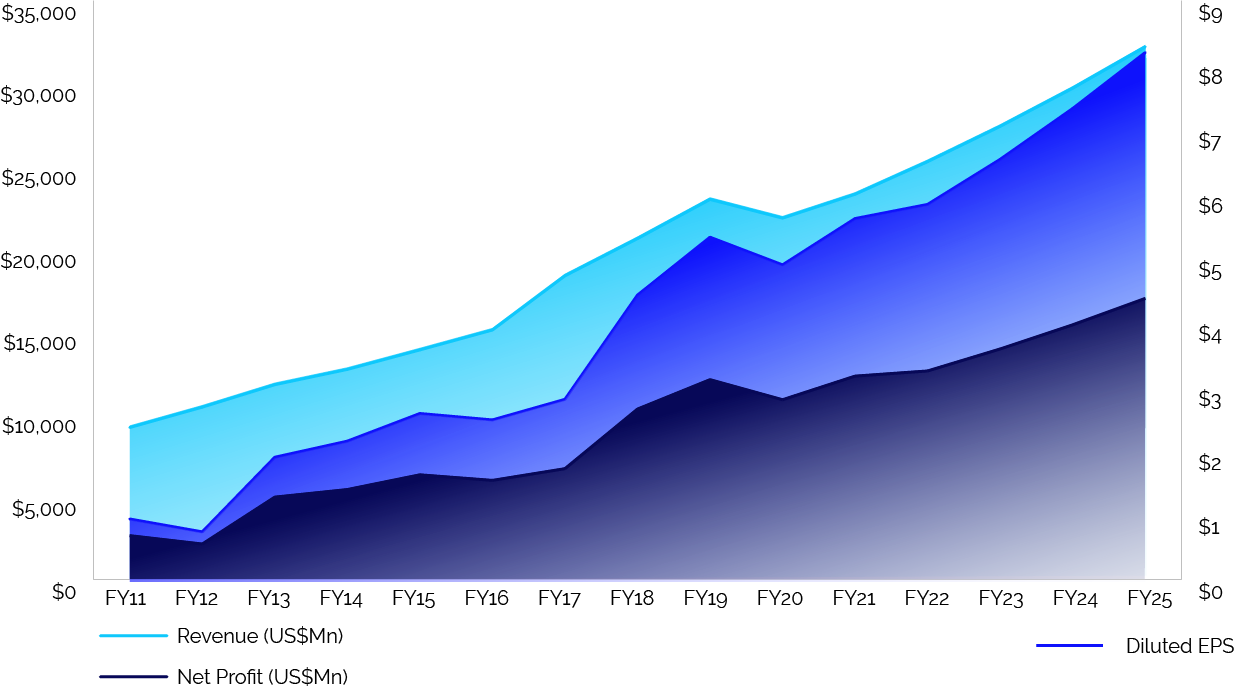 Visa's operating leverage (massive network doing the same thing 500m times per day) and prudent cost management allows Visa to deliver a net profit margin of 50%.
These high returns also allows Visa to generate substantial amounts of cash, which the Visa board has returned to shareholders through cash dividends and consistent share repurchase programs.
The chart above highlights the strength of Visa's EPS growth, which we expect to reach $8 a share by 2025. If Visa's step into digital payments is successful, it's likely Visa's current share price offers substantial upside for patient investors.