Part 7: Six core pillars to measure innovation in an investment portfolio
Published 15 Aug 2022
If someone asked you to define innovation, what would you say? There are probably a few versions. The dictionary has it as the "practical implementation of ideas that result in the introduction of new goods or services or improvement in offering goods or services".
Innovation is critical to the long-term success of any organisation because it directly impacts the long-term growth, margins, profitability and defensibility of that company.
It has also been categorised across three escalating "Horizons", known as the McKinsey Horizon Model1 , which is as follows:
Horizon 1 (1-3 years) = Incremental improvements
Horizon 2 (2-5 years) = Expanding into new products / services
Horizon 3 (5+ years) = Disruptive opportunities
It is critically important that organisations invest across all horizons. But all too often we see organisations sacrifice longer term/disruptive opportunities (Horizon 3) for the low-hanging fruit of Horizons 1 and 2 – Kodak cameras and Blackberry phones, we're looking at you. This is particularly the case if companies do not have sufficient funds to continue to develop their products. Such a move is highly likely to lead to longer-term dilution of the value of a business.
Innovation is industry agnostic. Rio Tinto operates in what some may consider an "uninnovative" industry (mining). Yet their investment in automation (trains, trucks) has a materially positive impact on their financials – not to mention safety – which gives them an edge over peers (many of whom have followed suit).
So, what if someone asked you how to measure it? How do we measure the degree to which an organisation is innovative? Or conversely, how do we recognise a portfolio company which is at risk of being disrupted?
We've narrowed it down to six core pillars (Figure 1) that are important to us, when we assess a company's innovation strength. In sharing these, the goal is to help you think more intently about innovation across your portfolio and the degree to which such innovation may impact the long-term value of your investments.
Figure 1: The six core pillars of innovation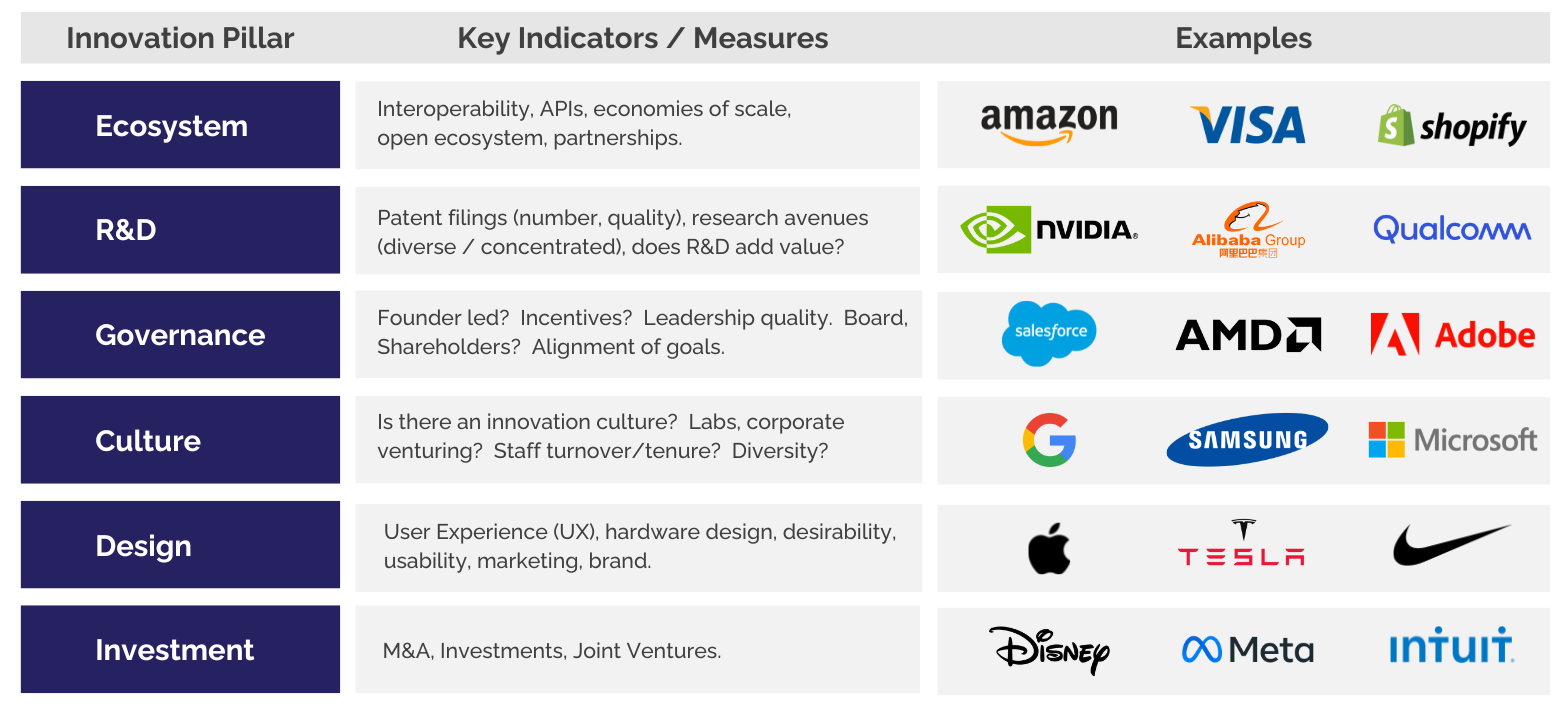 Source: Holon
Although it is desirable to have all the attributes in an organization, not all are critical to a company's success in innovating.
What is critical, though, and a measure that does not discriminate, is Governance. Does innovation filter down from executive level down? It is incredibly rare for an organisation to gain a significant edge unless there is an innovation mindset at the top of the organisation; and that there is a genuine commitment company-wide to innovate and take risks. Have a look at the recent histories of GE or Disney for more.
#1 – Ecosystem
Most of the world's leading innovators today have become successful because of their ecosystem and the interoperability of their products and services with other (third-party) products and services. (Interoperability is the ability to be able to use a product or service seamlessly across multiple environments.) Most often this is enabled because Application Program Interfaces (APIs) act as a bridge between various data pools.
The best example of this is Shopify who, from the very early days of founding, allowed external developers to build third-party applications to be made available to Shopify merchants. A retailer, for example, can seamlessly create shoppable content on TikTok and Instagram by connecting to its product data within Shopify via an API.
Another good example is Visa. They have (along with Mastercard) built a payments ecosystem that can be used almost anywhere in the world, across any website, payment terminal or (the now archaic) ATM. Visa's challenge now is to ensure they maintain this leadership position as we enter a period of rapid acceleration in Web 3.0 and ubiquitous computing applications. Companies like Meta, Block, Apple and Google are lining up to be central players in the future payment's ecosystem.
#2 – R&D
R&D is likely what most of us think of when it comes to innovation – research labs, white coats, blueprints and patent filings. And it is certainly pertinent to driving growth for "new to market" and "new to world" innovators, particularly within sectors like pharmaceuticals, hardware, manufacturing and semiconductors (to name a few sectors).
Other sectors, like retail and mining, however, tend not to invest heavily in internal R&D, preferring instead to implement products and services developed by third parties (i.e., retailers will buy externally developed industrial automation solutions as opposed to developing the capabilities in-house).
For those who are at the pointy end of innovation, there are tangible ways to measure the organisation's R&D investment. Firstly, we can simply look at the R&D investment in the financials (and compare that investment against a basket of peers). For example, in the semiconductor industry, a basket of ~40 companies show an average 8% R&D spend (relative to sales). Within this, "Horizon 3" innovators like Nvidia spend ~25% of sales on R&D, slightly ahead of peers Qualcomm, Intel and AMD who spend 21%, 19% and 17% respectively.
Another measure is to look at the number of patent filings (as a whole or based on a certain thematic). For example, one way to determine how advanced companies are in Web 3.0 innovation is to search recent patent filings (Figure 2) for several relevant Web 3.0 terms.
Figure 2: Patent filings, 2020 to present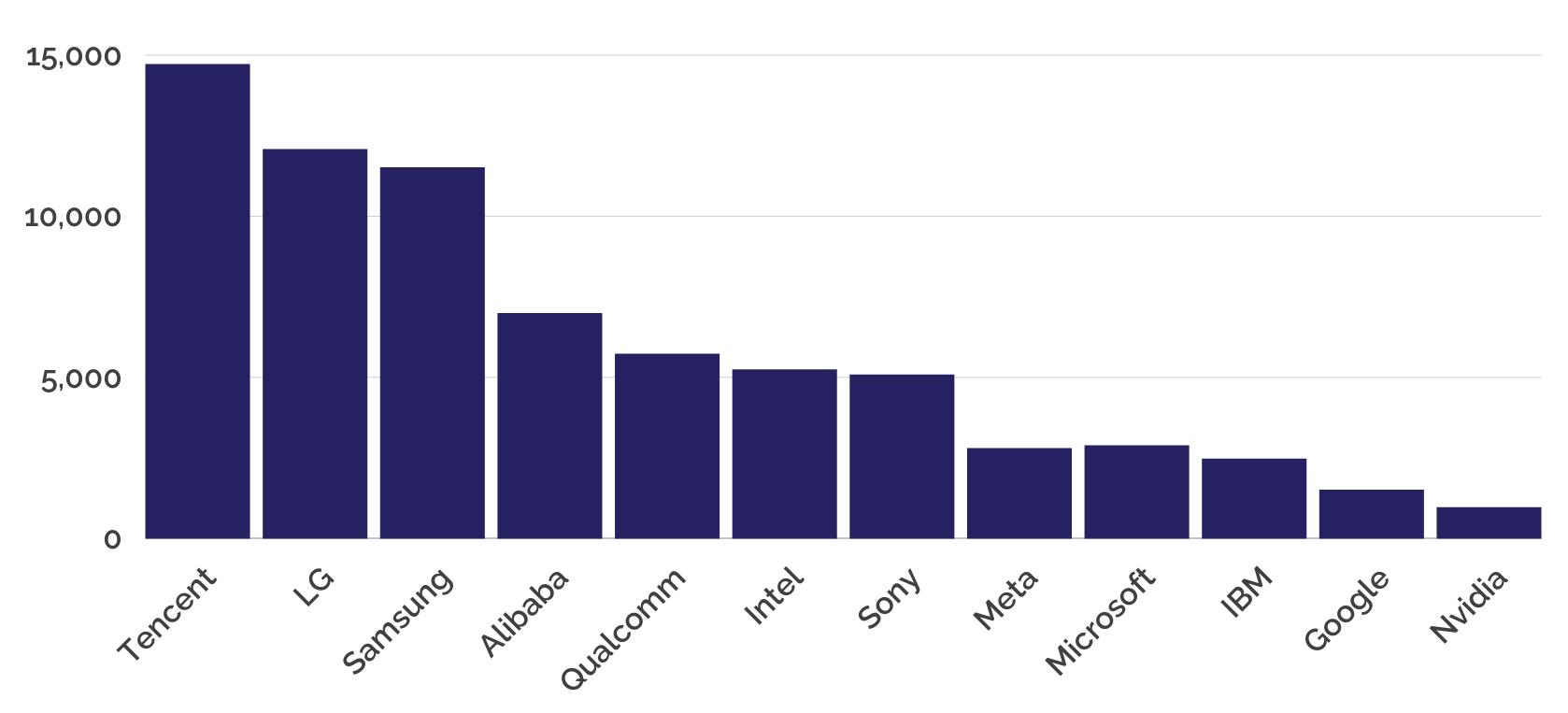 Source: Google Patents
If we look at such a search in the graph above, what is clear is that there is an incredible breadth of research being undertaken in the space – particularly with some of Asia's leading innovators like Tencent, LG, Samsung and Alibaba/Ant Group, as well as companies like Meta (in the AR/VR space).
It's also important to note that the pure number of patent filings is not directly correlated to tangible outcomes. For example, some areas of Web 3.0 are more research and patent intense than other areas. Further, we would rather see a company have fewer patents that are of higher quality and potential than 10x as many patents over a broader spectrum of areas. At the end of the day, it is quality, not necessarily quantity that's key.
#3 – Governance
Simply put, a company cannot be innovative unless all key stakeholders, from the top down, are aligned to the company's vision and objectives around how and why the organisation is innovating.
For a founder-led company, this is easier to identify. We know some of the world's most innovative companies are founder-led, including Meta, Google, Shopify, Tesla, Block, Amazon, Nvidia and Salesforce. We also know these founders have a track record of success and are incentivised to deliver long-term results for the company.
In all cases here, the board, shareholders and other key stakeholders have significant trust in the founder's "innovation mission" which is heavily embedded across the organisation and through all tiers of the management structure. For almost 25 years, Amazon's mission has been to be the "world's most customer-centric company". This mission, put in place by Jeff Bezos (founder and Executive Chair), ensured a singular focus which would inspire the company to constantly innovate. Supporting this are sixteen leadership principles (customer obsession, invent and simplify, dive deep, learn and be curious, etc), which ensures the ethos of the company's founder flows throughout the organisation.
For non-founder-led companies, there are certain "leading indicators" to help us determine a company's innovation value and probability of longer-term success:
Mission: Is there a clear mission/vision to innovate company-wide?
Track Record: Does the leadership team have a track record of success in implementing innovative products and solutions (and do they materially impact top and/or bottom line?)
Incentives: The way in which leaders are incentivised plays a considerable role in a company's willingness to innovate, take risk and drive long-term results. Salary, bonuses and short-term equity options may bias leaders towards short-term results at the expense of long-term results. It's probable that leaders under this structure bias "Horizon 1" innovation over "Horizon 2 and 3" innovation to optimise their incentives. Rating: How do employees rate the CEO? A glance through Glass Door will provide some interesting insights from current and former employees and perhaps raise some red flags around the organisation's propensity to innovate.
Shareholders: Are shareholders 'on board' with the company's vision? To assess this. you can look at short-sell interest (as a leading indicator of pessimism in the ranks!) and run the ruler over significant shareholders for the type of investors and how they may be personally incentivised. For example, pension/super funds are likely to favour income and yield, whilst an activist investor may look for short-term structural change.
How is your portfolio measuring up so far, against the ecosystem, R&D and governance factors above?
Next month, we'll feature pillars 4 through 6, and some of our conclusions.
Until then, happy investing.
1  https://www.mckinsey.com/business-functions/strategy-and-corporate-finance/our-insights/enduring-ideas-the-three-horizons-of-growth
Disclaimer: This article has been prepared by Holon Investments Australia Limited (ABN: 45 648 884 164, AFS Licence No: 532669) ("Holon"). The information provided in this article is general in nature and does not constitute investment advice or personal financial product advice. This information has not taken into account your investment objectives, particular needs or financial situation. Before acting on any information contained in this article, each person should obtain independent taxation, financial and legal advice relating to this information and consider it carefully before making any decision on recommendations. Holon Funds: Holon Investments Australia Limited (ABN: 45 648 884 164, AFS Licence No: 532669) is the responsible entity and issuer for the Holon Photon Fund (ARSN 633 803 497), the Holon Bitcoin Fund (ARSN: 659 090 294), the Holon Ethereum Fund (ARSN: 659 090 516) and the Holon Filecoin Fund (ARSN 659 090 614) (the Funds). Holon is the investment manager of the Funds. The content of this article does not constitute an offer or solicitation to subscribe for units in the Funds or an offer to buy or sell any financial product. Accordingly, reliance should not be placed on this article as the basis for making an investment, financial or other decision. You should also consult a licensed financial adviser before making an investment decision in relation to a Fund. Any investment needs to be made in accordance with the relevant Product Disclosure Statement (PDS), Reference Guide and Target Market Determination (TMD), and investors should consider the PDS, Reference Guide and TMD before deciding whether to invest in the Funds or continue to hold units in a Fund. Applications for units in a Fund can only be made pursuant to the application form relevant to the Fund. Distributors of our products must consider our TMD. You can access the relevant PDS, Reference Guide and TMD at holon.investments. Holon Global Innovations Pty Ltd (HGI) and Holon are wholly owned subsidiaries of Holon Global Investments Limited. HGI is a FIL Storage Provider and is positioned as a major player in the Filecoin (FIL) decentralised data storage arena for Asia Pacific. FIL Storage Providers are rewarded in FIL for the provision of data storage capacity.
Investing involves risk including the risk of loss of principal. Past performance is not indicative of future performance. Holon, its officers, employees and agents believe that the information in this material and the sources on which the information is based (which may be sourced from third parties) are correct as at the date of article. While every care has been taken in the preparation of this material, no warranty of accuracy or reliability is given and no responsibility for this information is accepted by Holon, its officers, employees or agents. Except where contrary to law, Holon excludes all liability for this information.